RANCHO MIRAGE, Calif. (TheBlaze/AP) — President Barack Obama is spending this Father's Day golfing in California with his high school buddies, while his wife and daughters are on a European tour.
Obama arrived in Palm Springs and headed straight for the course at the Sunnylands estate, which is closed for the summer.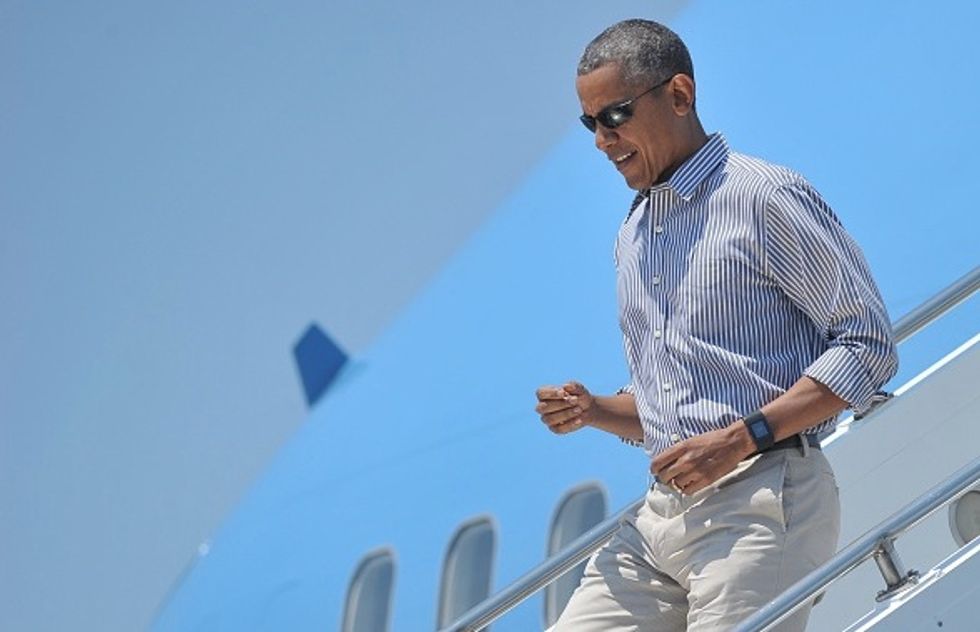 President Barack Obama steps off Air Force One upon arrival at Palm Springs International Airport in Palm Springs, California, on June 20, 2015. (Image source: MANDEL NGAN/AFP/Getty Images)
But a forecast high of 115 degrees wasn't keeping Obama and childhood friends Bobby Titcomb, Greg Orme and Mike Ramos off the fairways.
As California grapples with a crisis drought, the courses in the desert oasis of Palm Springs have been criticized for their water use.
White House spokesman Eric Schultz responded that many courses have taken water mitigation steps aimed at conservation and added that Obama discussed the drought with California Gov. Jerry Brown in a meeting in San Francisco Friday.
Below is news footage of first lady Michelle Obama with daughters Malia and Sasha and mother Marian Robinson at the 56th Venice Biennale for Modern Art.
—
Follow Dave Urbanski (@DaveVUrbanski) on Twitter