CNN's Don Lemon and TheBlaze's Glenn Beck don't always agree, but the men made it clear in a radio interview Monday that their disagreement on certain issues doesn't mean they dislike each other. In fact, the two were full of praise for each other's boldness in standing up to political norms.
"Thank you for being a man of conscience," Beck told Lemon. "Because if I can always guess what somebody is going to say, they're nothing but a shill."
"I think we listen to the loudest voices the most, and we shouldn't," Lemon agreed. "And I think the majority of people feel the same way we do, Glenn -- that we should not be run by the right or the left or, you know, conservative versus liberal. ... We should listen to what is right. And I think it's going to take people like us standing up and giving voice to that."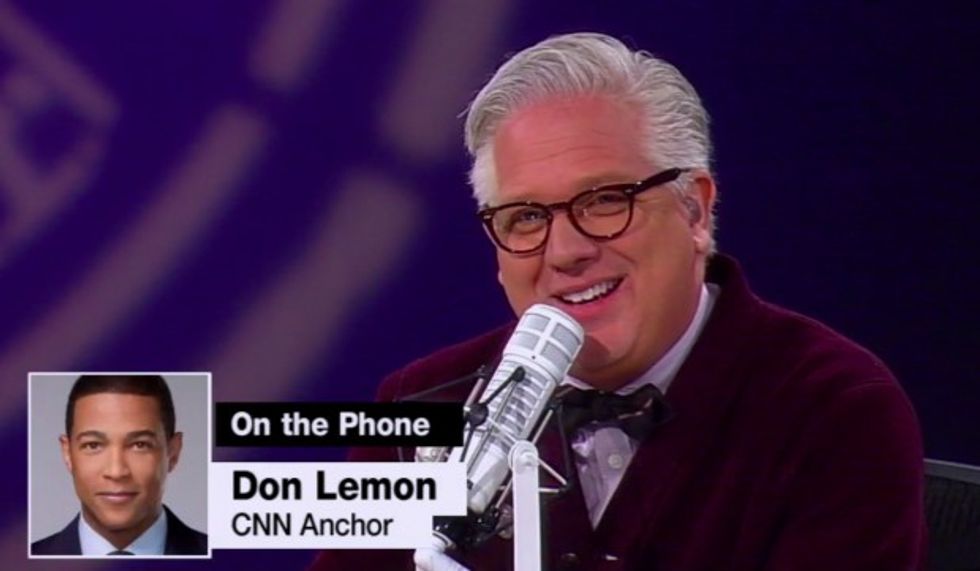 Glenn Beck speaks with CNN's Don Lemon on his radio program June 22, 2015. (Photo: TheBlaze TV)
Beck told Lemon about his "Never Again Is Now" initiative, saying "all life matters" and Americans must come together on supporting the rights of "the Christians, the Muslims who aren't Muslim enough, the atheists, the homosexuals who are being thrown off the roofs by ISIS."
"We have to help these people," Beck said. "And we're going to be down in Birmingham, Alabama on 8/28, and I'd love to invite you to come on down."
"I saw your report on that. Awesome," Lemon said. "If you invite me, I'm there. I'll come."
"Don, best of luck to you," Beck concluded. "I'm glad we opened this dialogue with each other, and I hope to see you on 8/28. We'll be in touch to give you all the details."
[mlbvideo content_id=189119683]
The full episode of The Glenn Beck Program, along with many other live-streaming shows and thousands of hours of on-demand content, is available on just about any digital device. Click here to watch every Glenn Beck episode from the past 30 days for just $1!