Spencer Butler ran toward a nearby apartment building with his new camera Saturday, intending to capture footage of a fire already in progress. When he saw how bad it had gotten though, he and his friend became part of a search and rescue effort for people and animals who hadn't made it out.
Video uploaded to YouTube and posted to Reddit by Butler shows his point of view as he and his friend busted open doors looking for animals, taking cues from neighbors in the Rapid City, South Dakota, complex who knew where they might be.
After a few minutes of helping get animals out, fire crews arrived to manage the blaze, which was likely caused by a lightning strike, according to local news reports.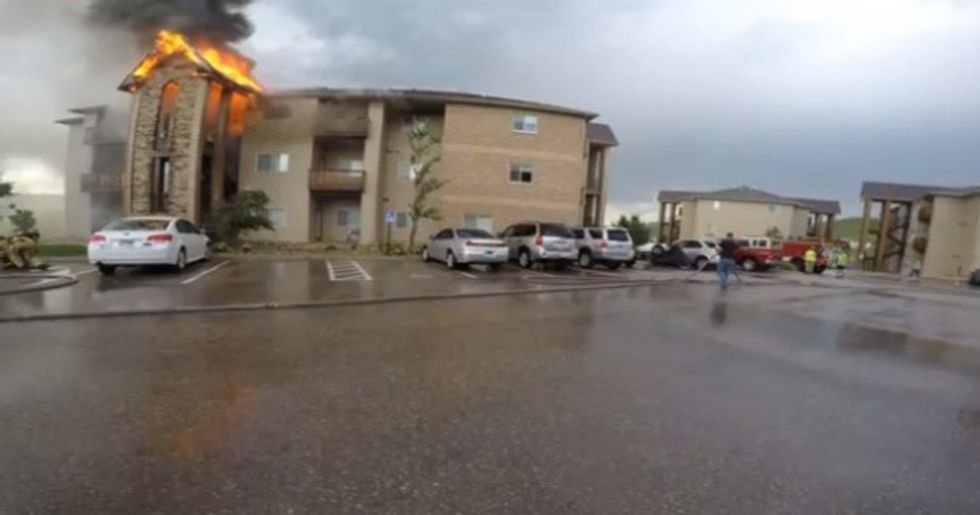 Image source: YouTube
"We were thanked by the owners of the dogs we saved and the fire chief said he was happy with what we did," Butler wrote on Reddit.
Watch Butler's video:
One dog that was spooked by him in the video ran away and he wrote on Reddit that there's an ongoing search for him. This dog's owner though, Butler said, was still thankful he broke into her unit and got him out.
"The whole third floor was touched by the fire and he would have been dead," he wrote.
Someone wondered about the legality in a situation like this, but Butler said they are covered by a Good Samaritan law.
"Don't ever hesitate to help people/animals," he wrote.
Butler added that some people on the thread gave him constructive criticism about the manner of his rescue efforts as well.
One of them pointed out that if you open doors in a fire situation, it's a best practice to close them in an effort to help contain the blaze.
"Compartmentalization is an extremely effective fire control method. Also check for heat, take the back of your hand and feel the top near the frame," this Redditor explained.
Resident Erica Lafferty told the Rapid City Journal that she heard a boom and felt the room shake but didn't think anything further of it until someone was banging on her door.
"One of our neighbors ran around the building telling people the place was on fire," she told the newspaper. "We were just sitting there and all of a sudden we heard this knocking on our doors."
KOAT-TV reported that one person was hospitalized due to smoke inhalation.
Watch KVEN-TV's report for more on the fire: