For months, Israeli Prime Minister Benjamin Netanyahu has been sounding the alarm over what he believes to be the "bad" and "dangerous" nuclear agreement the U.S. and world powers are negotiating with Iran.
With those warnings seeming to have fallen on deaf ears, Netanyahu on Monday turned to that great American sport of football for some help.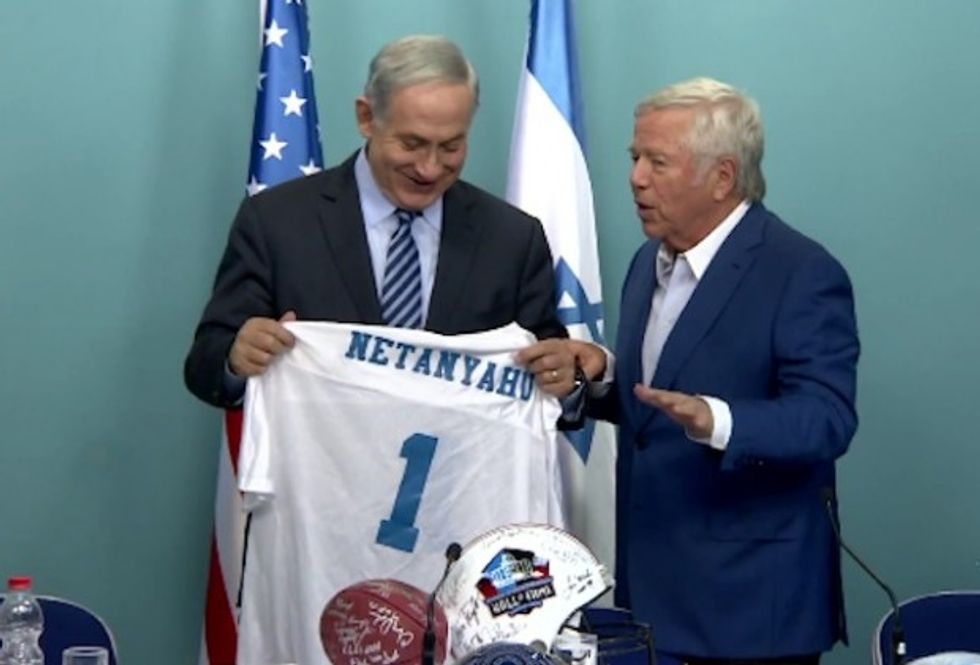 Israeli Prime Minister Benjamin Netanyahu receives a football jersey from New England Patriot's owner Robert Kraft. (Image source: YouTube)
Meeting with NFL Hall of Fame members, Netanyahu was chock full of football metaphors.
Since countries outside the U.S. mean "soccer" when they say "football," it's obvious which country was the target of his message.
"Iran is one yard away from the goal line. If they get nukes, the pre-eminent terrorist regime of our day will be armed with nuclear weapons. That's dangerous for the United States and for Israel and for the entire world," Netanyahu said. "Our effort today is to make sure that we block them and push them back. That's the ultimate contest."
Among the visitors were New England Patriots owner Robert Kraft and Hall of Fame members Curtis Martin, Tim Brown and Thurman Thomas who gave Netanyahu a football jersey with his name, a football and a helmet "for good defense and the ball for touchdowns."
During his visit to Israel, Hall of Fame running back Curtis Martin was baptized in the Jordan River.
"I've been baptized previously, but the honor of being baptized in the same place that Jesus was baptized was something I could not pass up and something I'll never forget in my life," he told ESPN. "This whole trip to Israel has been one of the best experiences in my life."
"We have all been impacted in a very spiritual way," Martin added.
Netanyahu appealed to the athletes to convey their positive experiences in Israel when they get back home to the U.S. where supporters of Israel frequently decry what they describe as unfair media coverage of the Jewish state.
"Israel is free, robust, pluralistic, divergent and rambunctious. It's the only place where people are really free, Jews, non-Jews, the only place where Muslims enjoy civic rights in the Middle East, where Christians are protected. To survive and thrive in this you have to be tough," Netanyahu said, adding, "I hope you go back to America to do one thing, tell the truth about Israel."
Given the popular nickname for the briefcase of codes that accompanies the U.S. president wherever he goes allowing him to authorize a nuclear attack, maybe Netanyahu's football imagery was no fumble.