Negotiators for the U.S. and five world powers are willing to offer Iran high-tech reactors and state-of-the-art equipment if Tehran agrees to rein in its work toward nuclear weapons development, the Associated Press reported Wednesday.
While the Obama administration appeared to be willing to offer further concessions to Tehran, Iran's Supreme Leader Ayatollah Ali Khamenei Tuesday further toughened his stance, announcing Iran will not agree to a long-term freeze of nuclear work, even of 10 to 12 years.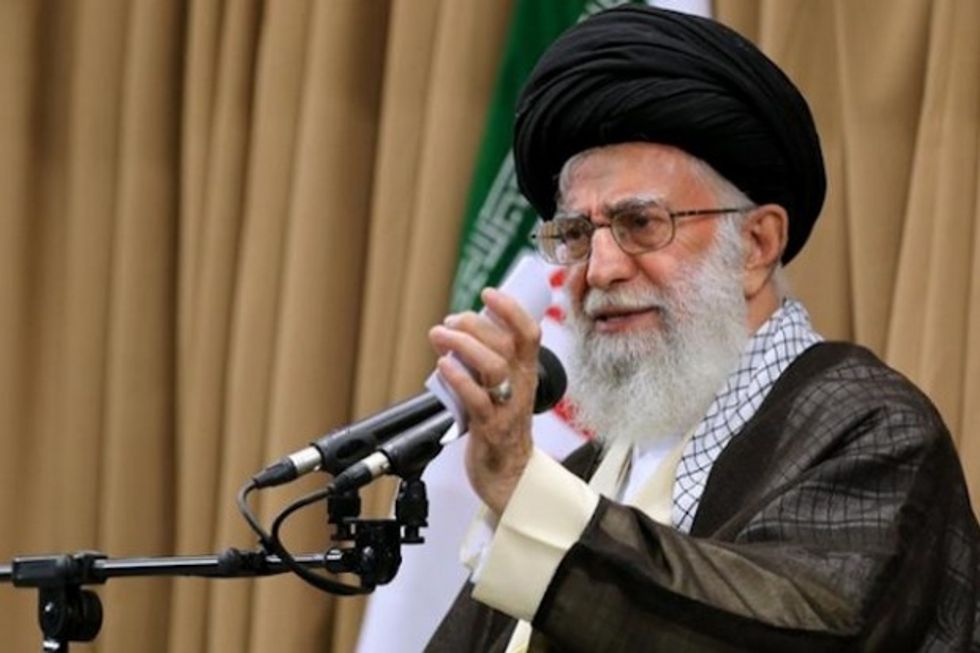 Iranian Supreme Leader Ayatollah Ali Khamenei presented extensive red lines for a nuclear agreement in a speech Tuesday June 23, 2015. (Photo: Office of Iran's Supreme Leader)
Just one week before the June 30 deadline negotiators set to reach a permanent agreement over Iran's nuclear program, the AP reported that the draft document titled "Civil Nuclear Cooperation" would offer Iran light-water reactors to be used instead of its nearly completed Arak heavy-water reactor. The AP noted that Arak could produce enough plutonium for several bombs a year once completed.
The eight-page draft dated just 11 days before the deadline said Iran would remain the manager of the modified facility, according to the AP:
Reducing the Arak reactor's plutonium output was one of the main aims of the U.S. and its negotiating partners, along with paring down Iran's ability to produce enriched uranium — like plutonium, a potential pathway to nuclear arms.

Outlining plans to modify that heavy-water reactor, the draft, dated June 19, offers to "establish an international partnership" to rebuild it into a less proliferation-prone facility while leaving Iran in "the leadership role as the project owner and manager."
The AP reported that the draft document was one of several appendices that were designed to be added to the main text of an agreement. "Dozens" of points of bracketed text hinted at substantial areas of disagreement, the AP noted.
Khamenei appeared to harden his stance in a speech broadcast live on Iranian television Tuesday in which he presented a wide range of "major red lines" including refusing any long-term restrictions on Iranian nuclear work.
"We don't accept 10-year restriction. We have told the negotiating team how many specific years of restrictions are acceptable," Khamenei said. "Research and development must continue during the years of restrictions."
His office followed up Wednesday with a graphic listing the Iranian position, which included its previously stated demands that all sanctions must be lifted "on the same day deal is signed" and that no military sites will be open to international atomic inspectors.
#Iran's Major Red Lines in Nuclear Negotiations. #IranTalks pic.twitter.com/RlHL9BXklm

— Khamenei.ir (@khamenei_ir) June 24, 2015
The Iranian leader characterized the demand Iran halt its nuclear research and development "excessive coercion."
On Sunday, as some lawmakers chanted "Death to America," Iran's parliament voted overwhelmingly to prohibit international nuclear inspectors from examining its military bases, documents and scientists.