The crowded Republican 2016 presidential field has gained a new entrant as Louisiana Gov. Bobby Jindal touted his record and pledged to shrink the size of government when he announced his candidacy Wednesday.
In his formal announcement at the Pontchartrain Center in Kenner, Louisiana, Jindal singled out one of the leading candidates in the race.
"You heard Jeb Bush say we need to be willing to lose the primary in order to win the general election. We are going to help him do that," Jindal said to laughter and cheers.
"What Jeb Bush is saying is that we need to hide our conservative ideas, but the truth is, if we go down that road again, we will lose again. Let's do something new,"  Jindal said. "Let's endorse our own principles for a change. Let's boldly speak the truth without fear."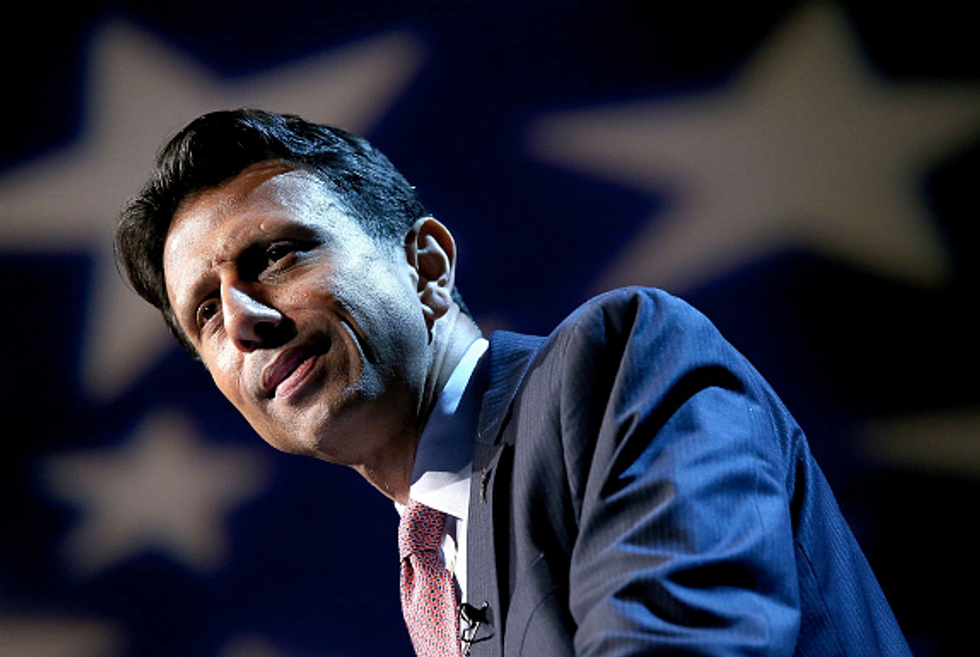 Louisiana Governor Bobby Jindal announces his candidacy for the 2016 Presidential nomination during a rally a he Pontchartrain Center on June 24, 2015 in Kenner, Louisiana. (Photo by Sean Gardner/Getty Images)
Jindal hit several themes including the economy, national security, the  national debt and religious freedom.
Jindal said "Christianity is under attack," and added, "I'm going to say this slowly so that even Hillary Clinton can understand it: America did not create religious freedom. Religious freedom created the United States of America."
At 44, Jindal is among the youngest candidates in the Republican field, but he had an early start on many fronts, graduating from Brown University at age 20 and forgoing acceptance to both Harvard and Yale to become a Rhodes scholar at Oxford University studying health policy.
He became secretary of the Louisiana Department of Health and Hospitals at age 24. By 28, he was the president of the University of Louisiana system.
President George W. Bush named Jindal assistant secretary for the U.S. Department of Health and Human Services. He is using this experience in his campaign.
"I am the only candidate who has written a plan to repeal and replace Obamacare, a free market plan that focuses on reducing costs," Jindal said.
After losing his first race for governor in 2003 at the age of 31, Jindal won a U.S. House seat in 2004. In the middle of his second term, he successfully ran for governor in 2007. In his early years, he was known for bringing sweeping ethics reforms to the state long regarded for its corruption. He was re-elected in 2011.
"We reformed our ethics laws," Jindal told the crowd Wednesday. "We went from one of the worst states to being one of the best states."
During the announcement, Jindal went onto to point to his record enacting school choice statewide and to the increased incomes for the state's workers.
He said he cut the size the government in Louisiana and can do the same in Washington.
"They say you cannot actually cut government spending," Jindal said. "We can and we will."
In 2008, Jindal was widely talked about as a potential vice presidential pick for Republican presidential nominee John McCain because of his youth and record as a governor.
Jindal was tapped to deliver the 2009 GOP response to President Barack Obama's first address to Congress, a delivery widely regarded as awkward. Though he has been in the national eye, he has fallen behind the attention of some other prominent GOP governors who are also poised to run in 2016, including Scott Walker of Wisconsin and Chris Christie of New Jersey.
Last August, Jindal sued the U.S. Department of Education, claiming that the federal department has used coercive tactics in pushing states to adopt the controversial Common Core education standards, citing "Race to the Top" grants and waivers from the No Child Left Behind law as examples of coercion.
Fred Lucas contributed to this report.