It was the first day of summer vacation for a trio of brothers in Antioch, California, but it was not one of fun and relaxation.
The eldest of the brothers is being called a hero after he helped defend his younger siblings and home against an unwanted intruder Monday.
Redman Collins, 13, told KGO-TV the intruder "walked right into our house."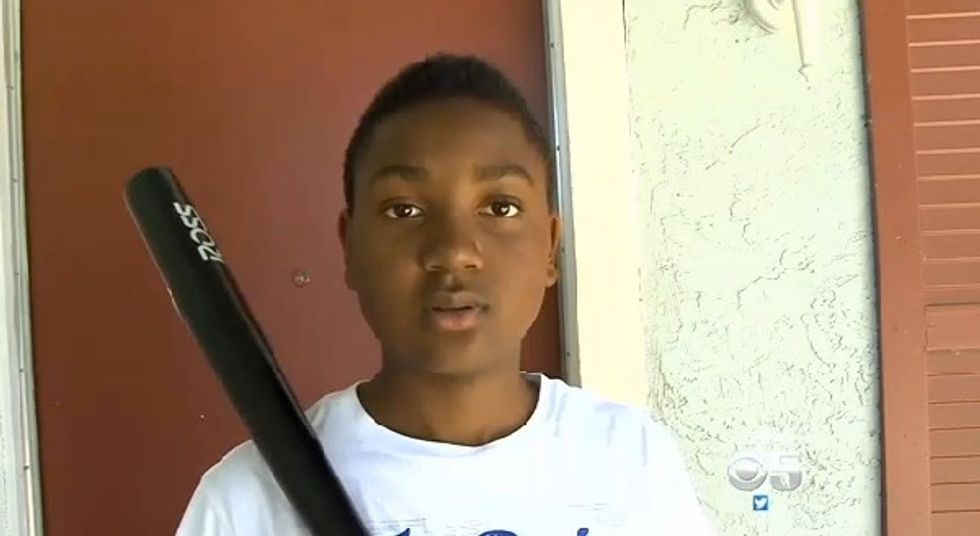 This 13-year-old grabbed a bat and stood by the locked door waiting for police to arrive while the intruder banged, trying to get in again. (Image source: KPIX-TV)
"Then, that's when my dog scared him out," he added.
But the dog didn't deter the intruder completely.
"[...] and then he came back trying to bust into the house," Collins told KGO.
The young teen, home alone with his 10- and 12-year-old brothers while their mother was at work, told the news station he locked all the windows and doors and ushered his younger siblings into their mother's room.
Then, he grabbed a knife, later switching out his defensive weapon of choice for a larger bat, and called 911.
Watch KGO's report:
According to KGO, Collins thankfully didn't have to use the bat to defend his family. Police arrived and arrested the man they identified as 39-year-old Terrel Freeman. But here's a concerning bit of information: Collins' older sister said she recognized Freeman as a man who followed her from school a few days ago.
"When I saw the picture, I gasped," 19-year-old Jasmine King told KPIX-TV. "I'm like 'oh my God, that's the dude I used to see everyday when I went to school.'"
Collins' mother, Joneeca King, told KGO she's proud of her son's actions.
"He acted appropriately," she told the news station. "He took steps and measures to defend his brothers and the household like a brave young man."
Watch the report from KPIX-TV: