Many viewers were likely not expecting to turn on CNN Wednesday night and find Don Lemon and Glenn Beck discussing some of the most divisive issues facing the U.S. today, including gay marriage and the "N-word." But some of those same viewers were also pleasantly surprised to watch two people with differing opinions have an open, honest and civil dialogue about such controversial topics.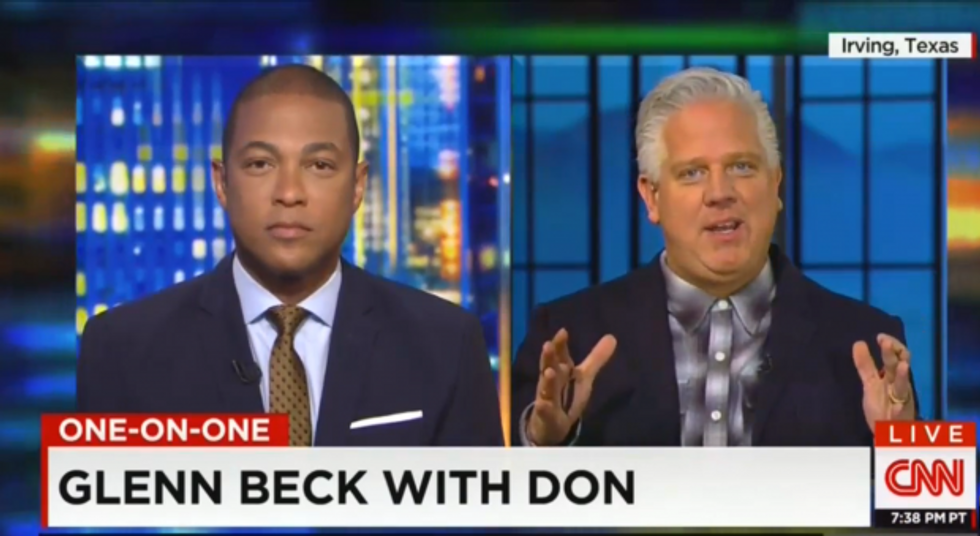 Screengrab via CNN
Lemon asked Beck straight-up at one point, "Are you homophobic?"
Beck flatly denied that he's homophobic, noting that he has many friends and employees who are gay and proceeded to tell a story about standing up to an "anti-gay" stagehand at a "well-known theater" in New York City.
Is @glennbeck homophobic? @donlemon asks him directly. Here's his response, and their exchange http://t.co/lANqUX2Cg7

— CNN Tonight (@CNNTonight) June 25, 2015
Beck and Lemon also found common ground on the N-word. While Beck said he wishes no one would use it, Lemon bluntly stated that he "hates" the word.
"If I used it on the program…I can guarantee you that tomorrow or tonight would be the last time I would be on broadcast television," Beck said. "I think that's a bad word."
However, the conservative entrepreneur also said he does not support the "banning of words."
On the issue of gay marriage, Beck proclaimed he doesn't "care how people live their lives" and argued the government shouldn't be involved in marriage at all.
"I don't want to be in your bedroom," he said. "The reason why we have marriage licenses in the first place, historically speaking, is to keep blacks from marrying whites. Why is the government involved in this at all? They shouldn't be involved. That's between you and your preacher, or you and your desk lamp or whoever you want to marry you."
He continued: "That being said, it's a two-way street. We have to leave each other alone. You can't now go to a church and say, 'Hey, you have to marry these people.' No, they have a right to conscience, you have a right to conscience. Let's just be reasonable with each other and leave each other alone."
After first admitting that his comments might get him in "trouble," Lemon, who is openly gay, revealed that he doesn't care "what you call" the institution of gay marriage as long as he is provided all the rights as any other American.
"Do I think people should be able to get married to the same sex? Yes," Lemon added. "But if there is someone…if their religion precludes it then that's your business."
Agreeing with Don's point about religious freedom, Beck responded, "If you lose the right to conscience, you lose everything else."
Check out some of the interesting reactions to Beck and Lemon's discussion:
@donlemon Great segment with Glen Beck.

— ShaneDeitertCNN (@ShaneDeitertCNN) June 25, 2015
@donlemon @glennbeck @CNNTonight you two guys having an intelligent conversation is keeping me up late tonight. When life gives you lemons?

— Paule Pachter (@PaulePachter) June 25, 2015
@twitclark @donlemon @glennbeck I wouldn't go that far but it's refreshing when 2 media personalities have an adult convo without yelling☺

— Princess Hardy (@tchest1973) June 25, 2015
There is a weird, interesting chemistry between @donlemon and @glennbeck. Is @jonathanwald thinking regular segment? @CNNTonight @theblaze

— Mark Joyella (@standupkid) June 25, 2015
@donlemon @glennbeck I can't believe I'd ever hear this but you and @billmaher are in agreement about political correctness!

— Julie Kiel (@juliekiel) June 25, 2015
This one viewer was flat-out stunned that he "agreed" with Beck:
Check the temperature in hell. Just saw @glennbeck on @donlemon @CNN AND I AGREED WITH HIM. #frightened.

— Jeff Lynn (@jefflynn) June 25, 2015
#CNN @donlemon new #outlook for @glennbeck. I find this talk on @CNN makes him quite sane! This is a good look for Beck! #surprise

— Myke Collins (@collinsm8) June 25, 2015
This convo between @donlemon and @glennbeck is really excellent. If these are the crazy people in media then call me crazy.

— Dave Rubin (@RubinReport) June 25, 2015
@glennbeck is dropping knowledge bombs right now with @donlemon...im pretty surprised actually....pleasantly surprised.

— ✌Jeff Prioleau (@jeprioleau) June 25, 2015
---