Critics are turning to Holocaust and Cold War imagery to slam a plan by the Hungarian government to construct a 13-foot high border fence to try to stem what it's describing as a "flood" of illegal migrants flowing into the country.
A Human Rights Watch dispatch this week called Hungary's plans for the 100-mile long fence along its border with Serbia "an insult to history" and "a new" Iron Curtain. The Serbian prime minister compared the idea to a notorious Nazi death camp.
"We don't want to live in an Auschwitz," Serbian Prime Minister Aleksandar Vucic said last week following the announcement of his neighbor's plan to construct a temporary border fence.
But Hungarian officials defended the move as "necessary," because other measures have not deterred the migrants.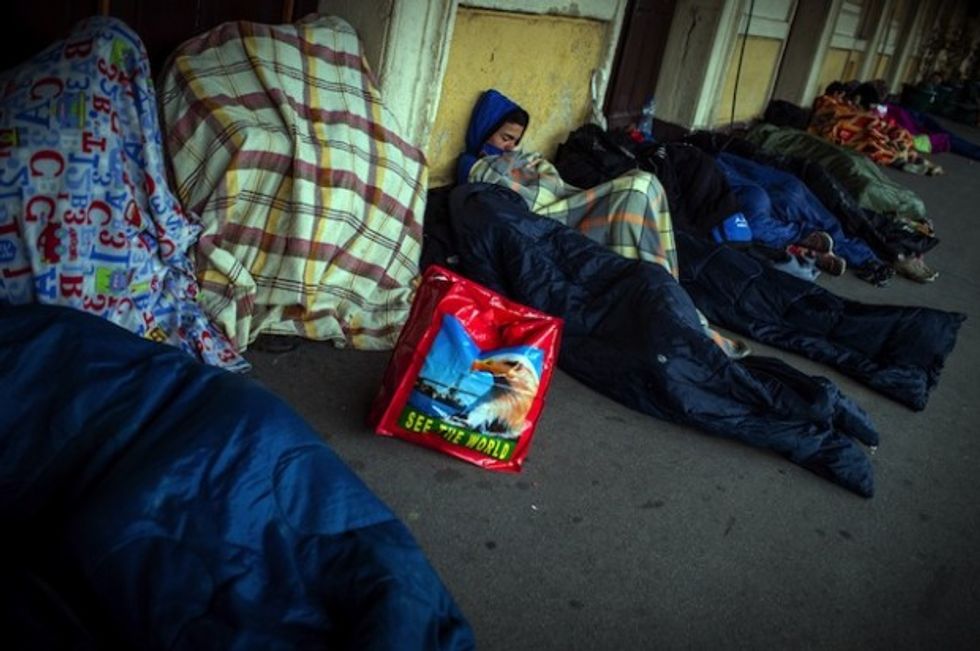 Migrants sleep at the main railway station in Belgrade on June 24, 2015. Illegal immigrants cross Serbia on their way to other European countries as it has land access to three members of the 28-nation bloc  — Romania, Hungary and Croatia. The number of immigrants entering Hungary rose from 2,000 in 2012 to 54,000 this year so far. According to official figures, 95 percent of them arrive from Serbia. (Andrej Isakovic/AFP/Getty Images)
Foreign Minister Peter Szijjarto told reporters Wednesday that there has been "no other effective way to impede illegal immigration."
"This is a necessary step," Hungarian government spokesman Zoltan Kovacs told Britain's Guardian on Monday. "We need to stop the flood."
The Associated Press quoted Szijjarto saying that 61,000 migrants had entered Hungary this year. Almost all had crossed over from Serbia.
The vast majority of asylum applicants were from Kosovo, followed by Afghanistan and Syria.
Adding to Hungary's challenge, the European Union has been pressuring Hungary to take back illegal immigrants who first registered for asylum in Hungary before taking advantage of the EU's open borders and moving to other countries.
Hungary announced that, for now, it would not take back those who had moved to a third European country after applying for asylum in Hungary.
Rights groups also criticized the Hungarian government for a billboard campaign displaying phrases like "If you come to Hungary, don't take the jobs of Hungarians!"
The government also sent out a questionnaire to eight million Hungarians which according to the New York Times asked whether the EU's immigration policy had increased terrorism and if they would support detaining illegal immigrants at their own expense.