A video posted onto Facebook earlier this week claims to show a sticker on a cellphone battery that the owner believes is used for data collection and spying. These accusations though have been blasted by tech sites as false.
The video shows a man peeling the NCF, or near field communication, sticker off his Samsung Galaxy S4 battery. In the video the man says that with this sticker "they're recording every photo of yours on your battery."
"You should take this off because they're recording every of your photographs," he repeated. "This should not be on your phone battery. ... They're recording every single thing of yours."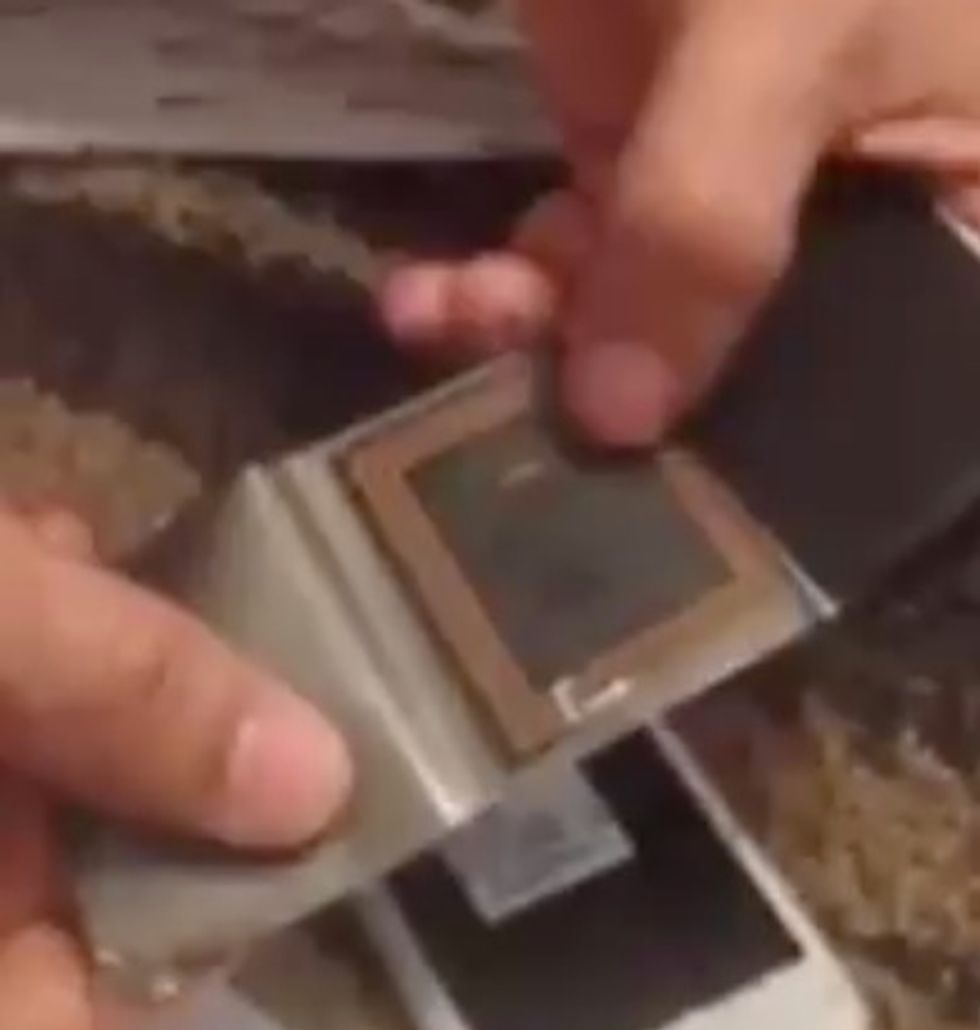 The man peeled off this sticker on his phone's battery claiming it is helping the company collect data on his his photos. What the sticker really holds is NFC technology, which allows users to do a variety of cool things, like mobile payments for example. (Image source: Facebook)
There are also several videos posted to YouTube within the last month making the same accusations about the stickers, but the Facebook version has gotten the most attention with more than 12 million views and over 300,000 shares in three days.
As Android Police points out, the claim that is "completely, utterly false."
Here's the video that Android Police cites as spreading misinformation (Content warning: the man has strong, anti-Semetic language in his video):
I bet all the Samsung users out there didn't know this

Posted by Nick Browne on Monday, June 22, 2015
Now, let's understand what an NCF sticker or tag does.
According to How Stuff Works, it's similar to radio frequency identification technology, except NCF works at a closer range.
"NFC tags are passive, meaning they don't have any power source. Instead, they literally draw power from the device that reads them, thanks to magnetic induction," How Stuff Works explained. "When a reader gets close enough to a tag, it energizes it and transfer data from that tag."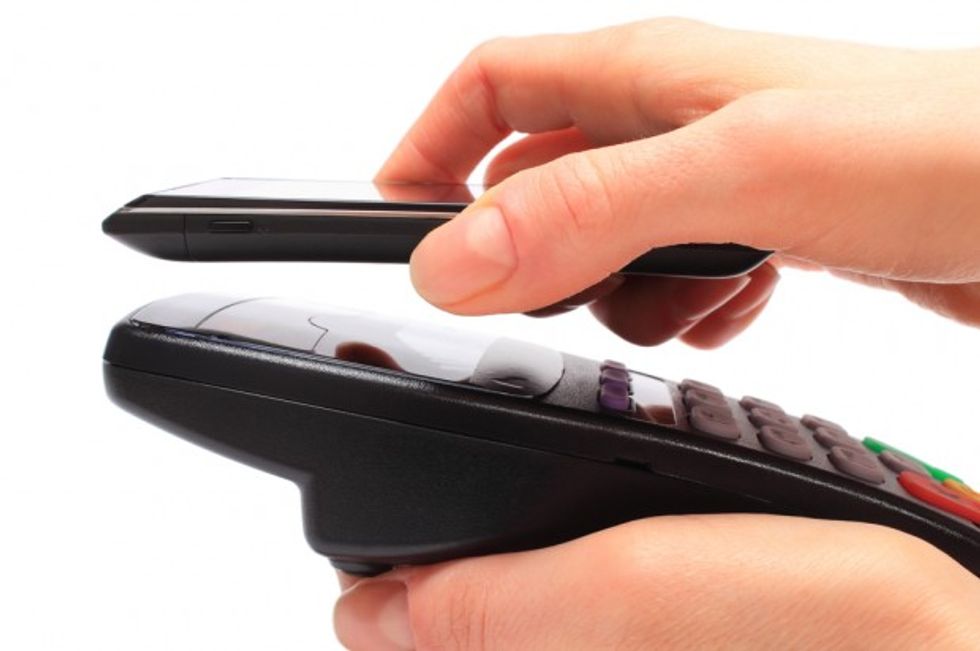 NFC technology allows for mobile payments. (Photo credit: Shutterstock)
Here are some examples of what it can do:
For example, a smart tag could be embedded into a political flyer. Tap the tag, and you're directed to a Web site touting a candidate's credentials. At the same time, you also instantly receive a snappy biography in the form of a text file and image.

Or, at your favorite restaurants, you can touch your phone to an NFC tagged menu and voila -- you have the entire menu on your phone, along with nutritional information and mouth-watering descriptions of the ingredients in your favorite dishes.
Last year, TheBlaze reported about how NFC technology could create a cool way to digitally unlock your phone.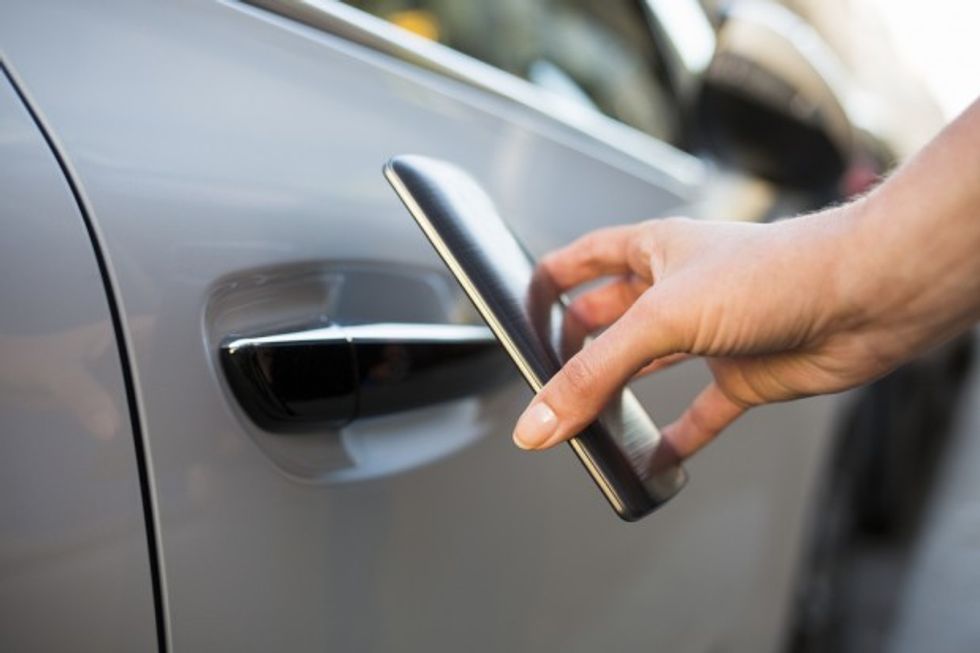 It could remotely help people unlock car doors with NFC-enabled phones. (Photo credit: Shutterstock)
And Samsung isn't so secretive about the NFC stickers in its phones either. A few years ago when Samsung introduced its TechTiles program, an app that works with its TecTile NFC tags, it noted that the program worked with its most of its Samsung Galaxy S phones and other Android phones that were NFC-enabled.
Snopes, the fact-checking site, which also debunked this conspiracy theory about the NFC sticker around phone batteries are being used for surveillance, pointed out that Apple uses it in iPhones as well.
"It is also used to transfer photographs, contacts and other small pieces of data," Snopes explained.
"While there is a coil 'hidden' in the wrapping surrounding most batteries included with Samsung phones, this is merely the NFC antenna and not a 'secret microchip' used to steal data," Snopes stated.
If you take off this sticker, as the man in the Facebook video suggests people do, you could damage this technology and be unable to use it for various applications that use NFC.
Watch this video from Android Authority, which shows how NFC is used in Android devices: