"Morning Joe" co-hosts Mika Brzezinski and Joe Scarborough appeared to be headed toward a major blow up less than 15 seconds into Thursday's edition of the MSNBC morning show.
Brzezinski opened the show attempting to introduce regular panelists Mark Halperin and Willie Geist, only to be sidetracked by Scarborough, who wanted to get right into a discussion of the latest news from the prison break in upstate New York.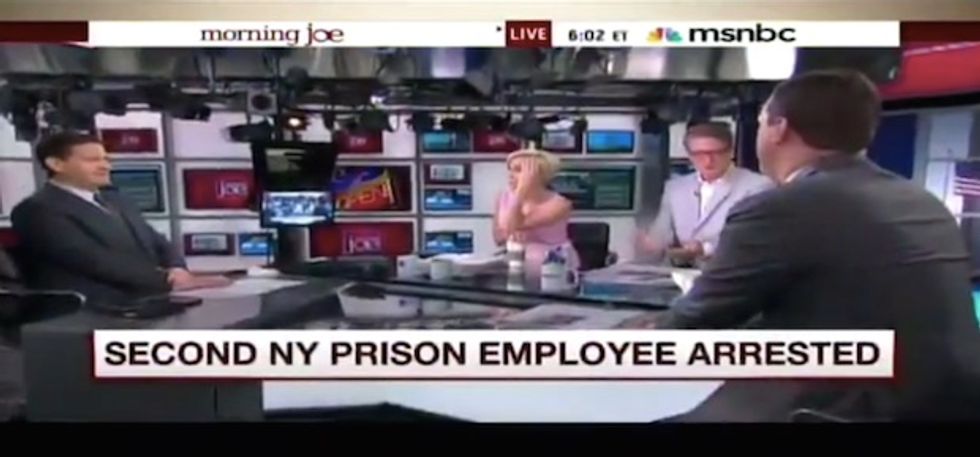 Image source: YouTube
Halperin helped Scarborough by relating a story about radio host Don Imus' tongue-in-cheek on-air push for letting the escapees go free for being "so crafty."
"OK, that's just sick," Brzezinski responded.
Sounding like a stand-up comic, a chuckling Scarborough launched into his thoughts on the latest news on the prison escapees. "But seriously, what's with these people? This lady — she's in this 'Canned Heat' love triangle with these guys."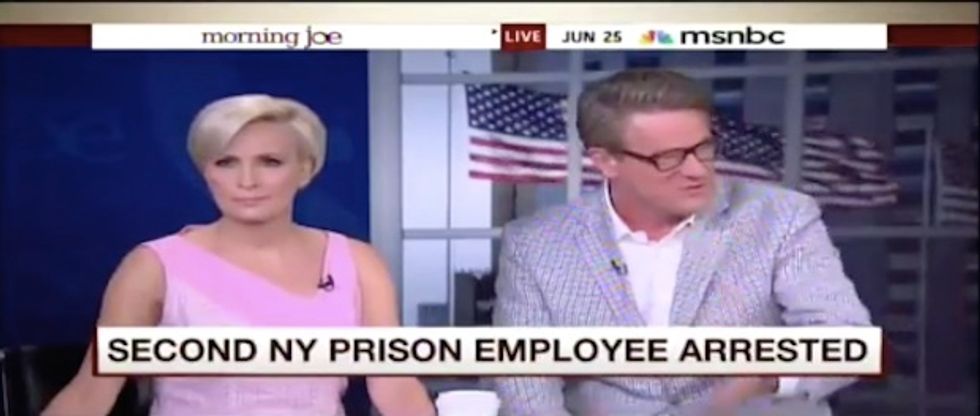 Image source: YouTube
Brzezinski glared into the camera as Scarborough continued, "And this dude, is he banging them too?"
There was a visible shudder from Brzezinski as Scarborough's microphone was briefly cut off. She and Willie Geist tried to steer Scarborough back to the facts of the story with Brzezinski attempting to lead him, "You meant like banging power tools against the wall?"
After Scarborough agreed, "Yeah, that's exactly what I meant," Brzezinski continued as he talked under her, "OK, good, because that is absolutely what you meant. And I don't want to talk about it anymore. This is not funny."
Brzezinski turned away from Scarborough as Joe continued, "Willie, seriously, what are they doing up there?" As Geist was trying to answer, Mika sternly demanded, "Fix this, Willie." Eventually, she predicted they would come back for a full update that would feature only her "and Joe's mic cut."
"You can't hear that banging at night?" Scarborough continued with the double entendres, to Brzezinski's disgust. "There's a lot of drilling going on for them not to hear."
Watch the entire exchange:
—
Follow Mike Opelka (@Stuntbrain) on Twitter