At attorney with the Liberty Institute, a conservative legal firm, said that his organization was flooded with more legal requests for assistance on Friday following the Supreme Court's gay marriage ruling than it has been for every day in 2015 combined.
"In one day we had more than we've had the last five months," Jeff Mateer, general counsel for the Liberty Institute, told TheBlaze on Monday. "I [also] don't know how many people didn't get through."
Mateer, who said that he believes people are scared, confused and misinformed by the "mainstream media" in the wake of the ruling, also said that he's worried religious people will end up staying silent — a dynamic that he believes could work against the defense of religious freedom.
"What I'm worried about is that people of faith won't stand up, and the result will be ... a retreat into our places of worship, and there won't be engagement," he said. "And it will be de facto that holding these beliefs are penalized and punished."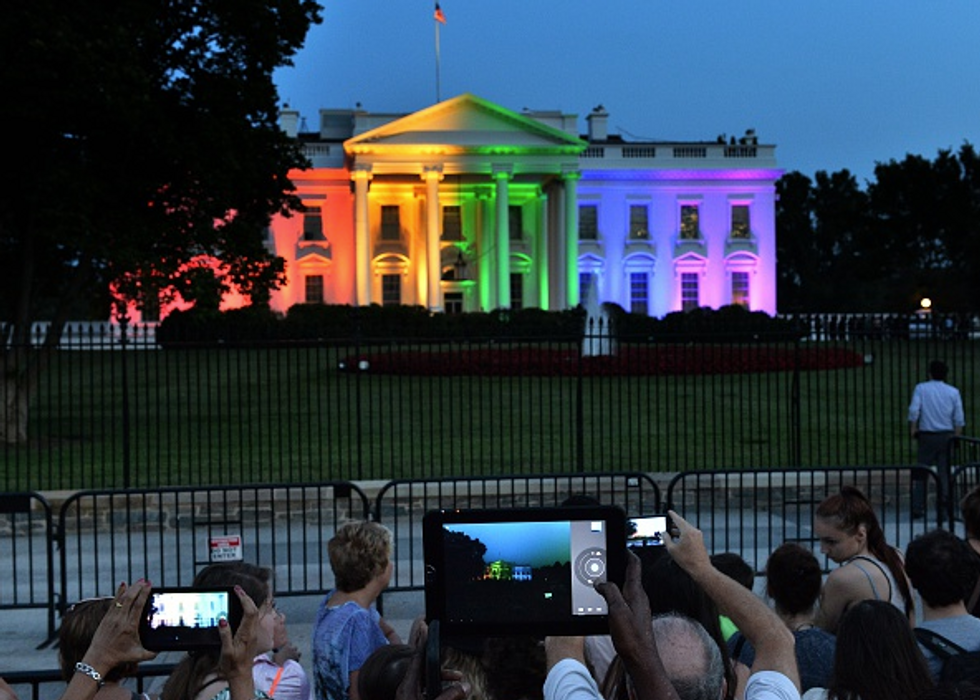 People take photos of the White House lightened in the rainbow colors in Washington on June 26. 2015. The US Supreme Court ruled Friday that gay marriage is a nationwide right, a landmark decision in one of the most keenly awaited announcements in decades and sparking scenes of jubilation. (MLADEN ANTONOV/AFP/Getty Images)
He made these claims after the Liberty Institute responded on Monday to public comments by Texas Gov. Greg Abbott, Lt. Governor Dan Patrick and Attorney General Ken Paxton, that government employees can refuse to issue same-sex marriage licenses based on religious objections, offering legal advice to individuals who wish to uphold their religious conscience.
Mateer said that at least 100 people reached out to the organization on Friday, alone, leaving him and other employees with plenty of work to do as they work their way through the prospective caseload.
He believes that current law provides "several layers of protection" for government employees who have religious objections to gay unions.
"They have the First Amendment," Mateer said. "Their employers are the government, so they have a direct First Amendment claim."
In addition to making a constitutional claim, Mateer said that Title VII of the Civil Rights Act of 1964 also shields these employees, as individuals are protected from discrimination based on "race, color, religion, sex and national origin."
"You have Title VII rights to give rights based on religious beliefs," he said, citing E.E.O.C. v. Abercrombie & Fitch Stores, a case in which the Supreme Court decided in favor of a Muslim woman who sued Abercrombie & Fitch after she was denied a job at a store in Tulsa, Oklahoma, in 2008, for failing to comply with the clothing company's ban on head coverings.
Mateer continued, "The Abercrombie & Fitch case that says that, under certain circumstances, employees don't have to violate they're sincerely held religious beliefs if the employer can reasonably accommodate."
The attorney also cited Burwell v. Hobby Lobby, in which the Supreme Court ruled that Obamacare cannot force companies to pay for emergency contraceptive coverage for their employees that could lead to abortions, and Hosanna-Tabor Evangelical Lutheran Church v. EEOC, a case that found that religious employees can't sue for job discrimination, as rulings to look to while fighting to instill religious protections.
Photo credit: Shutterstock
Discussing more specifically how this would play out in a state like Texas, Mateer said that Dallas County, for instance, has many clerks, and that an individual who opposes gay marriage and doesn't want to preside over a same-sex union should be permitted to do so by allowing other clerks who do not share religious objections to take their place.
The attorney predicted that there will be ongoing clashes over gay rights and religious freedom following the high court's ruling, and encouraged people of faith to stand up.
"The first thing is people of faith are going to have to stand up and not shrink into caves and go hide and form walls around houses of worship," he said. "They're going to have to engage on this issue."
Mateer said that religious people will need to be willing to defend themselves, even if that means taking to the courts.
"The only protection that you will have is through the judicial process," he said.
--
Front page image via Shutterstock.com.