Republican presidential candidate and billionaire real-estate mogul Donald Trump announced Tuesday that he has filed a $500 million lawsuit against Univision over the network's decision to cut ties with the Miss USA pageant.
The network, which was under contract to air the pageant live in Spanish, said it would no longer do so after Trump's controversial comments on those illegally entering the USA from Mexico.
Donald Trump says of his lawsuit against Univision "It's a very good lawsuit"

— Ben Jacobs (@Ben Jacobs) 1435705350.0
Trump, however, contested Univision's claim, contending the network's move was really aimed at silencing his freedom of speech as he begins his presidential campaign. Trump said in a statement that nothing he has said was different from what he has been saying for "many years."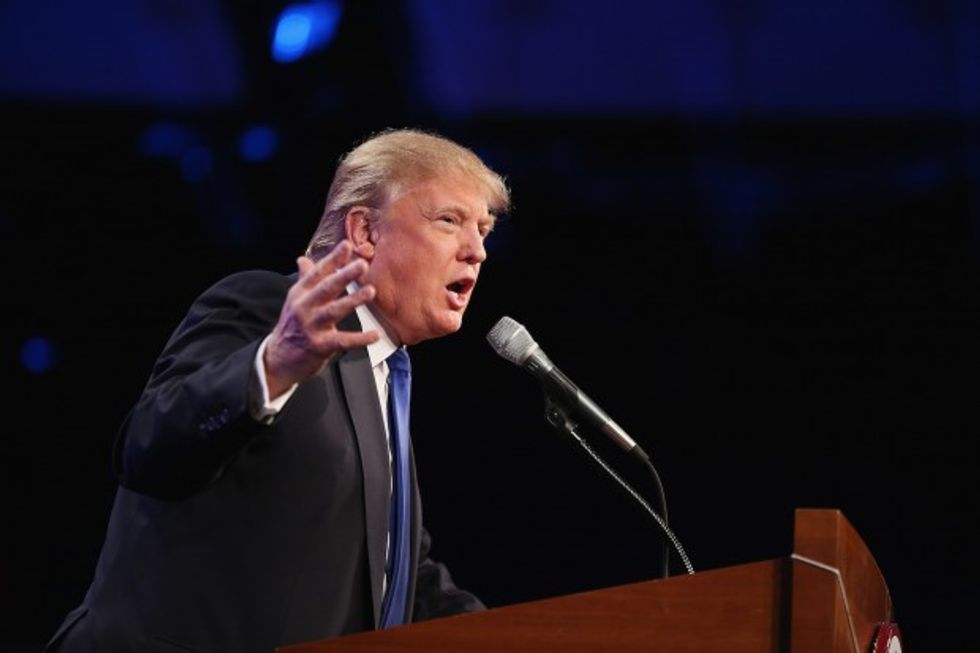 Scott Olson/Getty Images
"I want strong borders, and I do not support or condone illegal immigration," Trump said. "There is a high level of crime occurring in this country due to unchecked illegal immigration. This is a major security issue for the United States."
"Additionally, the terrible trade deals our government is routinely entering into with Mexico are causing great financial harm to our country," he continued. "We are losing a huge number of jobs, manufacturing opportunities and money due to poorly negotiated trade deals, a fact that is indisputable. That won't happen if I become president — this disturbing trend will end and it will end quickly."
Trump said that he has "great respect for Mexico and love for the Mexican people," contending his comments have been manipulated by the media to frame him as a racist.
The billionaire real-estate mogul added that Univision and NBC's refusal to air the pageant was "inappropriate."
"[U]nivision and NBC have abandoned fifty one wonderful young women who have come from all over the United States to pursue their dream of being crowned Miss USA," he said. "There participation in this globally renowned pageant has come at great cost and after years of sacrifice and hard work. NBC and Univision have wrong them greatly."
Univision responded in a statement to Trump, calling his lawsuit "both factually false and legally ridiculous."
"We will not only vigorously defend the case, but will continue to fight against Mr. Trump's ongoing efforts to run away from the derogatory comments he made on June 16th about Mexican immigrants," the network said in a statement.
JUST IN: Univision's response to Trump's lawsuit: "It is both factually false and legally ridiculous." http://t.co/YzNoeod8Z4

— Brian Stelter (@Brian Stelter) 1435703579.0
It concluded, "Our decision to end our business relationship with Mr. Trump was influenced solely by our responsibility to speak up for the community we serve."
—
Follow Oliver Darcy (@oliverdarcy) on Twitter