Ann Coulter and Geraldo Rivera clashed on Tuesday night over illegal immigration and Republican presidential candidate Donald Trump's controversial claim that Mexico is "sending people that have lots of problems" to America.
"When Mexico sends its people, they're not sending their best," Trump said when announcing his candidacy. "They're sending people that have lots of problems, and they're bringing those problems with us. They're bringing drugs. They're bringing crime. They're rapists. And some, I assume, are good people."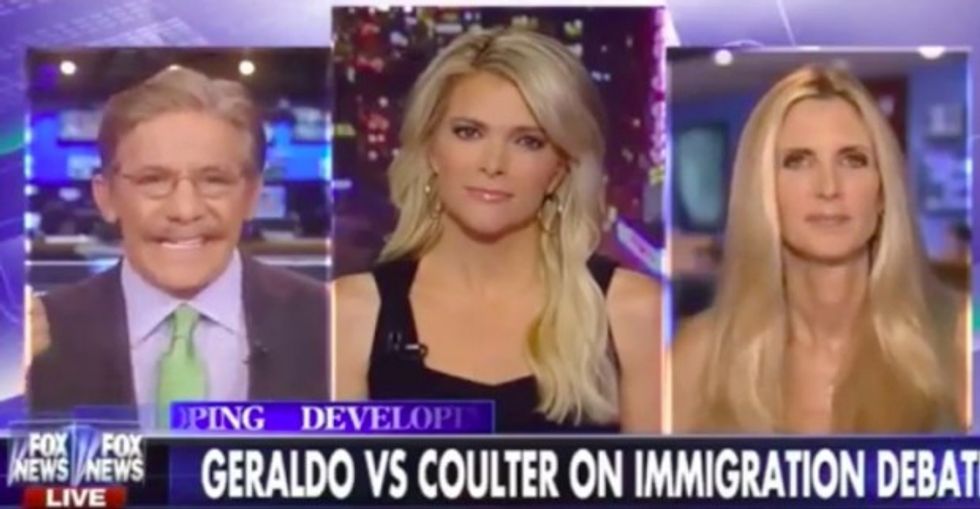 Image source: Fox News/YouTube
Coulter, who takes a hard line on illegal immigration, didn't defend Trump directly but said she believes the government should be using the immigration system to benefit American citizens.
"These are not people who have a right to be here, so I don't care if there are two rapists. I don't care if there are two people coming in who are collecting [benefits]," she said. "Immigration is a government policy like any other, and it ought to be used to benefit the people already living here."
Coulter also pushed back against Rivera's claim earlier this week that illegal immigrants have a lower crime rate than American citizens.
"The idea that immigrants are creating crime at a lower rate than the native population is preposterous," she said, "My complaint ... was that the government won't simply count and tell us, so whatever facts there are it's always people looking at ancillary facts."
Rivera hit back, calling Coulter's premise — as well as the title of her new book, "Adios, America!" — "an insulting insinuation that Latinos are somehow going to pervert and drag down and degrade the America we all know and love."
"This is an insult," he said, going on to claim that the big cities that are known to have an illegal immigrant presence now have lower crime levels than in the past. "When I say that immigrants commit less crime ... crime is at record lows in Los Angeles and in New York."
Rivera also cited the Congressional Budget Office as saying that illegal immigrants give more in revenue to the U.S. than they take in benefits, and he cited Social Security figures claiming that these individuals pay $100 million into a benefit system that they can't use.
"Everything Geraldo said is false," Coulter quipped at the end of the dialogue, with Rivera saying the same of her book.
Watch the exchange below:
(H/T: Mediaite)