Angry over a controversial curriculum that teaches young students about same-sex marriage and "gender identity," several parents in Fairfax County, Virginia, confronted school board members during a regular meeting on June 25. The parents in question argued they should have the choice to "opt-out" of the controversial lessons.
"Parents, do you want your children in Kindergarten to hear about same-sex marriage under the guise of families?" Andrea Lafferty, a Fairfax County parent and president of the Traditional Values Coalition, asked parents at the meeting.
"No!" parents in attendance shouted.
"Parents, do you want your children in fifth grade to hear about Gonorrhea and Syphilis? No! We want opt outs and we want to keep them safe," she continued. "Do you want gender identity to be introduced to seventh grade? No! We want opt outs to remain."
Lafferty went on to accuse officials on the "recommendation committee" of going on record as saying they wanted to remove the opt outs for parents.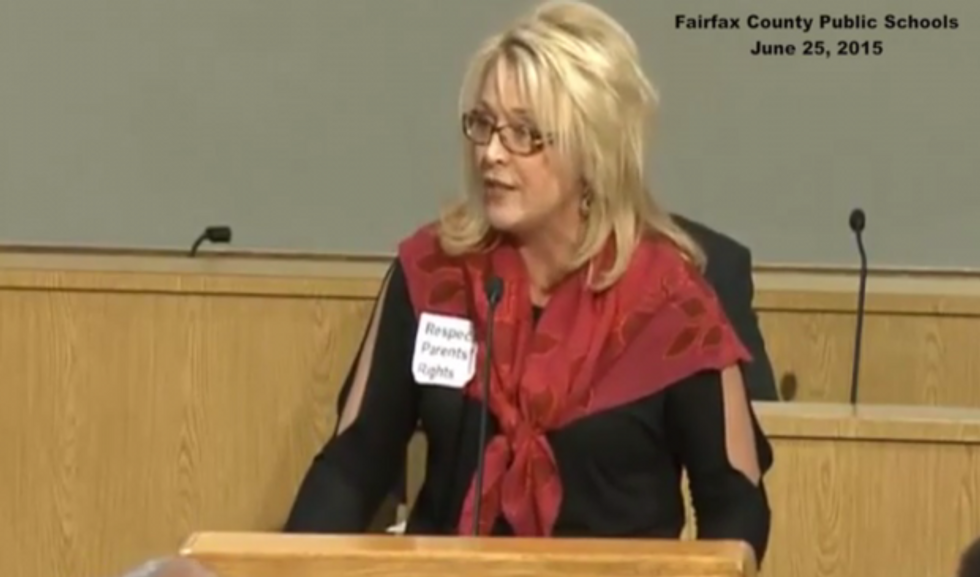 (Screengrab)
Despite the passionate case made by Lafferty and other like-minded parents, the Fairfax County School Board went on to pass the controversial changes to the curriculum 10-2, with only board members Elizabeth Schultz and Patty Reed voting no.
The room erupted in boos and shouts as the changes were overwhelmingly passed.
Watch the video via MRCTV:
CNS News' Lauretta Brown offers more details on the curriculum changes:
After learning to define heterosexuality, homosexuality, bisexuality and gender identity in seventh grade, students in eighth grade will delve deeper into "individual identity."

The eighth grade curriculum says individual identity will be described "as having four parts – biological gender, gender identity (includes transgender), gender role, and sexual orientation (includes heterosexual, bisexual, and homosexual)."

In ninth grade, students will be taught that "sexuality evolves from infancy to old age."

[...]

By tenth grade, "Sexual orientation and gender identity terms will be discussed with focus on appreciation for individual differences."
After the vote, CNS News quoted Schultz as saying, "I am very concerned that we're watching a legacy of an environment that is setting this board at odds with parents."
She also reportedly argued the decision to get involved with "all of this peripheral political stuff" could open the school district to lawsuits and will distract from the "real work of the board," which is to serve students and parents.
---