As the Greek debt crisis dominates the headlines, Stu Burguiere on Tuesday shared some unfortunate news about the similarities between Greece and America.
"Could these people be any dumber?" Burguiere asked while guest hosting The Glenn Beck Program. "Borrowing money they had no earthly way of paying back, increasing government handouts even after it became clear they were crippling the country..."
Burguiere said it's ironic that President Barack Obama is attempting to give Greece financial advice, saying: "Pot, meet kettle. Kettle, meet pot."
"Federal workers in Greece earn more than private citizens. Huh. Well U.S. federal workers earn 37 percent more than private sector employees," he said. "Greece has an unprofitable state rail system. Amtrak loses $1.4 billion every year."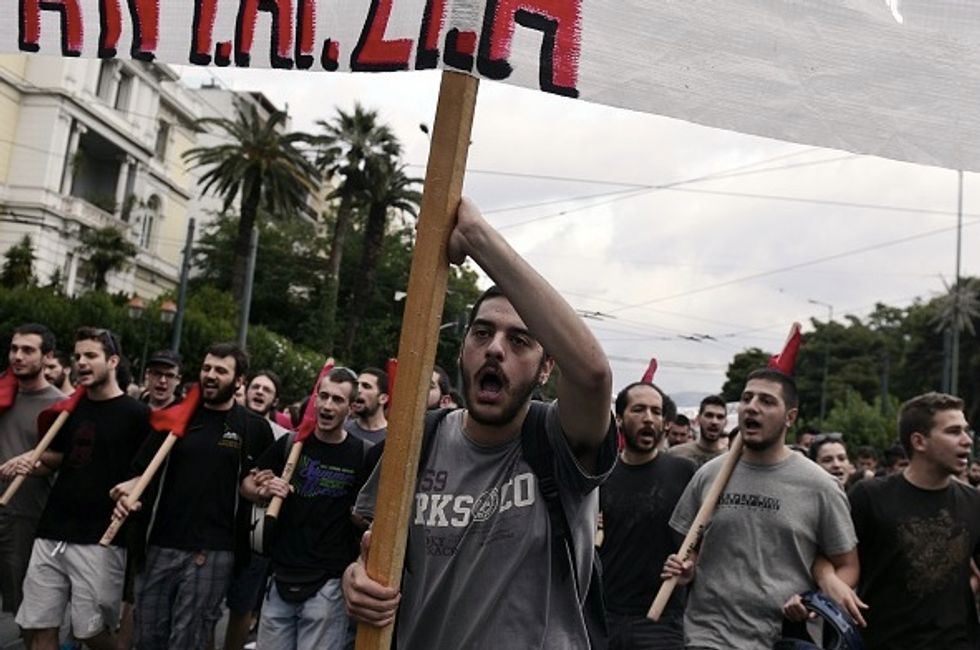 Greek protesters shout slogans as they march during a demonstration calling for an exit from the eurozone and a 'No' vote in the upcoming referendum in Athens on June 28, 2015. Greece weighed drastic banking restrictions to stave off a financial collapse as anxious Greeks emptied cash machines amid fears that banks will be closed this week. (Image source: LOUISA GOULIAMAKI/AFP/Getty Images)
"Greece overspends on education, despite failing schools. Huh. Well the U.S. Department of Education is $77.4 billion and increasing every single year, despite the fact that we're ranked 17th in the world in education," Burguiere continued. "Greece has all those phony jobs programs. Can I remind you of the stimulus? That cost American taxpayers at least $278,000 per job, with some estimates having that over $1 million per job."
Burguiere also pointed out the similarities in the nations' healthcare systems, national debt and unfunded liabilities before concluding: "This is how you destroy a country, not save it."
"While everyone dipped their grimy fingers into the government pot, no one was counting how much was going in and how much was going out," he added. "By the time someone decided to take a breather from the spending orgy, the damage was irreparable."
Burguiere said America is on the same road as Greece, and will be in the same place in the "short-term future" if we continue to make the same "fatal mistakes."
"There are tough choices to come, but it's necessary," he concluded. "And if someone in the room doesn't have the courage to step away from the spending orgy and count the debits and credits, we're all screwed."
[mlbvideo content_id=237633083]
The full episode of The Glenn Beck Program, along with many other live-streaming shows and thousands of hours of on-demand content, is available on just about any digital device. Click here to watch every Glenn Beck episode from the past 30 days for just $1!