TheBlaze's Stu Burguiere finds Republican presidential candidate Donald Trump's rising poll numbers intolerable, and on Wednesday, presented what he described as the "ultimate takedown" of the billionaire businessman.
"Not only is he one of the most obnoxious guys in the world," Burguiere began while guest hosting the Glenn Beck program, "his views are insane as his love for gaudy brass decor."
Regarding Trump's recent controversial statements on immigration, Burguiere concluded: "He's obviously riding the populist wave there. He's trying to give voice to people's frustration with illegal immigration, and he's done it, of course, with the elegance of a baboon."
But Burguiere pointed out that Trump has made statements on both sides of the aisle on immigration, and conservatives might not like that he's also called for a path to citizenship.
"A path to citizenship? Where have I heard that one before? I know! Jeb Bush and Lindsey Graham, and of course every Democrat as well," Burguiere said. "There can be negatives of talking tough, but I am willing to accept that if you're going to get the truth and the policy that I want. But I don't want someone making stupid mistakes that the media can easily exploit. With Trump, you're getting all of the negatives ... with the policy of Jeb Bush and Lindsey Graham!"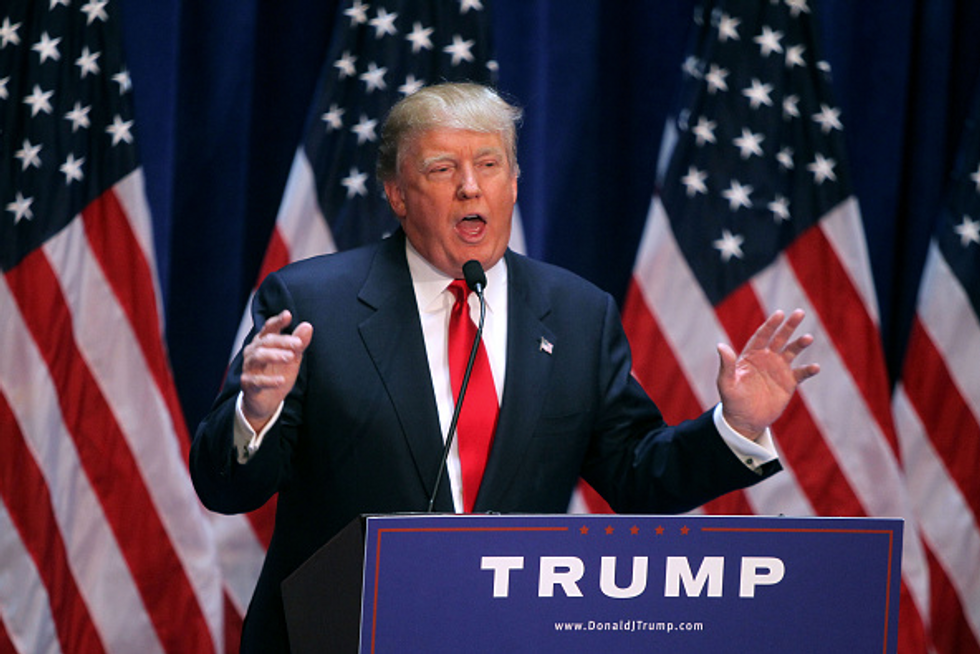 NEW YORK, NY - JUNE 16: Donald Trump makes presidential announcement at Trump Tower on June 16, 2015 in New York City. (Photo by Steve Sands/Getty Images)
Burguiere also noted that Trump has called for a massive wealth tax and has switched political parties multiple times since the 1980's. He has also donated to the Clinton Foundation, Rahm Emanuel and Harry Reid.
Trump's enthusiastic support of questionable eminent domain decisions also struck a nerve with Burguiere. He thought Trump's campaign to destroy an elderly woman's home in Atlantic City was particularly troubling.
"This 'conservative' argued that the government needed to take a wrecking ball to this sweet old woman's home, her private property, because it was an eyesore," Burguiere said. "He publicly humiliated her, demeaned the place she called a home, all so that he could have a few extra parking spaces."
"Beyond the sheer lack of basic humanity, it definitely takes a liberal progressive to do something like that," Burguiere continued. "There's nothing remotely close to conservative about Donald Trump, and thus, there is no reason he should garner your support. Zero. Nada. Zip."
[mlbvideo content_id=241561183]
The full episode of The Glenn Beck Program, along with many other live-streaming shows and thousands of hours of on-demand content, is available on just about any digital device. Click here to watch every Glenn Beck episode from the past 30 days for just $1!