"It's too big for a coyote," Philip Oliveira said of the animal carcass he keeps frozen in a cooler on his back porch in Rockdale, Texas.
According to the Austin American-Statesman, this is one of the latest cases of people claiming to have found or seen a mythical, blood-sucking creature known as a chupacabra. State biologists though maintain that it's still just that — a myth.
Some people like Rocky Howe and Richard Cook, friends of Oliveira, though believe the carcass proves the legend is true.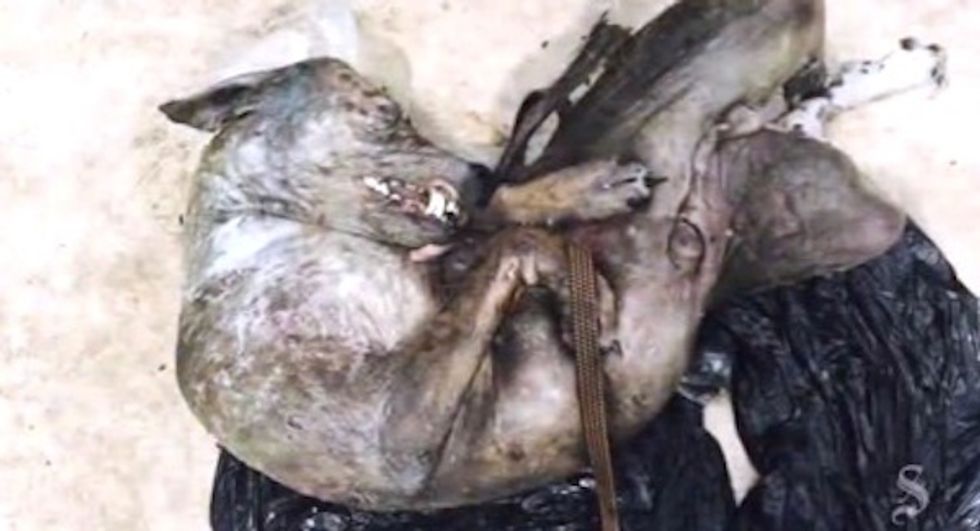 Some men in Texas believe this animal to be a chupacabra, but state biologists say such creatures are the stuff of legends only. (Image source: Austin American-Statesman)
"It's a chupacabra," they told the newspaper of the animal discovered on Oliveira's property in late May.
Oliveira told the newspaper he and his friends found the animal already dead near a creek after hearing his dogs barking "like I had never heard them bark."
"When I got a good look at it, I was weirded out," Oliveira, who the Statesman pointed out has a biology degree, continued. "I've spent a lot of time camping and fishing, and I've been outside my whole life and never even seen an animal that looked like that."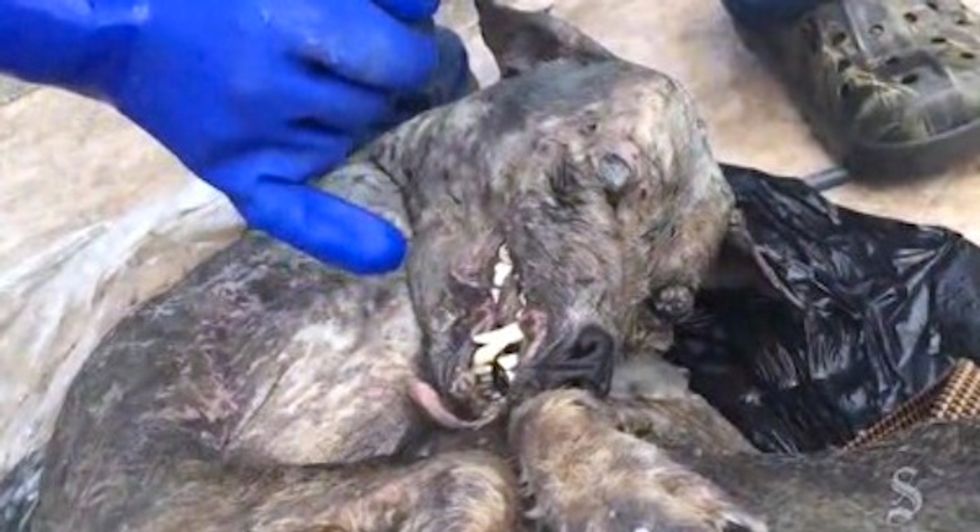 There have been many chupacabra "sightings," but state biologists say that animals that have been analyzed have always been identified as a known species, such as a coyote or raccoon. (Image source: Austin American-Statesman)
He said that the animal was dog-like, hairless and had skin that was textured like "elephant skin."
"It was very fat and healthy, but his legs were unusually long in back and its paws were unusually raccoon-like in front," he said.
Jonah Evans with the Texas Parks and Wildlife Department told the newspaper definitively that the carcass is "a coyote with mange." He added that claims of chupacabra sightings though are on the rise and are a "relatively new phenomenon."
"The likelihood of discovering an unknown, large, hairless carnivore living undetected amongst people that looks exactly like a common species with mange are so astronomically small that it is difficult to justify spending valuable staff time and resources investigating and conducting DNA testing," Evans told the Statesman.
Oliveira said he's going to have the animal DNA tested at a lab to help settle the matter none the less.
The chupacabra legend, according to Live Science, appears to have started in 1995 in Puerto Rico based on a woman's description of an animal that closely matched a creature in a movie. Live Science pointed out that actual analysis of alleged chupacabras have identified them as already known species.
Yet, Randy Simpson with Texas State University told the American-Statesman sightings will likely continue because "people want to believe these things are out there. It adds a little excitement."
Watch this report from the Austin American-Statesman on the latest sighting:
(H/T: Daily Mail)