Donald Trump, a Republican presidential candidate, seemed determined to control the pace and direction of his interview with NBC's Katy Tur, which aired Wednesday.
A particularly interesting exchange occurred when Tur pressed Trump on guns, asking whether he owns any firearms or frequents a gun range.
"Do you have a gun?" Tur asked.
"Yes, I do," Trump replied.
"Do you use it?" the reporter inquired. "Gun range?"
Trump then shot back, "That's none of your business. It's really none of your business. I have a license to own a gun."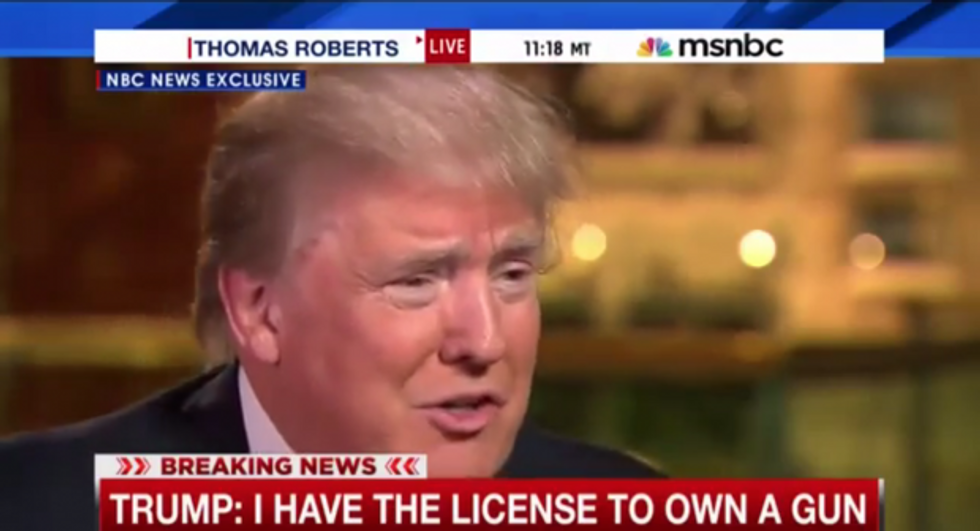 NBC News
Tur continued to pry on the gun issue, "Gun control?"
"What are you talking about?" Trump replied tersely.
When the reporter clarified and asked specifically about "stronger background checks," Trump argued gun control can lead to a "slippery slope" where Americans' Second Amendment rights can be violated.
"I don't want to do anything to violate the Second Amendment. To me, the Second Amendment is very important," he added.
Watch the exchange via NBC below:
(H/T: Mediaite)
---