Two Yazidi women have offered horrific new testimony detailing what they endured as captives of Islamic State militants, including repeated beatings, rape, being sold to different men and being injected with the powerful painkiller morphine.
The Yazidis, a religious minority predominantly in Iraq, have faced especially harsh treatment by jihadi fighters.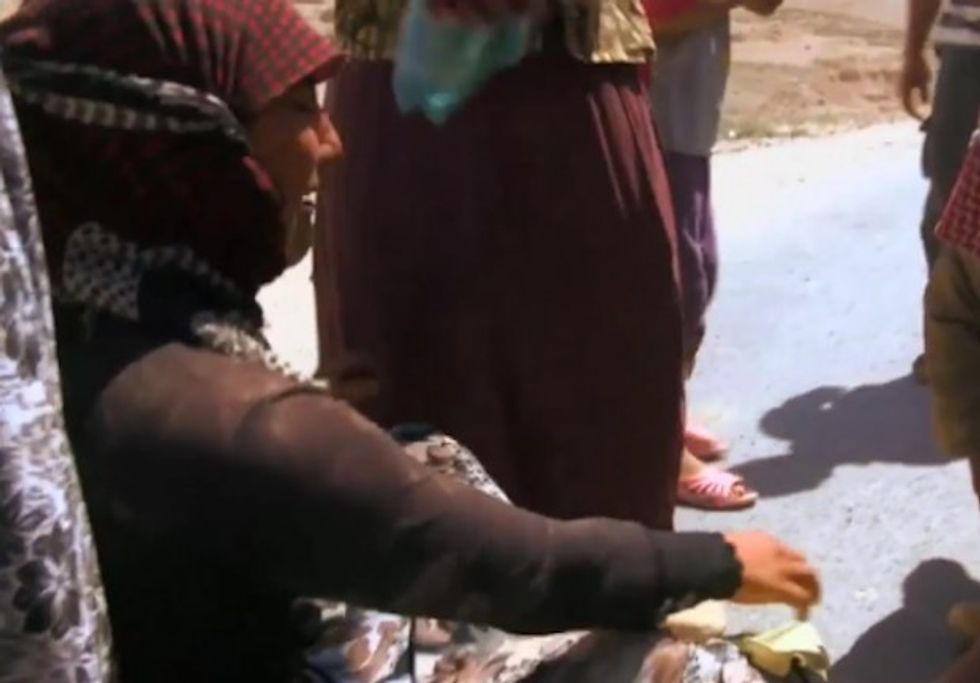 A female refugee in northern Iraq. (YouTube/BBC News)
Britain's Daily Mail interviewed the women at the Khanke refugee camp in Iraq.
One, a 19-year-old mother named Reehan, told the Daily Mail how the first man who bought her locked her up for 10 months and raped her "whenever he wanted" in exchange for not beating her 1-year-old son. The man was 50 years old.
"I agreed to everything that this man wanted for the sake of my son," she said.
She was originally taken from her home along with her son by Islamic State militants.
When Reehan challenged her captor's faith, she said he told her that sexual trade of Yazidi women is allowed "according to Islam."
After she was sold a second time as a sex slave, she recalled how she saw her new captor rape an older mother and then molest her 5-year-old daughter.
Another woman named Barfo, 25, told the Daily Mail that one of her multiple captors tied her to a bed and drugged her with morphine to keep her "silent."
"When he wanted to touch me, I cried," she said. "I tried to fight him but I could not because he was too strong [and] he tied me to the bed and he injected me with morphine to make me silent."
Her suffering was so great that at one point she took the man's gun to shoot herself, but he stopped her from pulling the trigger.
Her next captor in the Islamic State capital of Raqqa, over the border in Syria, beat her mercilessly.
"This man forced me to sleep with him and then he would beat me. One time he beat me so badly that I could not walk for two months," she said.
The woman said she was sold another four times to different men.
The women recalled how when being sold, they were stripped naked so their potential slave masters could examine their physiques before deciding on their bids.
Read their full accounts at the Daily Mail.