SREBRENICA, Bosnia-Herzegovina (AP) — Anger boiled over Saturday at a massive commemoration of the Srebrenica slaughter 20 years ago as people pelted Serbian Prime Minister Aleksandar Vucic with water bottles and other objects.
Vucic's associate, Suzana Vasiljevic, told The Associated Press that he was hit in the face with a stone and his glasses were broken. Vasiljevic said she was behind Vucic when "masses broke the fences and turned against us."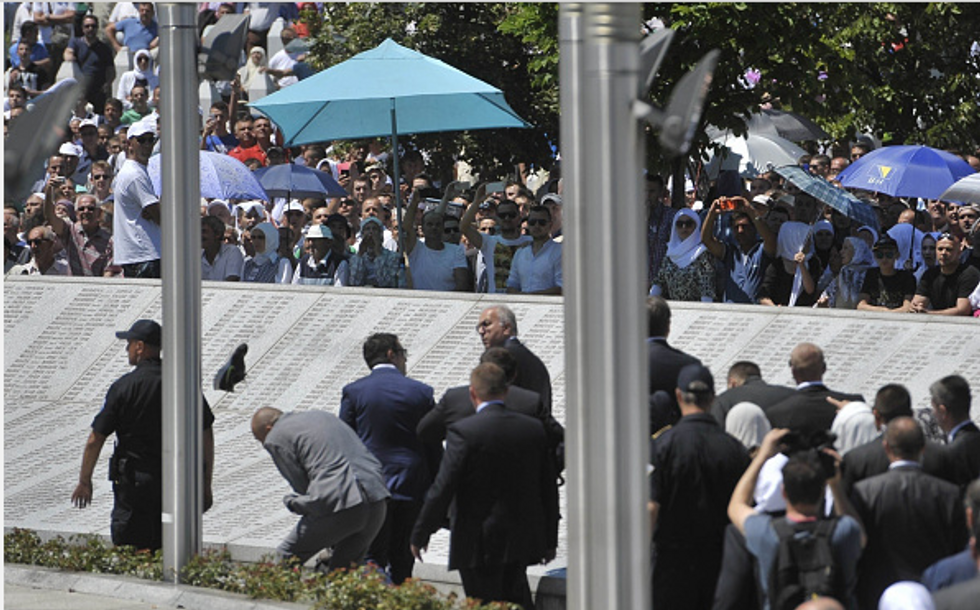 SARAJEVO, BOSNIA AND HERZEGOVINA - JULY 11 : A shoe is thrown at Serbian Prime Minister Aleksandar Vucic as he arrives at Potocari Memorial Center for the burial of 136 newly-identified Bosnian Muslims as part of commemoration ceremony marking the 20th anniversary of Srebrenica genocide on July 11, 2015 in Srebrenica, Bosnia and Herzegovina. The ceremony marks the 20th anniversary of the murders of some 8,000 Bosnian men and boys by Serb paramilitaries during war in the former Yugoslavia. (Photo by Samir Yordamovic/Anadolu Agency/Getty Images)
Tens of thousands came to mark the 20th anniversary of Europe's worst massacre since the Holocaust — the slaughter of 8,000 Muslims from the eastern Bosnian town of Srebrenica — with foreign dignitaries urging the international community not to allow such atrocities to happen again and to call the crime "genocide."
Vucic, once an ultra-nationalist, came to represent his country at the commemoration in an apparent gesture of reconciliation.
As Vucic entered the cemetery to lay flowers, thousands booed and whistled. Someone threw a shoe at him, others threw water bottles and other objects.