New York Times bestselling author Brad Thor on Monday said it is "disgusting" how the media has let the United States down on its reporting of the Iranian nuclear agreement.
"Iran is the leading state sponsor of terrorism in the world. Now we're going to flood them with money and a nuke program, and we all expect this is going to end well?" Thor asked on the Glenn Beck Radio Program. "I really want to say this to ABC, to NBC, to CBS, to PBS, to CNN: you all have let your country down."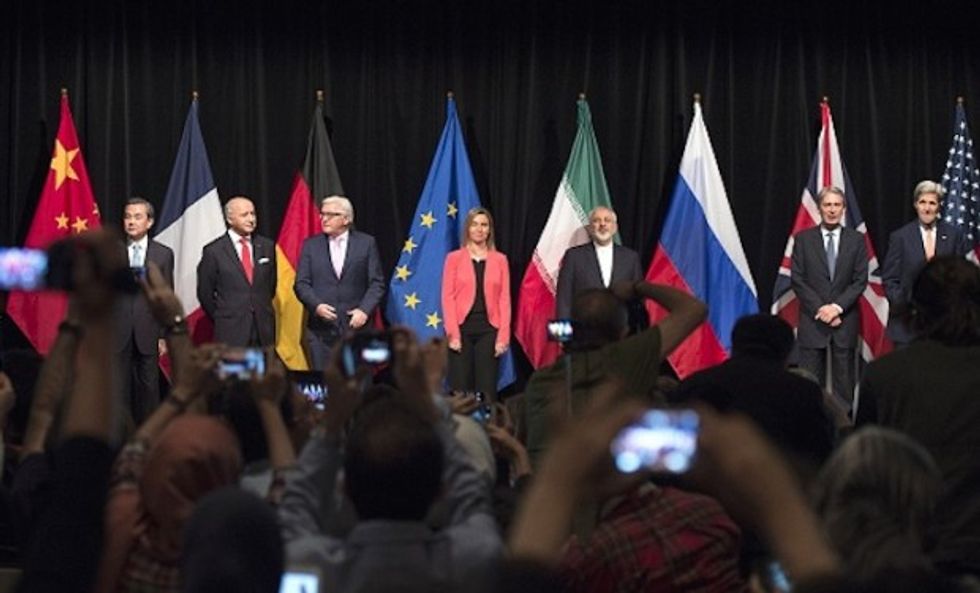 China's Foreign Minister Wang Yi, French Foreign Minister Laurent Fabius, German Minister for Foreign Affairs Frank-Walter Steinmeier, High Representative of the European Union for Foreign Affairs and Security Policy Federica Mogherini, Iranian Foreign Minister Mohammad Javad Zarif, British Foreign Secretary Philip Hammond and US Secretary of State John Kerry pose for a picture during the final press conference of Iran nuclear talks in Vienna, Austria on July 14, 2015. AFP PHOTO / JOE KLAMAR (Photo credit should read JOE KLAMAR/AFP/Getty Images)
"It is disgusting how the mainstream media has let this country down," Thor repeated. "And the world has just become a dramatically more dangerous place with this agreement because of this administration."
Thor said the Israelis should be "terrified" about what the deal means for their security, and they should have "bombed Iran while they still had a friend in the White House."
"I think that's a historic missed opportunity that the Israelis will regret and history will remember," he added.
Beck's co-host Pat Gray agreed with Thor's analysis of the agreement, concluding: "Rather than being watchdogs, they've become lapdogs."
The full episode of The Glenn Beck Program, along with many other live-streaming shows and thousands of hours of on-demand content, is available on just about any digital device. Click here to watch every Glenn Beck episode from the past 30 days for just $1!