President Barack Obama said "every pathway to a nuclear weapon is cut off" for Iran after the historic nuclear deal reached with the Islamic Republic and five world powers.
"Because of this deal, the international community will be able to verify that the Islamic Republic of Iran will not develop a nuclear weapon," Obama said, speaking from the White House early Tuesday morning beside Vice President Joe Biden. "This deal meets every single one of the bottom lines that we established when we achieved a framework earlier this spring. Every pathway to a nuclear weapon is cut off, and the inspection and transparency regime necessary to verify that objective will be put in place."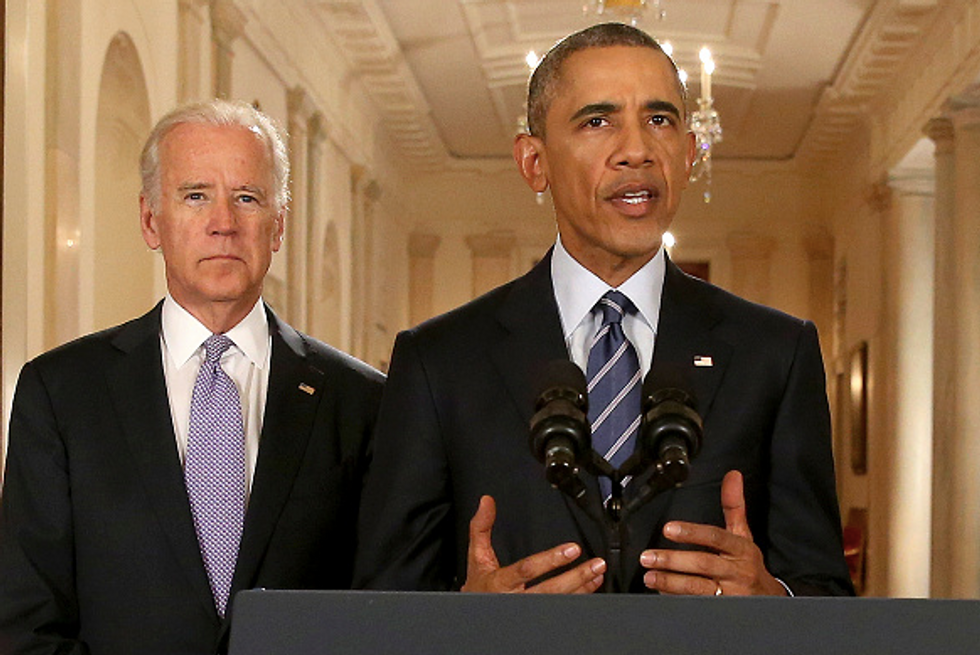 President Barack Obama, standing with Vice President Joe Biden, conducts a press conference in the East Room of the White House in response to the Iran Nuclear Deal, on July 14, 2015 in Washington, DC. The landmark deal will limit Iran's nuclear program in exchange for relief from international sanctions. The agreement, which comes after almost two years of diplomacy, has also been praised by Iranian President Hassan Rouhani. (Photo by Andrew Harnik - Pool/Getty Images)
Under the terms of the deal, Iran has agreed to curb its nuclear program in return for billions of dollars in sanctions relief.
"This deal is not built on trust, it is built on verification," Obama said.
He said the International Atomic Energy Agency, the organization responsible for inspections, "will have access where necessary, when necessary."
"That arrangement is permanent and the IAEA has reached an agreement with Iran to get access that it needs to complete its investigation into the possible military dimensions of Iran's past nuclear research," Obama said.
Obama said the Iranian government has real economic incentive to abide by the terms of the agreement and real consequences if it does not.
"If Iran violates a deal, all of these sanctions will snap back into place," Obama said.
Obama said he welcomes a "robust debate" from Congress, which has been critical of the talks. Congress now has 60 days to review the agreement, but Obama warned the body against doing anything to derail the deal, saying he will veto any legislation that attempts to prevent its successful implementation.
"I believe it would be irresponsible to walk away from this deal," Obama said. "No deal means a greater chance of war in the Middle East."
"Because America negotiated from a position of strength and principle, we have stopped the spread of nuclear weapons in this region," Obama said.
Obama spoke to Secretary of State John Kerry Monday night and congratulated him and the U.S. negotiating team before calling congressional leaders to inform them the deal had been struck, a senior administration official said Tuesday.
Obama was expected to speak by phone later Tuesday with Israeli Prime Minister Benjamin Netanyahu, a leading opponent of the negotiations who wasted no time calling the deal a "historic mistake for the world." The president was also set to speak with Middle East and European leaders.
Obama had conveyed to negotiators that he was not worried about a specific deadline – neither the June 30 nor July 9 date for reporting to Congress – but was more concerned about getting a quality deal, a senior administration official said.
Iranian diplomats sought have the arms embargo lifted and had support from Russia and China. The agreement keeps the embargo in place for several years until the Iranian government meets United Nations Security Council's conditions.
Senior administration officials were clear that the U.S. is not lifting the trade embargo with Iran. But the official said the United States is allowing food and carpets to be shipped from Iran, and airplane parts to be shipped to Iran, noting that Iran has a severely poor record for aviation safety. But, an official added, some banks and energy firms will be off-limits because of their past business with terrorist organizations.
There are no plans for Obama to travel to Iran before the end of his presidency, a senior administration official said.