Upon hearing the screams of two women, a Detroit man grabbed his stick and sprang into action.
Michael Thomas said he saw two young women, one of whom appeared to be pregnant, walking to a nearby party store in Detroit's West Side around 1 a.m. Saturday. Moments later, he said he heard their screams for help as they were forced into an alley and sexually assaulted by a man.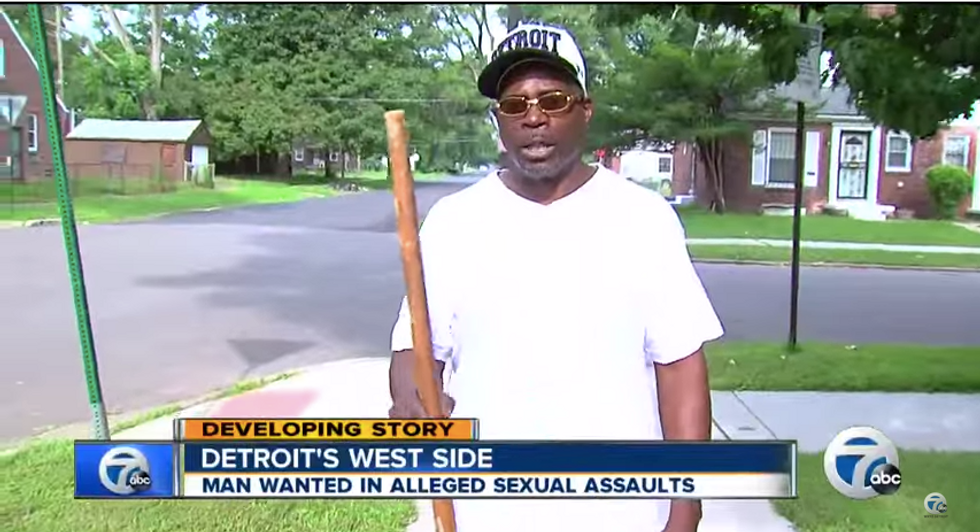 Image source: WXYZ-TV
"When I heard the scream, I'm thinking an animal jumped out the bushes on them or something," Thomas told WJBK-TV. "Then again I hear this guy's voice saying 'Shut the F up, shut the F up, get in the alley, get in the alley.'"
Thomas said he dialed 911 twice, but knew he couldn't wait for the police to arrive. So he grabbed the big stick he keeps by his front door that he uses "to get [the] bad guys," and also yelled to the neighbors to enlist their help.
"I swung the stick at him, he got away. He jumped over the fence and left," Thomas recalled. "But I got the young ladies out — back into the street.
WXYZ-TV reported that police are still searching for the suspect and are reviewing surveillance footage from the neighborhood as well as working with the two women to find their attacker.
Thomas told WJBK that he's tired of the violence in the area and people who do not work with the police in order to thwart crimes such as this one. He encouraged people not to "turn your head" when they see crime.
As for the suspect, Thomas advised that it would not be wise for him to return to the neighborhood.
"If you stay in the neighborhood, you're going to get caught," Thomas said. "I just want you to know that you're going to get caught — if the police doesn't catch you, the neighborhood's going to catch you."