In light of recent tragedies across the country that have sparked impassioned debates on race relations, a public high school teacher in Seattle has developed curriculum to teach "White America" about racism. 
Published to his blog — fittingly named Citizenship and Social Justice after the course he teaches at The Center School in Seattle, Washington — Jon Greenberg assembled anecdotes, admonishments and links to create the "Curriculum for White Americans to Educate Themselves on Race and Racism–from Ferguson to Charleston."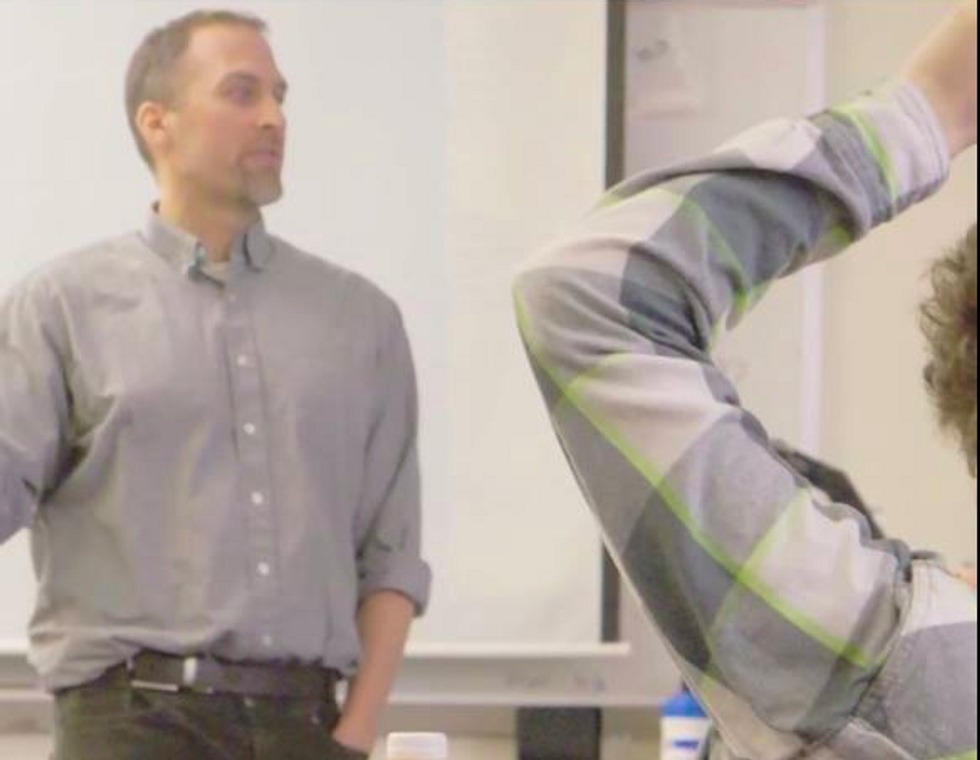 Photo via Citizenship and Social Justice/Facebook
"There are no doubt complexities that come with White Americans working for racial justice. White privilege can lead to a chronic case of undiagnosed entitlement, creating poor listeners, impatient speakers who talk over others, and people unaccustomed to taking orders. Nevertheless, the movement for racial justice needs more White Americans to get involved. And it's our responsibility to help each other get involved–and get involved productively," Greenberg wrote, linking to a blog post that claims quoting Dr. Martin Luther King, Jr., to black women is a violent and "cisheteropatriarchy" act.
Greenberg's curriculum begins with an anecdote of a discussion he's had with his students — admittedly several days into his lessons during which his students spend time "exploring the concept of White privilege and ... the history of race and racism in the United States." During the discussion, Greenberg asked his students who experiences the "societal-sized boot" of racism and oppression in society more ("people of Color"), who does the oppressing (a reluctant answer of "White people") and whose responsibility it is to stop the oppression.
"Everyone has a role in ending racism, but the [boot] analogy shows how little sense it makes for only those facing the heel-end of oppression to do all the work," he wrote. "It's time for White America to take on a far bigger role in taking off the boot."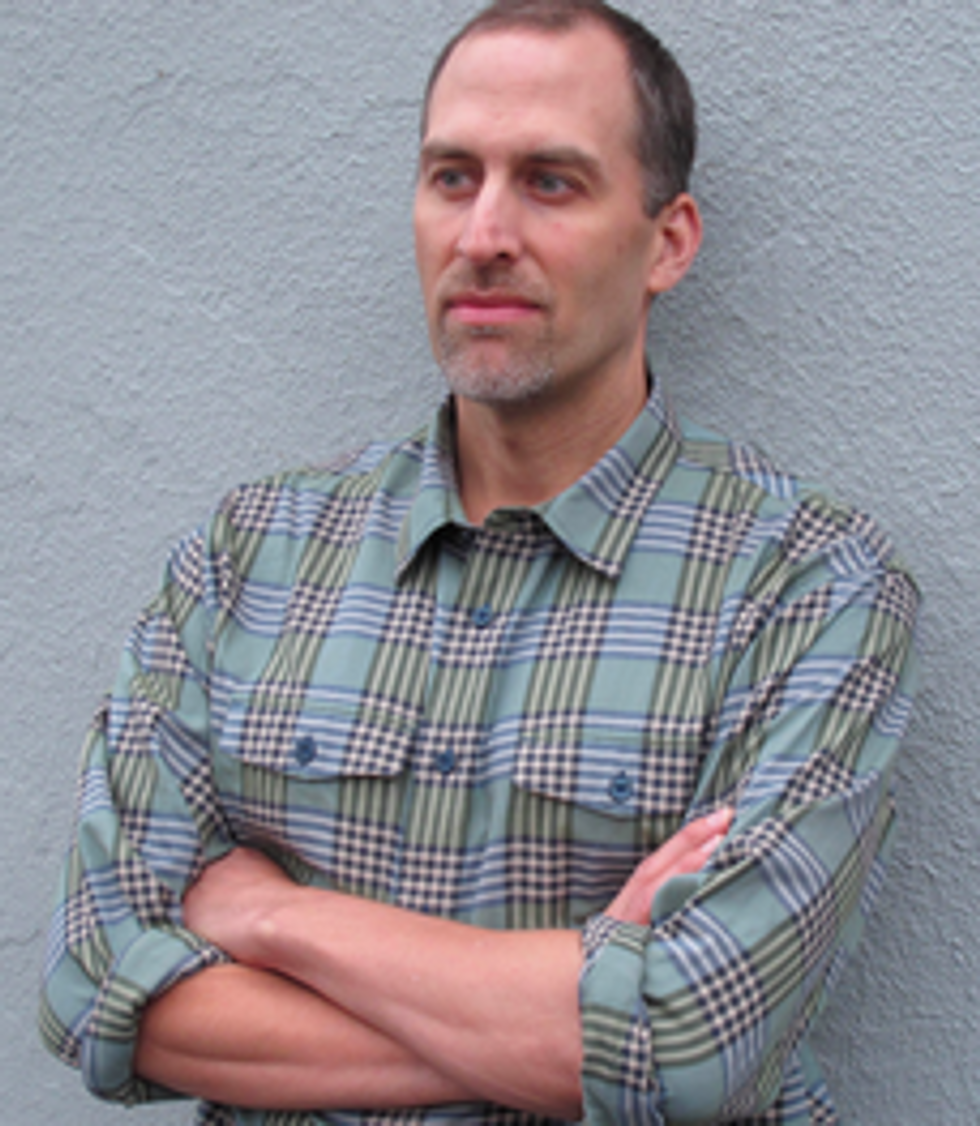 Jon Greenberg. (Image Source: Citizenship and Social Justice)
Greenberg then includes a series of links to reading material, the majority of which he said focuses on the "recent killings of Black men." The links are organized by topics, which are: Reading Articles, Written Specifically for White Americans; Understanding Whiteness, White Privilege, Microaggressions, and a History of Racial Discrimination; Joining Groups; and Parenting Racially-Conscious Children.
"Instead of spending your energies on guilt, I encourage you to spend them seeking inspiration to act," Greenberg wrote. "There's no shortage of inspiration."
Greenberg, who is also an author at Everyday Feminism, seemingly credited South Carolina's Republican Gov. Nikki Haley's call for the removal of the Confederate flag from Capitol grounds to Bree Newsome, an activist who scaled the flagpole to remove the flag herself before she was promptly arrested.
"Less than two weeks after Bree Newsome's act of resistance, the governor of South Carolina signed a bill into law removing the Confederate Flag from the State House," he wrote. "Change is possible."
According to a disclaimer, although the blog is named after the course which he teaches in Washington, it isn't "officially connected" to his class.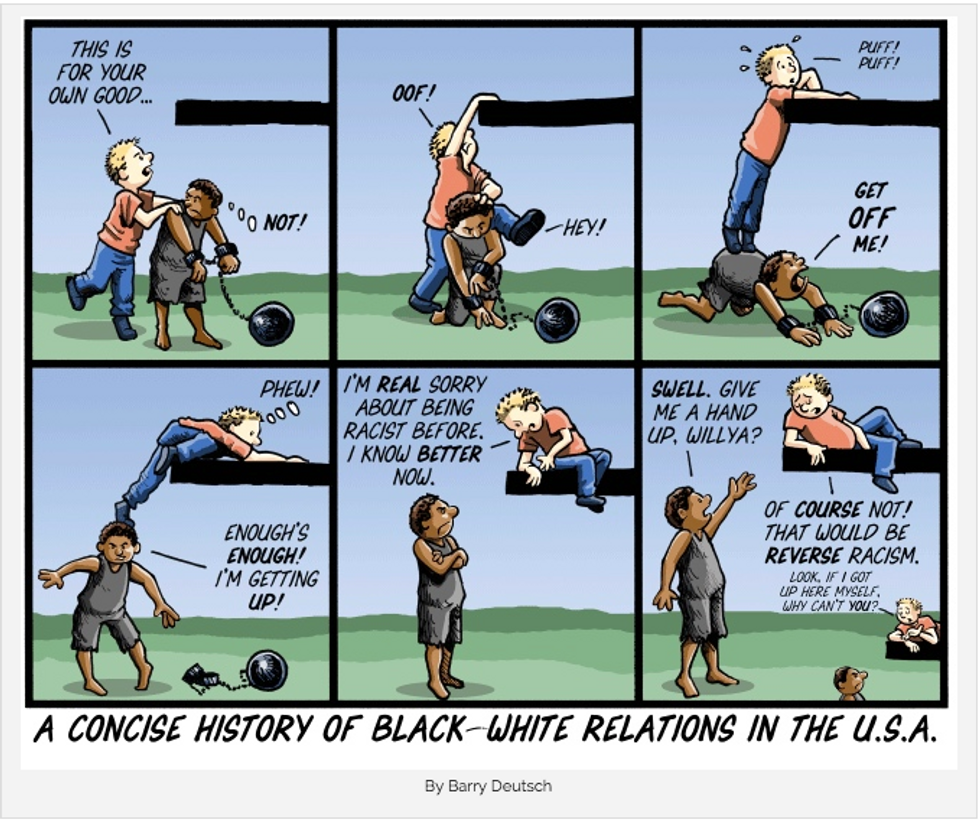 Screenshot of a cartoon included in Greenberg's curriculum. (Image source: Citizenship and Social Justice)
Greenberg is no stranger to the topic of race and controversy. The embattled teacher faced off against his school district in 2013 when he was originally sentenced to an administrative transfer by the school district from The Center School when a family claimed he created an intimidating environment in the required humanities class on race.
"These are important conversations for our students and staff. But we don't want to put any child into a situation where he or she feels so intimidated by the manner in which these issues are taught that the course is no longer effective," a statement from the school district said following the complaint from the family.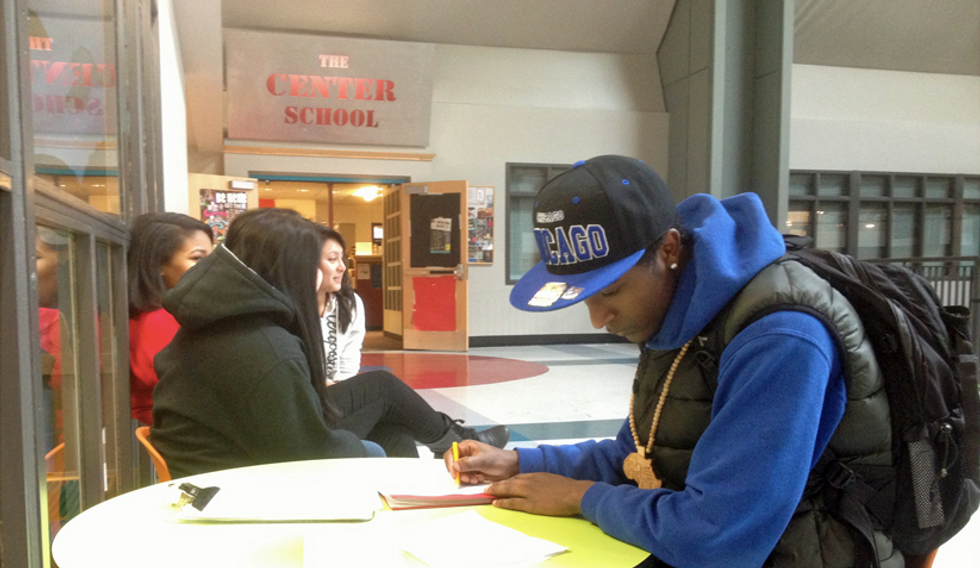 Image source: KIRO-TV
According to KOMO-TV, Greenberg emailed current and past students after the school decided to investigate the claims that he singled out a student in class to "help him with his cause." Zak Meyer, a student, told the news outlet that Greenberg gave his class knowledge and the student that complained found that knowledge to be "intimidating."
With the help of the teachers union of which he's a member and support from the students, the school district's punishment was eventually overturned after approximately one year, and Greenberg returned to  teaching the race relations course at the public school. The Center School's mission, according to its website, is "to empower and inspire all students to positively impact our world."
According to U.S. News and World Report, The Center School has a minority enrollment of 31 percent and is ranked the 50th best public high school in Washington.
In May, Greenberg was the recipient of the Courage in the Pursuit of Social Justice Award from the the University of Washington chapter of the American Association of University Professors.
Greenberg did not respond to multiple requests for comment from TheBlaze.