President Barack Obama met with six federal inmates at an Oklahoma prison Thursday who were all charged with drug offenses, as he called for "job training, college degrees, drug counseling" to replace long sentences.
Obama is the first sitting president to ever visit a federal prison, as he seeks to push through criminal justice reform, a legacy issue that has actually gained bipartisan support.
"When they describe their youth, these are young people who made mistakes that aren't that different from the mistakes I made, and the mistakes that a lot of you guys made," Obama told reporters. "The difference is that they did not have the kind of support structures, the second chances, the resources that would allow them to survive those mistakes."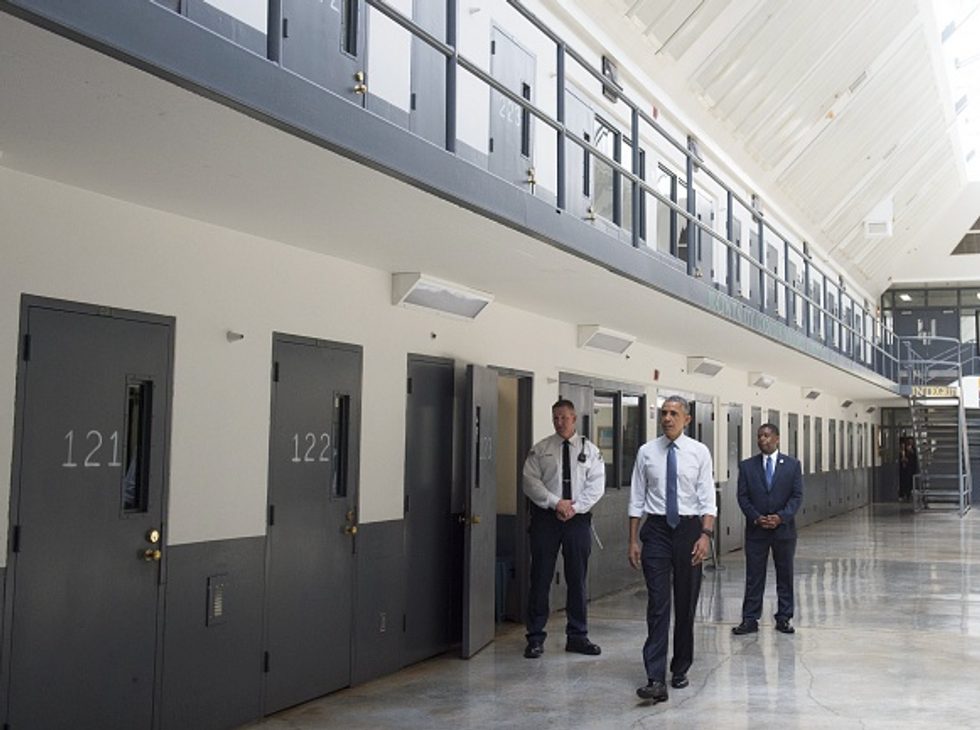 President Barack Obama, alongside Charles Samuels (R), Bureau of Prisons Director, and Ronald Warlick (L), a correctional officer, tours a cell block at the El Reno Federal Correctional Institution in El Reno, Oklahoma, July 16, 2015. Obama is the first sitting US President to visit a federal prison, in a push to reform one of the most expensive and crowded prison systems in the world. AFP PHOTO / SAUL LOEB (Photo credit should read SAUL LOEB/AFP/Getty Images)
Criminal justice reform is primarily targeted at non-violent drug offenders, but could regard shorter sentences for other non-violent crimes, and potentially restoring voting rights for convicted felons.
"Every single one of them emphasized the fact that they had done something wrong, they are prepared to take responsibility for it, but they also urged us to think about how society could've reached them earlier on in life to keep them out of trouble," Obama said in remarks after the meeting at the El Reno Federal Correctional Institute, outside of Oklahoma City.
Many Republicans, including several GOP presidential contenders, such as Kentucky Sen. Rand Paul, former Florida Gov. Jeb Bush and former Texas Gov. Rick Perry, have backed some type of justice reforms. In the House, Judiciary Chairman Bob Goodlatte (R-Va.) and ranking Democratic Rep. John Conyers have agreed on principles for sentencing reform legislation.
Senate Judiciary Committee Chairman Charles Grassley (R-Iowa) has previously expressed skepticism, and appeared to be a roadblock, but now said he is committed to negotiating legislation.
"For several months a group of senators, including Republicans and Democrats, has been working in good faith on a possible criminal justice bill that encompasses a range of issues, including both front-end solutions such as safety valves and reductions in mandatory minimums in certain situations, and back-end solutions such as prison reform," Grassley said in a statement Thursday. "Legislating takes a lot of hard work. We've had hours of meaningful discussions up to this point, and those of us in the room are committed to trying to reach an agreement that can gain wide bipartisan support."
Several states, including Oklahoma, have enacted reforms.
"A lot of this though is going to have to happen at the state level," Obama said at the prison. "My goal is that we start seeing some improvements at the federal level and we're then able to see states across the country pick up the baton."
Obama said young Americans spending decades in prison should not be accepted by society as normal.
"We have a tendency sometimes to take for granted or think it's normal that so many young people end up in our criminal justice system," the president said. "It's not normal, it's not what happens in other countries. What is normal is teenagers doing stupid things. What is normal is young people who make mistakes and we've got to be able to distinguish between dangerous individuals who need to be incapacitated and incarcerated versus young people who are in an environment in which they are adapting."