Charlotte, North Carolina's $37 million streetcar officially began moving this week, and those in the community were still wondering — was it worth that much money?
Knowing the backlash that the electric streetcar has received in the community, two editors at CharlotteFive, a new project of the Charlotte Observer that says it delivers both news and entertainment to Millennials, decided to see just how efficient the streetcar is and challenged it to a race.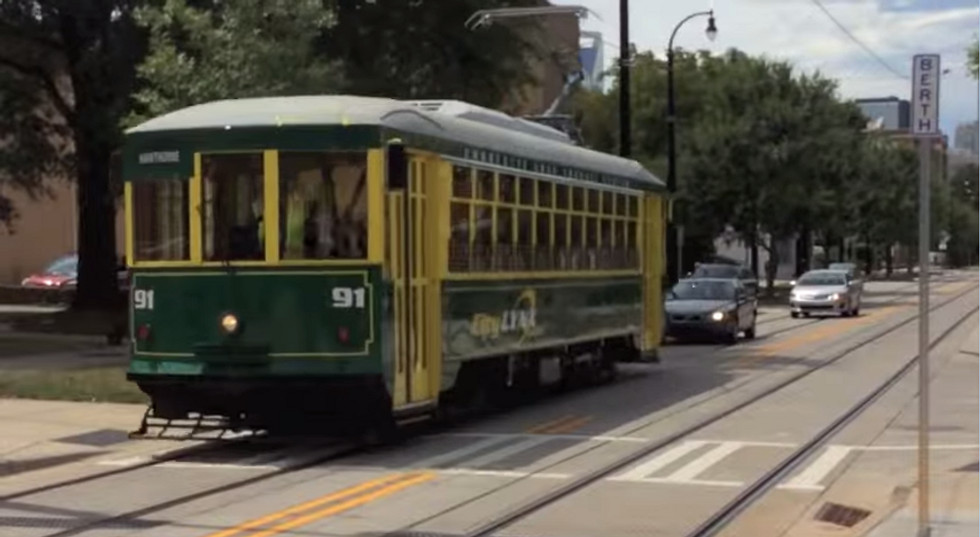 Image source: YouTube
According to a video produced by the online site, Charlotte's Gold Line streetcar travels at a speed of approximately 16 mph and only makes six stops on its 1.5 mile route, during which it abides by traffic laws such as stoplights. But when pitted against Katie Toussaint, an assistant editor at CharlotteFive, on it's opening day, the Gold Line streetcar's achievements didn't shine quite so bright.
The streetcar completed its route in 11 minutes and 32 seconds, according to CharlotteFive.
Toussaint, 25, completed the same route in 9 minutes and 31 seconds — almost exactly two minutes faster.
"We thought it would be funny because it seems kind of ridiculous to get out and chase a moving vehicle throughout Charlotte," Toussaint told TheBlaze in an interview.
The video claims that Toussaint, who told TheBlaze she completed a half-marathon in November, prepared for the race against the machine by drinking sangria and eating chocolate the night before as well as stretching.
Since CharlotteFive released its video Tuesday, Toussaint said other people have taken the challenge and raced the streetcar, which is free for passengers to ride. One person, she said, even beat her time.
The Charlotte Observer reported that the Gold Line was Charlotte's first streetcar in 77 years. A pet project of U.S. Secretary of Transportation and former Charlotte mayor, Anthony Foxx was on hand to praise the new mode of transportation at its ribbon-cutting ceremony Tuesday. 
While speaking of the new streetcar, Foxx alluded to recent tragedies across the country — such as the mass shooting in Charleston and unrest in Baltimore and Ferguson — and claimed the nation needs more "action-based dialogue" and projects that can improve people's lives, according to the Observer.
According to the Charlotte Business Journal, $25 million of the streetcar's cost was paid for by a federal grant. The remaining $12 million cost was paid for by city taxpayers.