Police say the mistress of former NFL player Buster Barnett kidnapped his wife and killed her before fatally shooting herself.
According to Clayton County Police Capt. Richard Gandee, Sandra Barnett was taken from her home Wednesday afternoon by Lisa Brown, the woman with whom her husband had been having an affair over the past several years. The Atlanta Journal-Constitution reported that the kidnapping occurred after Brown learned the husband and wife were to take a trip together.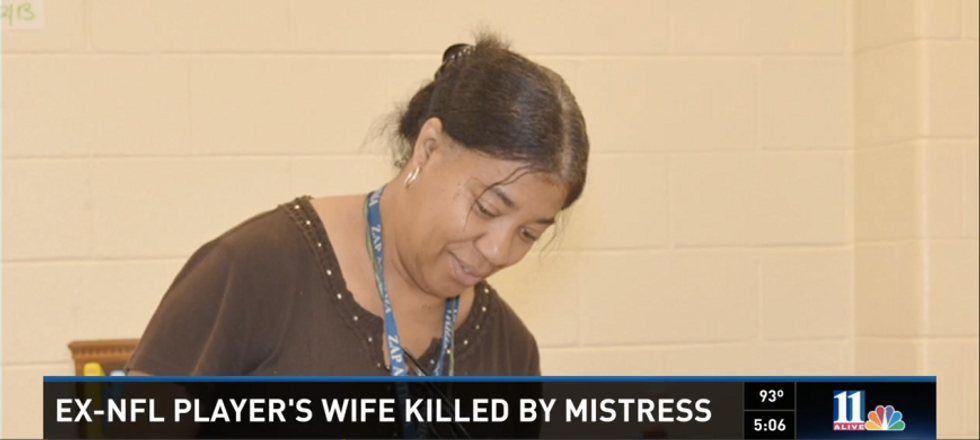 Sandra Barnett was kidnapped and murdered this week in what police are calling a murder-suicide. (Image source: WXIA-TV)
"Sandra was actually on the telephone with a friend when Lisa showed up at the front door," Gandee told WXIA-TV. "Lisa Brown was actually driving a vehicle owned by Buster."
The Atlanta Journal-Constitution reported that Brown showed up to the home with a gun. A neighbor heard a struggle, and when Sandra wouldn't answer his phone calls, he drove past and saw a woman standing next to a Durango in the driveway. But when he circled back, they were gone.
Brown, 49, led police on a chase on Interstate 20 from Georgia to Alabama before the Durango suddenly stopped in the middle of the highway.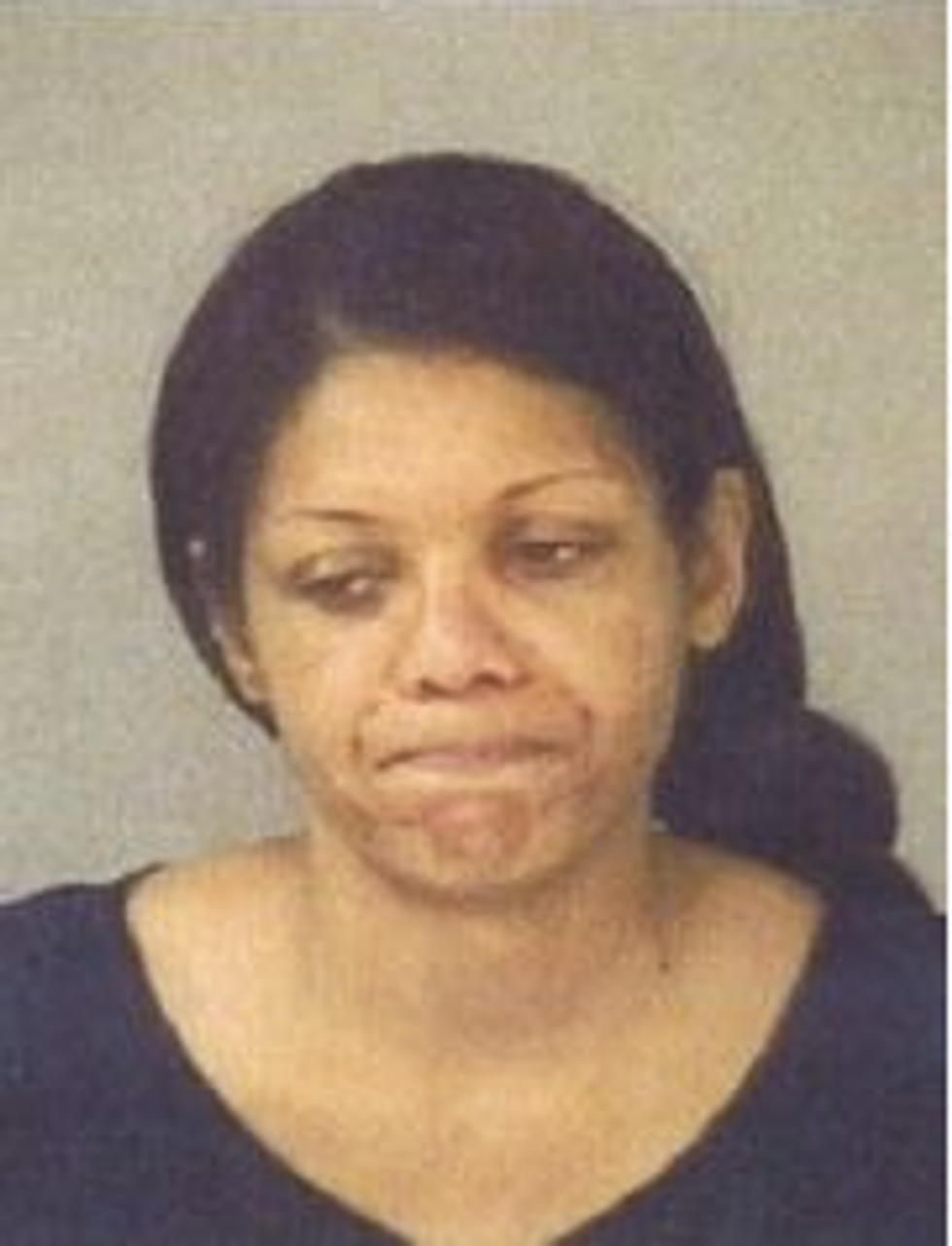 Police say Lisa Brown kidnapped and killed the wife of the man she was having an affair with in a murder-suicide. (Image source: WXIA-TV)
Police say Brown had shot and killed Sandra before she fatally turned the gun on herself.
Gandee said the police recovered a set of handcuffs and a set of receipts.
According to the Atlanta Journal-Constitution, Brown had shown up at Buster's work angry about the trip he and his wife were to take. She left his place of employment and drove to their home where police say she kidnapped Sandra.
"She was upset about a trip that his wife was going on with him and it was one she didn't know about," Officer Charlene Watson-Fraser, a spokesperson for the Clayton police told the news outlet.
Sandra, who was 58-years-old at the time of her death, was a beloved special needs teacher at McNair Middle School in Decatur, Georgia.
"Everybody just remembers this bubbly, happy spirit — just happy," Nimet Muhammad, a coworker, told WXIA. "Every day at work, you could just count on her."
This wasn't Brown's first kidnapping attempt, WXIA reported.
"Lisa Brown was actually on probation for kidnapping out of the state of Texas," Gandee said. "She had kidnapped her child that she had lost custody of, and the jurisdiction down there had to track her for like three days to find her."
Brown was a teacher at North Atlanta High School from 2008 to 2013. Atlanta Public Schools could not confirm to WXIA if Brown was no longer at teacher at the high school because of the prior kidnapping incident.
Both the Dodge Durango and her home in Lithonia, Georgia were in Buster's name as police say "he was trying to help her out."
Buster was drafted as tight end for the Buffalo Bills where he played for four seasons, from 1981-1984.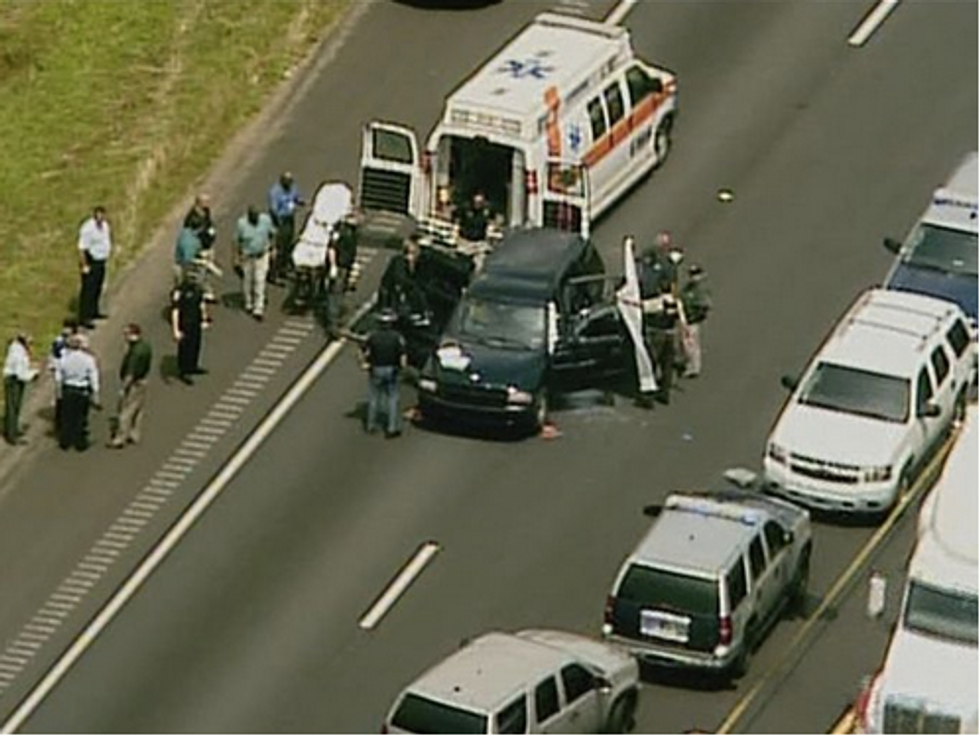 Police say Lisa Brown led them on a chase through Georgia and into Alabama before turning the gun on Sandra Barnett and herself. (Image source: WXIA-TV)