The Ku Klux Klan faced off with a group affiliated with the New Black Panthers Saturday at the South Carolina Statehouse, as opposing rallies attracting about 2,000 at one point led to a rock-throwing scuffle.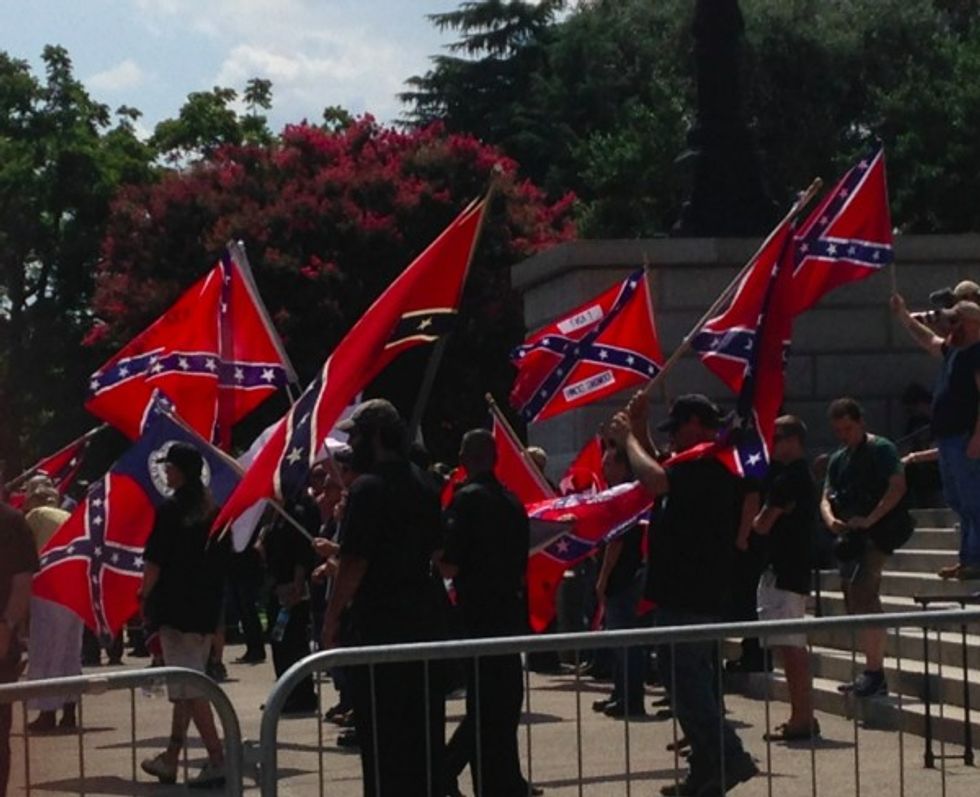 KKK members arrive at the South Carolina Statehouse waving Confederate flags on Saturday, July 18, 2015. (Image source: TheBlaze)
The KKK was there to protest the July 10 removal of the Confederate flag at the Statehouse, which occurred in the wake of a massacre at a black church in Charleston that claimed the lives of nine people in June.
More from NBC News:
About 50 members descended on the Capitol steps waving the rebel banners — at least one of which included a Nazi symbol — and immediately began shouting racial slurs at attendees of an earlier "Countering the Attack on Black Unity Rally." Those protesters were moved behind barricades, a distance away from the Statehouse steps, where they yelled back at the pro-Confederate flag group.
The network added that the earlier rally included members of Black Lawyers for Justice and Black Educators for Justice, a Florida organization with links to the New Black Panther Party. About 200 had gathered as speakers at a podium shouted, "Black power!"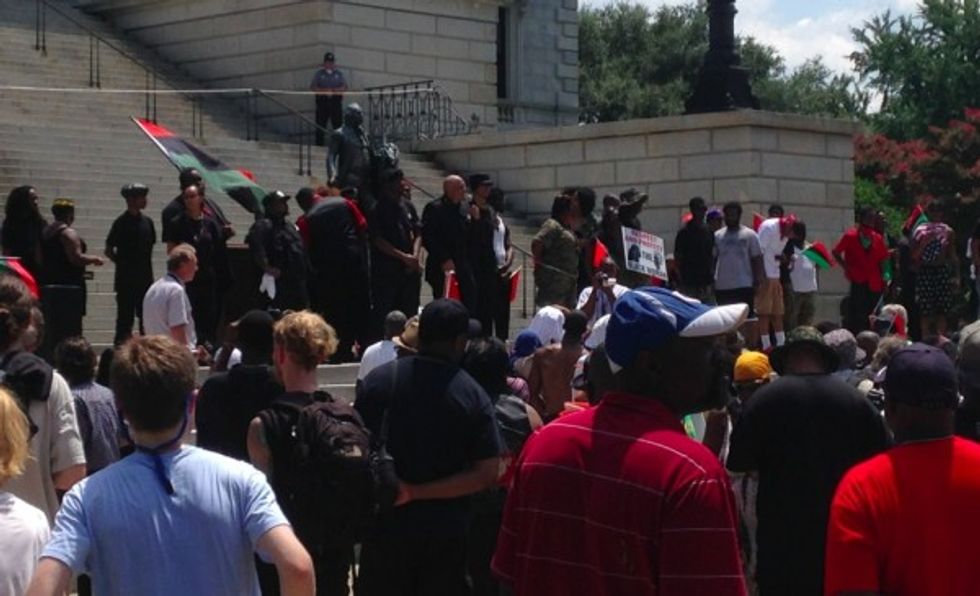 Members of a New Black Panther-affiliated group rally at the South Carolina Statehouse on Saturday, July 18, 2015. (Image source: TheBlaze)
TheBlaze TV's Dana Loesch was in Columbia to get a first-hand look at the rallies:
Skirmish at the rally. Rocks thrown. One in custody. Black Panthers on one side, KKK on the other side of the capitol bldg. Insane.

— Dana Loesch (@DLoesch) July 18, 2015
Post-chaos. #blazetv pic.twitter.com/s2xGkA59nq

— Dana Loesch (@DLoesch) July 18, 2015
NBC News said there were five arrests after the KKK arrived; charges included disorderly conduct, simple assault and breach of peace.
—
Follow Dave Urbanski (@DaveVUrbanski) on Twitter