RIYADH, Saudi Arabia (AP) — Saudi Arabia said Saturday it broke up planned Islamic State attacks in the kingdom, announcing it has arrested over 400 people in its raids.
In a statement Saturday carried on the official state news agency, the Interior Ministry also accused those arrested over the "past few weeks" of conducting several attacks, including an Islamic State-claimed suicide bomb in May that killed 21 people in the village of al-Qudeeh, in the oil-rich eastern Qatif region. It was the deadliest militant assault in the kingdom in more than a decade.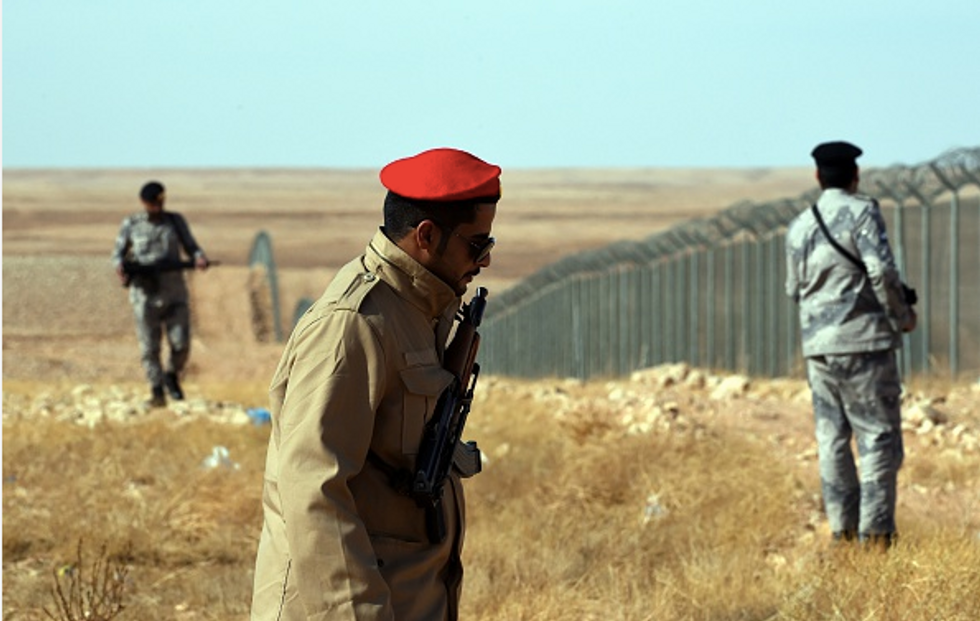 Members of the Saudi border guards patrol the fence on Saudi Arabia's northern border with Iraq, near Arar City on February 23, 2015. Saudi Arabia increased its security measures along its frontier with Iraq following attacks launched by the Islamic State (IS) group against Saudi troops and security posts along the border. AFP PHOTO / FAYEZ NURELDINE (Photo credit should read FAYEZ NURELDINE/AFP/Getty Images)
It also blamed them for the November shooting and killing of eight worshippers in the eastern Saudi Arabian village of al-Ahsa.
The statement said the arrested men were also behind another attack in late May, when a suicide bomber disguised as a woman blew himself up in the parking lot of a Shiite mosque during Friday prayers, killing four people.
The Interior Ministry said that in June they thwarted a suicide bomb attack on a large mosque in eastern Saudi Arabia that can hold 3,000 worshippers, along with multiple planned attacks on other mosques and diplomatic and security bodies.
Those arrested were also behind a number of militant websites used in recruiting, the ministry said.
Saudi Arabia branded the Islamic State group a terrorist organization last year and has joined the U.S.-led coalition targeting it in Syria and Iraq.
The announcement came a day after an attack by the Islamic State group on a crowded marketplace in Iraq's eastern Diyala province killed 115 people, including women and children, in one of the deadliest single attacks in the country in the past decade.