Australian surfer Mick Fanning narrowly survived  a shark attack during the J-Bay Open Final in South Africa.
As seen on the live television broadcast of the competition, a shark swam up behind Fanning, pulling him off his board and under water. Fanning and his competitor, Julian Wilson, were rescued unharmed from the attack by jet-skis, but not before Fanning said he was able to punch the shark in its back.
"I just saw fins. I was waiting for the teeth to come at me," Fanning said immediately afterwards.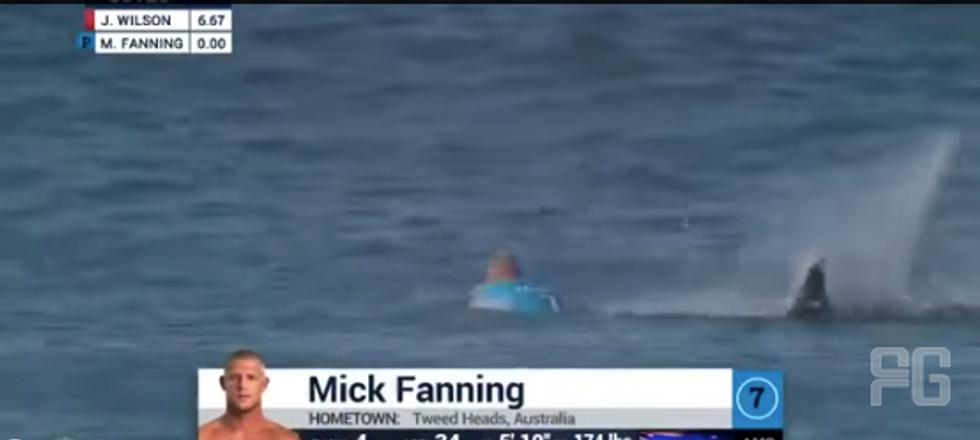 Image source: YouTube
The competition was called off after the incident with both Wilson and Fanning splitting the prize money. According to Fanning, despite his protests during the attack, Wilson began swimming towards him to help him fight off the shark.
"I'm tripping out right now. I just saw the footage of the attack. I was just waiting for my opportunity in the heat and I knew Julian was down the point. I was just about to start paddling and I had this instinct that something was behind me," Fanning told Surfer Magazine afterwards. "And then the shark came up from behind me and attacked. I got pulled under water and was being dragged under by my leg rope. Then it kicked me off and I punched it a couple of times. Then my leg rope break and I was just swimming. I was yelling at Julian to get away but he was coming towards me to help. What a legend. Then I was just readying myself for it to come at me again so I turned around, hoping I could at least see it coming. And then before I knew it the boat was there and I was safe."
Wilson told Surfer Magazine that he didn't think he was going to get to Fanning in time.
"I couldn't believe what I was watching. I saw the thing pop up behind him. I saw him wrestling it and saw him get knocked off his board. Then a little wave popped up and I couldn't see him. I thought he'd gone under…it felt like I couldn't get there quick enough," Wilson said. "I literally thought that I wasn't gonna get there in time. I thought 'I've got a board. If I can get there in time I've got a weapon and I could stab the shark.' Then he started screaming at me, we both started screaming, and then the boats came in [to help]…it's all too much really."
Even the commentators were shocked by the shark attack as they watched it unfold live, with one muttering "holy s**t" before apologizing.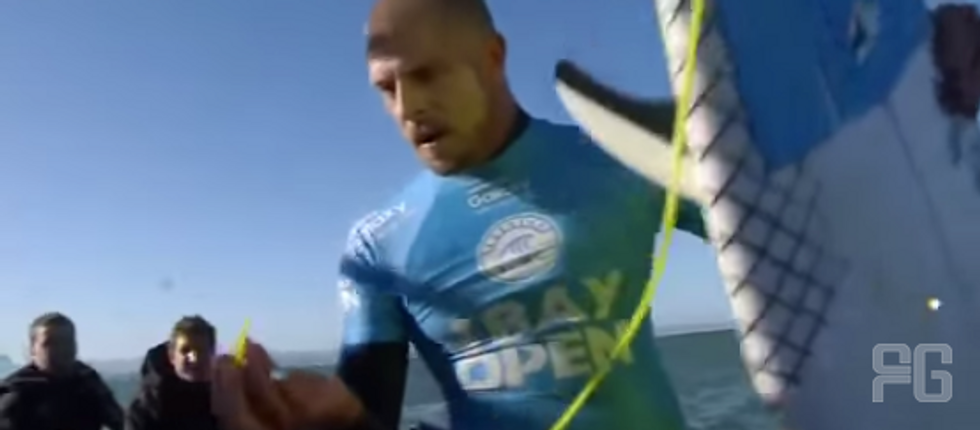 Surfer Mick Fanning holds up the leg rope that had been broken by the sharks in the attack. (Image source: YouTube)
After the attack, the World Surf League issued this statement:
"We are incredibly grateful that no one was seriously injured today. Mick's composure and quick acting in the face of a terrifying situation was nothing short of heroic and the rapid response of our Water Safety personnel was commendable -- they are truly world class at what they do.

The safety of our athletes is a priority for the WSL and, after discussions with both Finalists, we have decided to cancel the remainder of competition at the J-Bay Open. We appreciate the ongoing support we have in South Africa and once again want to express our gratitude to the Water Safety Team."
According to the Sydney Morning Herald, Jeffreys Bay, where the competition was being held, is notorious for shark attacks.
Watch the ordeal unfold here: