Republican presidential candidate Scott Walker was confronted by a illegal immigrant during a stop in Plainfield, Iowa, on Sunday — and it caused the Wisconsin governor to make his stance clear on the issue of immigration.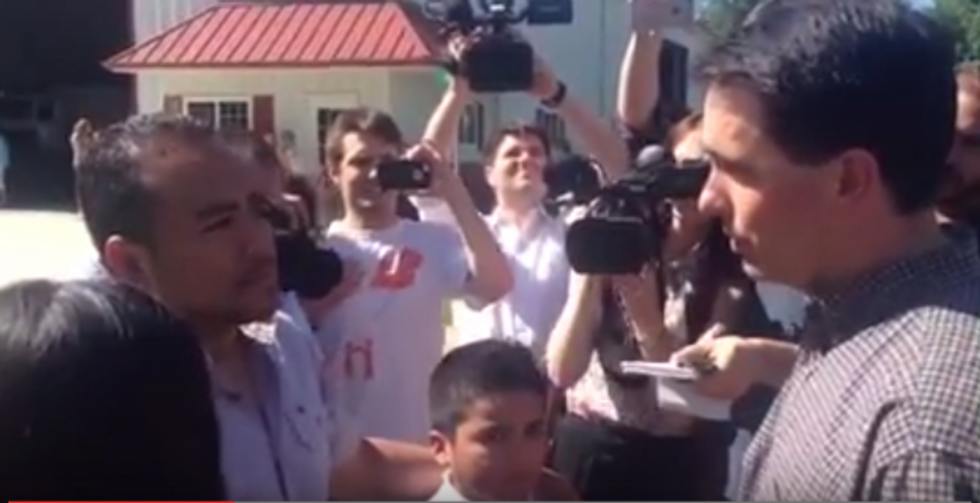 (YouTube)
Jose Flores, 38, who lives in the U.S. illegally with wife and four children, told Walker he fears being deported and separated from his American citizen children and asked him why he opposes President Obama Obama's immigration policies, according to the Washington Post.
Walker told Flores several times using various phrases, "We're a nation of laws." The Republican strongly criticized Obama over his unilateral immigration action that has been halted by a judge, arguing that the president is not authorized to create laws via executive order.
"My point is that you have to follow the law, follow the process," he added.
In a video uploaded on YouTube, Walker is also heard telling the father, "No man or woman is above the law in this country -- that's the beauty of America." Near the end of the exchange, Walker clarified that he never said he would support "deporting" the man or his wife from the United States and repeatedly claimed he "sympathizes" with the family.
The Post also reported that Flores' 13-year-old daughter Leslie, had "tears rolling down her cheeks throughout the exchange." Flores currently lives in Waukesha, Wisconsin, and is said to work at a medical supply factory.
Watch the exchange below:
It likely won't be the last time Walker has to defend his immigration policy. The Republican governor previously supported offering some form of amnesty to illegal immigrants, but has since claimed his position has changed.
---