The same former Missouri sheriff who pleaded guilty to federal money-related charges last year may have also used taxpayer dollars to get ready for the "end of times."
Christian County, Missouri, Sheriff Joey Kyle resigned in May after pleading guilty to embezzling money and using his position to promote fraudulent investments. County officials have discovered a number of ways in which they say Kyle should have been managing funds better, but nothing has raised as many eyebrows as two tons of food found stashed in the basement of the county jail, the Springfield News-Leader reported.
"I don't know how it got here or how it got paid for," Christian County commissioner Ray Weter said.
Weter said that ever since Kyle had gotten back from a U.S. Chamber of Commerce conference held in Las Vegas last year, he'd been "hyped up" about the end of the world coming. He would often talk about Israel launching attacks on its neighbors, the possibility of the U.S. invading Iran and warships in the Arabian Gulf, all of which he believed would trigger a war and result in the Apocalypse.
Interim Sheriff Dwight McNiel said it's not clear what money Kyle used to buy all the food, which has since all been donated to charities, but added that "it was apparently purchased as part of an end-of-time plan —part of a survival plan."
In addition to the two tons of food that was purchased, possibly with taxpayer money, McNiel found several other things by which he was "appalled" when took over, including hand-written financial records for a law enforcement agency that gets more than $4 million from taxpayers each year.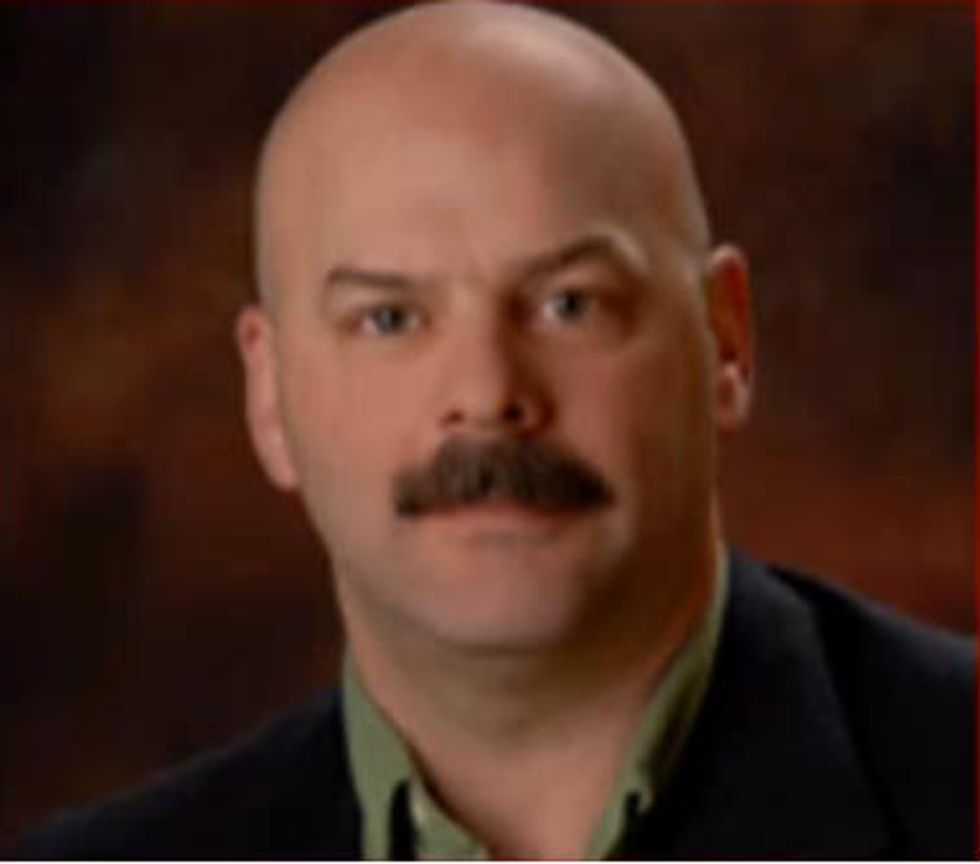 Joey Kyle (Images source: KSPR-TV)Chief deputy clerk Norma Ryan also told the News-Leader that paperwork involved in financial transactions could be so vague that it was hard to figure out just what the money was being spent on. Despite concerns, there was little anyone could do since the sheriff's office technically had control over discretionary spending, per state law.
McNiel said he also found an armory of weapons stored inside a closet, where C4 was being kept in relative close proximity to blasting caps, which are used to detonate the explosives. And a rocket-propelled grenade, which authorities confiscated during a domestic disturbance, contained Arabic text on one side and on the other side it read "MADE IN IRAQ."
McNiel said that multiple criminal investigations are still ongoing, but declined to say whether any of them involve current or former employees.
Kyle, who pleaded guilty to embezzling more than $50,000 and 22 fraudulent purchases, is serving one year and one day in federal prison. He was also ordered to repay the money he took as well as another $70,000 he got in additional proceeds, KSPR-TV reported.
The Christian County sheriff's office did not immediately respond to a request for comment from TheBlaze.
(H/T: Springfield News-Leader)
–
Follow Jon Street (@JonStreet) on Twitter