If you've ever lived in apartment building, you've probably heard your upstairs, downstairs or next door neighbors in some capacity. However annoying these disruptions might be, most people probably shake their heads and let it go.
But sometimes, things come to a head.
Such was the case for a set of neighbors in Tampa, Florida.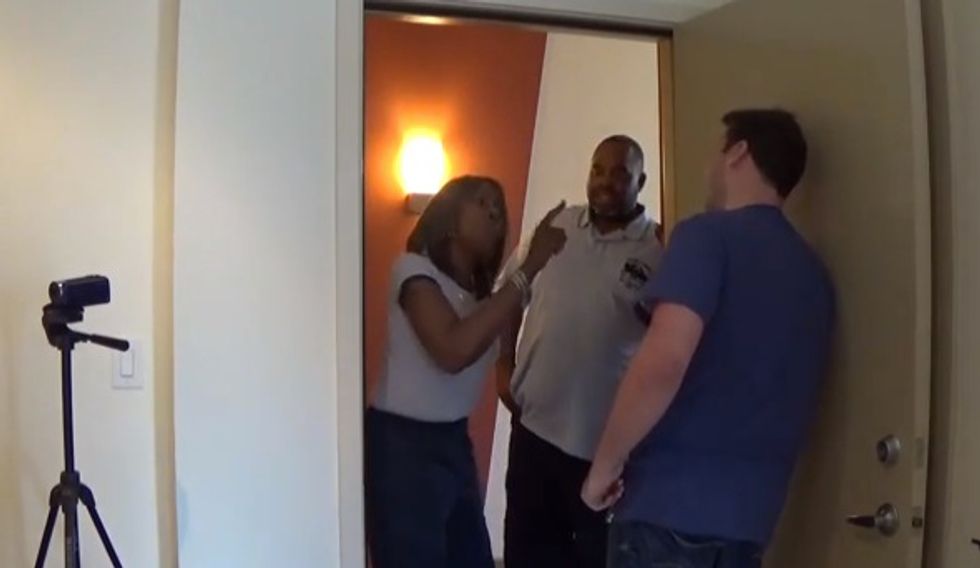 Image source: YouTube
"I live at a 'luxury apartment' complex," the YouTube user Philgood Davis wrote in the description of the video he posted Sunday. "Due to poor construction my downstairs neighbor can hear me walking around upstairs and thinks I am intentionally stomping."
Davis went on to write that the incident happened while he had some of his MBA program's classmates over filming a project.
"I opened the door and my neighbor started hurling racist rants at me. Once she saw that the people in my apartment were black, puerto rican, and white she decided I was not longer a racist and instead was just gay. She started calling me a white faggot (i am straight) and threatening to kill me," he wrote. "Shortly after that one of my friends grabbed a camera and began recording and this is the last 11 minutes of the encounter."
This is a portion of what transpired followed by the video itself below.
"This is a cheap ass building. This is not a luxury building," a woman standing at Philgood Davis' door said, later telling him that she was his "worst enemy" when he accused her of being ridiculous in her accusations that he was stomping intentionally.
"Hate is a two way street," she continued, her standing next to her at the door. "I hate you as much as you hate me."
"Wow, but I don't hate you," Davis replied.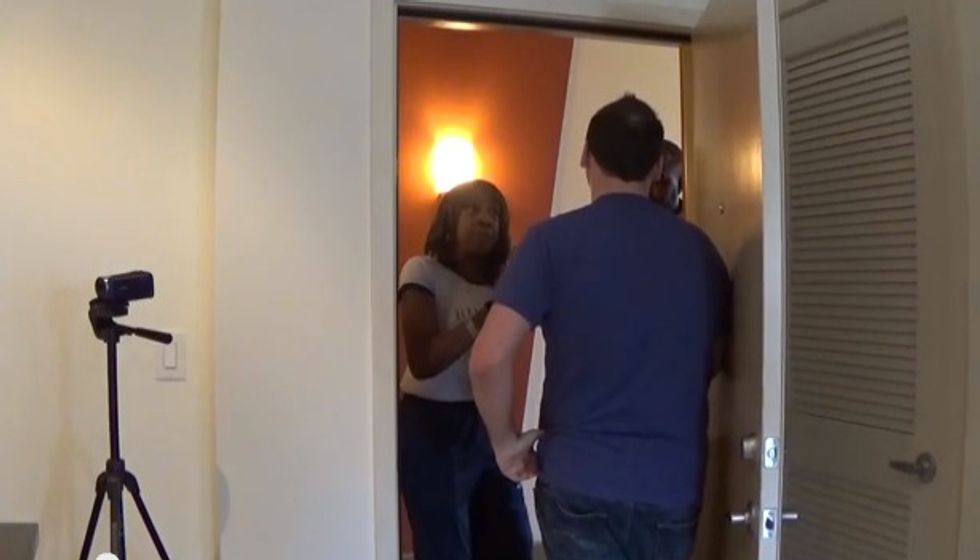 Image source: YouTube
"I don't give a f*** about you white boy," she said shortly afterward. "You acting like a f***ing little punk."
She went on to say that her husband died last week, to which Davis said he was sorry, a condolence she didn't accept from him.
"But he was not the one to be afraid of. Be afraid of me," she said, later in the video revealing that her husband had confronted Davis over walking loudly before.
"We can live her in peace," she added later.
"You can hate me, that's OK. I don't hate you," he said.
"Good because I do," she said. "You, we can live here in peace. We don't have to go through this f***ing s**t. OK? You stop stomping on my head, I'll stop stomping on yours. I'll stop turning up the base."
"I know when you come, I know when you go. I know when you go the bathroom, because you get up and you're like stumbling and I hear the bathroom. ... There's too much stuff here going on," she added.
The woman told Davis that she was going to move, but not until she was "pretty mother f***ing ready."
Davis, presumably joking, said he was thinking of moving too — across the hall from the woman because "I want to be friends with you."
Davis later said he didn't quite understand where the woman was coming from because he was out of town for two weeks in the three weeks he has lived in the apartment.
Starting to lose the cool he maintained for the couple of minutes prior, Davis said the woman was being "ridiculous" and that he wished he was recording it.
Well, someone in his apartment was.
Watch the full exchange in which the woman says she would do jail time to "get your ass" (Content warning: strong language):
As the video continued and the woman started touching on racial issues, calling the "white people around here the most pompous mother f***ers I've ever seen," even her son tried to dial her back.
Her son later stepped completely in front of his mother and tried to tell Davis that he was coming to him peacefully.
At one point, a woman in Davis' apartment is heard saying she's scared and is calling the police.
"Do that, do that white girl," the woman said.
"I understand you're trying to be peaceful," the woman inside the apartment, one of Davis' classmates, said in the video. "But I'm going to give you five seconds to leave before I call the police."
There were a few more minutes of a slightly calmer exchange between Davis and the woman complaining that he was walking like an elephant. In the end though, it ended with the son forcibly pushing his mother away from the door and Davis closing it.
In his description of the video, Davis said he took it to management to try and get out of his lease or have the woman evicted. He wrote that no action was taken.
Davis also wrote that they did call the Tampa Bay Police department when the woman was threatening to get her gun, but he said they never came.
—
Update July 21, 2015 12:26 p.m. ET: Davis sent us his video response to the situation that transpired:
(H/T: Reddit)