During Monday's "Morning Joe" on MSNBC, Senator John McCain (R-Arizona) talked about Donald Trump's remarks about his POW days in Vietnam. He thinks Trump does owe an apology, but not to him.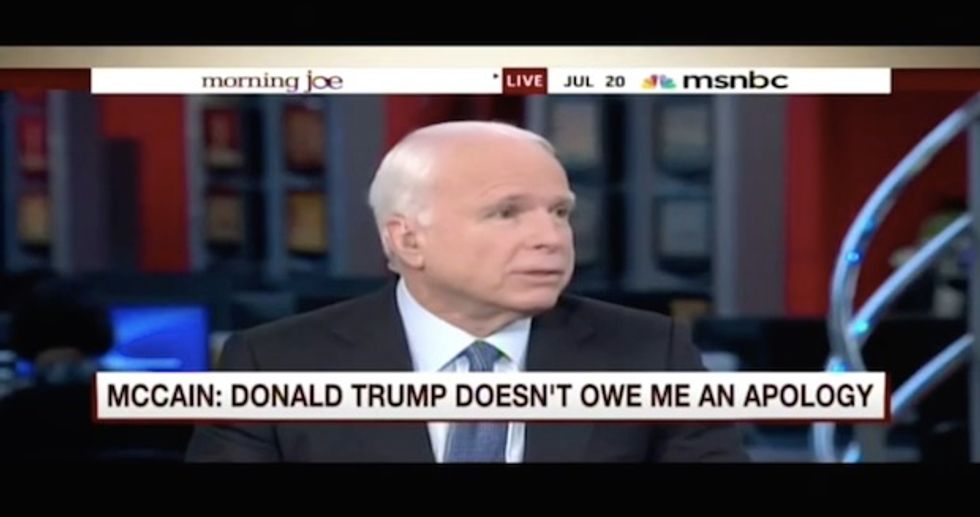 Image source: YouTube
Mika Brzezinski's opening question was simple enough, "Does Donald Trump owe you an apology?"
McCain responded, "No, I don't think so. But, I think he may owe an apology to the families of those who have sacrificed in conflict and those who have undergone the prison experience in serving their country." The chair of the Senate Armed Services Committee added, "I'm not a hero."
When asked by Joe Scarborough if he had a problem with Trump's lack of service during the Vietnam war, McCain replied, "For me to look back in anger at anyone is non-productive."
Willie Geist wondered if Senator McCain agreed with many of the announced 2016 GOP candidates who are calling for Trump to drop out of the race.
"I think that's a decision he would have to make," McCain answered, "What I think he should do is apologize to the families and those who have served."
During the twelve-minute segment, McCain also addressed:
The ongoing VA scandal. (He has two bills in process to help vets.)

The nuclear arms deal with Iran. (McCain is against it and concerned it will "nuclearize" the Middle East.)

Bernie Sanders' large crowds, especially in McCain's home state of Arizona.
Watch the interview from MSNBC:
__
Follow Mike Opelka (@Stuntbrain) on Twitter.