When Ben Carson was given his microphone lapel to speak in front of about 200 people gathered Monday night at the former Wonder Bread factory in Washington, D.C., the audio did not work. So the soft-spoken Carson decided to do without and just speak up.
"It's against my nature. I'm not a loud person," Carson said to laughter. But throughout the 27-minute speech to the Washington D.C. Republican Party Straw Poll event, many in the crowd were louder than Carson in expressing their approval for the 2016 presidential candidate's thoughts about education, fiscal responsibility and national security.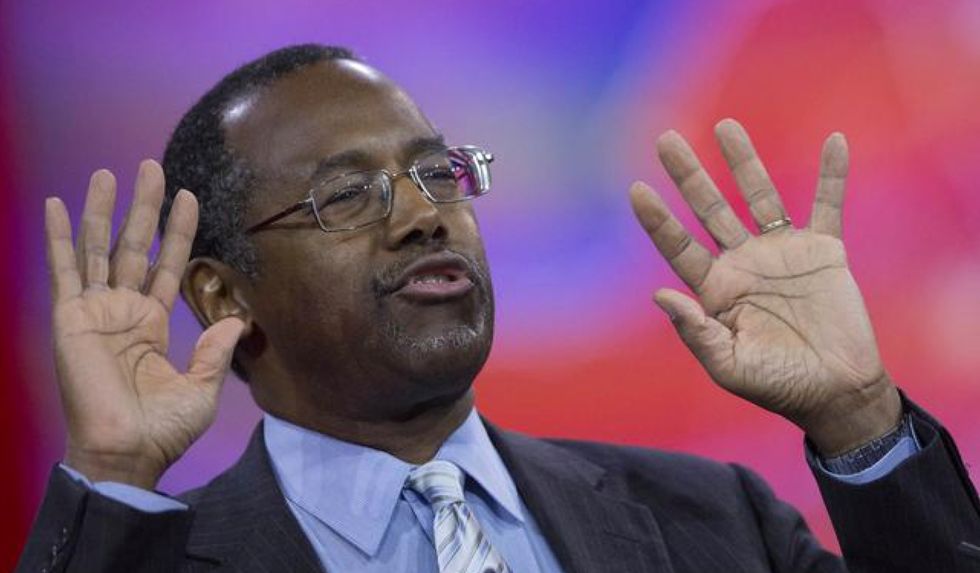 (Bloomberg via Getty Images)
About halfway through the speech, a campaign advance man said the mic was working, and brought it to Carson. It worked for about one sentence, and Carson said, "Take it back. We're doing OK."
The famed neurosurgeon did better than OK in the straw poll, easily winning by 44 percent of the vote. He told TheBlaze in a wide-ranging interview after his speech that a lower tone has nothing to do with strong leadership.
"I've heard some people say, 'he's too soft spoken. He's too nice. There's no way he could ever negotiate or do anything because he's too nice a guy,'" Carson told TheBlaze. "They clearly have no idea what they're talking about. You don't have to scream and shout in order to be a person of principle."
Carson talked about Iran and Cuba as examples where he would be a tougher negotiator than the Obama administration.
"The world is very complex," Carson said. "We've lost an enormous amount of influence in the world because we are not people of our word and because we back down."
The Obama administration has argued that it would be irresponsible for the United States to back out of the Iran nuclear deal in part because allies such as Britain, France and Germany, as well as the United Nations Security Council, have endorsed the plan.
Carson contends that the United States should again be in a position to lead allies rather than be led.
"Once we have the kind of leadership that gains respect throughout the world, including our allies, you will find that they will go along with us rather than oppose us," Carson said. "So you have to repair that relationship before you go around and start trying to reverse everything. "
Nevertheless, Carson said he believes that Congress can stop the Iran nuclear deal if it has the will.
"Of course it's reversible," Carson said. "I'm very hopeful that our Congress will not agree with this. If in fact, they truly are Americans, as opposed to blind followers of the president, I think we'll be OK."
Another front where Carson said he would be a tougher negotiator was with Cuba, which opened an embassy in Washington Monday, while the United States opened an embassy in Havana.
"I would not have normalized relations with them at this time. I don't have any problems with normalizing the relationship, but not without getting anything back," Carson said.
He then pointed out that Cuban President Raul Castro is in his 80s. Castro is 84.
"He's not going to be there forever," Carson told TheBlaze. "They are going to have new leadership, and that is going to be a good time to really get into negotiations about bringing them into the Western Hemisphere culture."