After days of pressure and criticism, President Barack Obama announced Tuesday he was lowering the American flag at the White House and other government buildings to half staff to honor the victims of the Chattanooga shooting last week.
"As a mark of respect for the victims of the senseless acts of violence perpetrated on July 16, 2015, in Chattanooga, Tennessee, by the authority vested in me as President of the United States by the Constitution and the laws of the United States of America, I hereby order that the flag of the United States shall be flown at half-staff at the White House and upon all public buildings and grounds, at all military posts and naval stations, and on all naval vessels of the Federal Government in the District of Columbia and throughout the United States and its Territories and possessions until sunset, July 25, 2015," the president said in a formal proclamation Tuesday.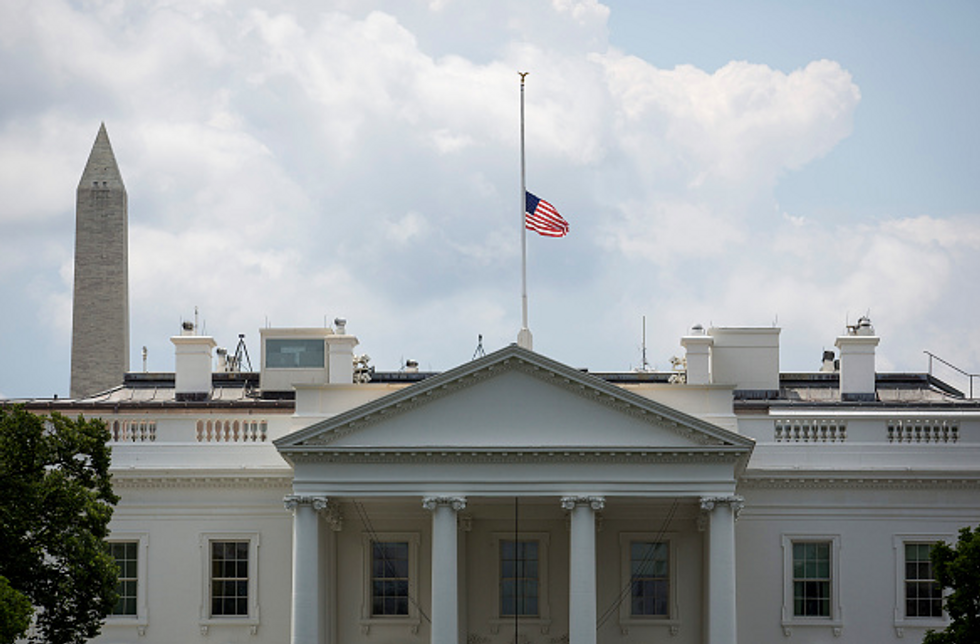 A flag atop White House flies at half-staff in honor of Beau Biden, on June 6, 2015, in Washington, DC. President Obama is traveling to Wilmington, Delaware to deliver a eulogy for Beau Biden the son of Vice President Joe Biden after he died at 46 following a two-year battle with brain cancer. (Photo by Drew Angerer-Pool/Getty Images)
Obama at the White House faced scrutiny Monday after the American flags on Capitol Hill were lowered to honor the victims, but not at the White House.
During his remarks at the Veterans of Foreign Wars convention in Pittsburgh, Pennsylvania Tuesday, Obama also mentioned the Chattanooga, Tennessee shooting.
"We don't yet know all the details behind the attack in Chattanooga, but we do know that al Qaeda and ISIL have encouraged attacks on American soil, including against our service members and this threat of lone wolves and small cells is hard to detect and prevent," Obama said. "So our entire government, along with state and local partners, we are going to keep doing everything in our power to protect the American people, including our men and women in uniform."
"We honor our five service members killed so senselessly in Chattanooga," Obama continued. "We are grateful to the courageous police who stopped the rampage and saved lives. And we draw strength from yet another American community that has come together with an unmistakable message to those who would try to do us harm: We will not give in to fear. You cannot divide Americans. You can never change our way of life or the values of freedom and diversity that make us Americans."