University of Missouri professors and staff members have been encouraged to confront colleagues who fail to use noninclusive language, the College Fix reported.
A voluntary workplace diversity seminar last week — "The Power of Words: Inclusive Language at Mizzou" — underscored for those in attendance the importance of using "currently appropriate terminology" in order to bolster diversity.
In encounters with language offenders, the goal is to "draw them out" so they'll begin to use "correct words in conversation."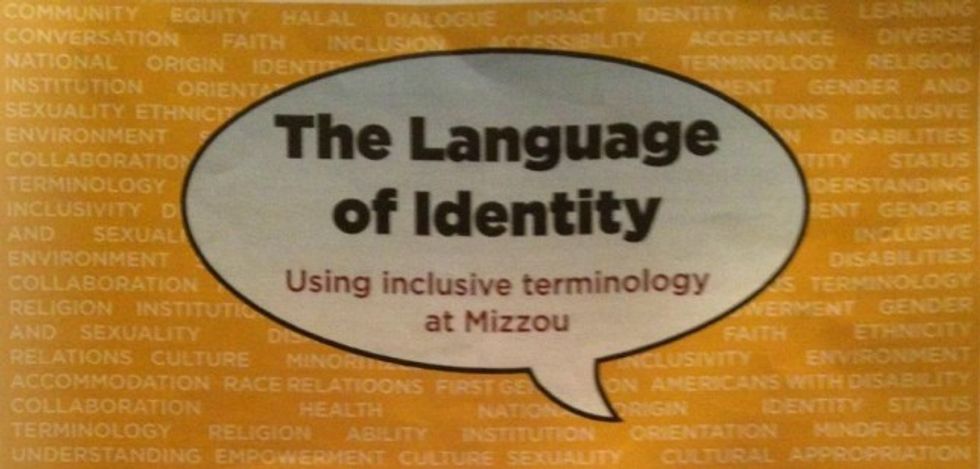 Image source: The College Fix
"If you have a professor who you think might need a little bit of awareness, there are ways to bring that out to the person," Amber Cheek, the school's disability inclusion and ADA compliance manager, told the crowd, according to the College Fix.
But which terms are acceptable, and which terms aren't?
Attendees received an "inclusive terminology" document that spells out "currently appropriate terminology as well as the reasoning behind why these terms are generally preferred."
For example:
Rather than using the term "mentally ill," instead say "person with a psychiatric disability."

Rather than using the term "wheelchair-bound," instead say the person is a "wheelchair user."

If you're unsure if someone wants to be referred to as a "she" or "he," you can simply ask, "What pronouns do you use?"

Failing that, you can always resort to "gender-neutral pronouns" that include "they/them and ze/hir."

"Color blind" is used by those who oppose "race-conscious policies" and don't believe they "see" race, so that term is frowned upon.

When referring to an "immigrant" (an acceptable term), don't use "alien" (a slur).

When an "underrepresented group" is made to feel "less than," that group is being "minoritized."

The LGBTQ acronym for "Lesbian, Gay, Bisexual, Transgender, Queer" can also include "Asexual, Intersex, Questioning, Ally, Unidentified or Genderqueer."
Cheek added, "Sometimes people gravitate away (from inclusive language). We all live in our own lives. We all live in our own cultural experiences … and there is always going to be a large group of people who don't want to get out of that or who want to stay in their comfort zone. So – you have to draw them out. And sometimes the best way to do that is to pose your (chastisement) as, 'Here is how to be a better coworker, here is how to be a better professor.' And this is just one part of that," the College Fix reported.
The last page of the event's handout includes a drawing of "The Gender Unicorn" — a friendly looking purple creature complete with rainbow thought bubble and a pair of hearts on its chest — courtesy of Trans Student Educational Resources. Alongside the Unicorn is a chart to educate readers on emotional and sexual attraction as well as gender identity, expression and assignment.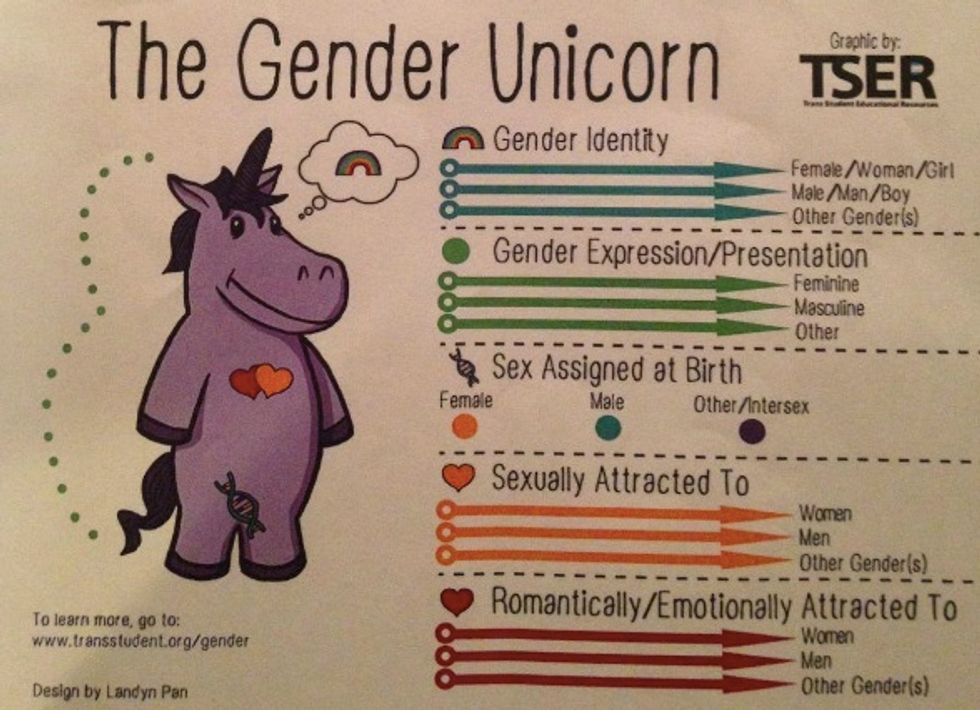 Image source: The College Fix
Cheek didn't respond to the College Fix's email asking for comment.
—
Follow Dave Urbanski (@DaveVUrbanski) on Twitter