Davia Bradshaw is a 36-year-old single mother with a severely disabled daughter whose medical needs demand 24/7 care.
Three-year-old Ashton was born with a brain defect, cerebral palsy and encephalopathy. According to the New Times Broward, she's "unable to walk, nearly blind and unable to eat normal food" and her therapy needs costs thousands of dollars each month.
The newspaper reported that Bradshaw has lost two cars since her daughter's birth and cannot afford rent, so she lives with friends and family who will take her and her toddler in.
Former NFL player Clinton Session isn't supporting his special needs baby, Broward court says. http://t.co/emP32KONCW pic.twitter.com/YyzIYAhVB6

— New Times Broward (@NewTimesBroward) July 21, 2015
"It's not a situation where I can put her in daycare or school and return to work. I have to be with my daughter 24/7," Bradshaw told the New Times, which noted that Ashton needs support to even just sit up on her own.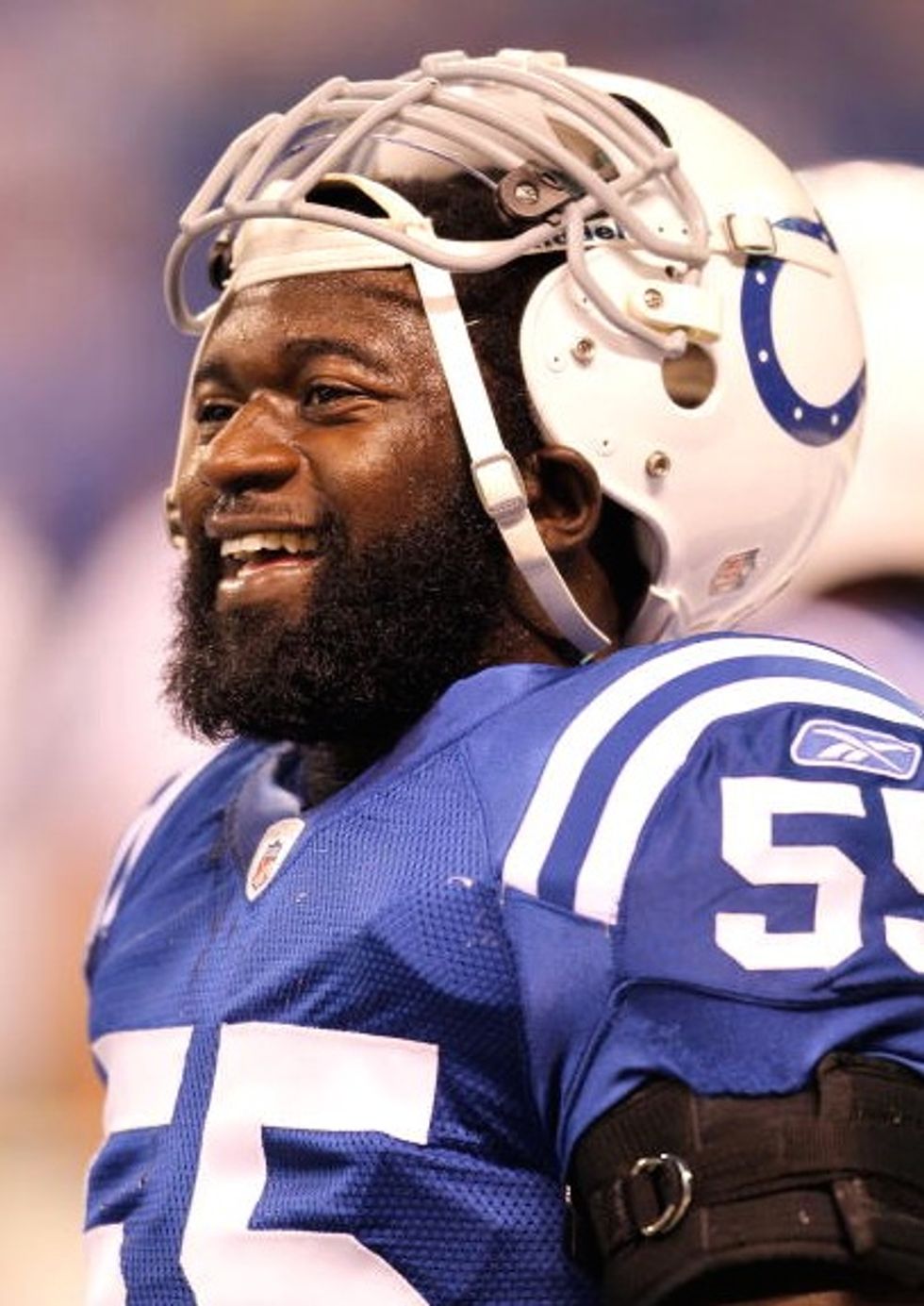 Clint Sessions, then #55 of the Indianapolis Colts, watched from the sidelines during the NFL preseason game against the Cincinnati Bengals at Lucas Oil Stadium on September 2, 2010 in Indianapolis, Indiana. (Andy Lyons/Getty Images)
The dire situation of Bradshaw and her daughter is in stark contrast to that of her father, a former NFL player who made millions in his career.
Clinton Session, a linebacker who was first drafted by the Indianapolis Colts before he later signed a $30 million contract with the Jacksonville Jaguars, was identified as the father in court in 2014, two years after Ashton was born and he and Bradshaw broke up.
Session, whose NFL career ended after a concussion but the newspaper noted $11 million of his contract was guaranteed, is accused of not paying child support for his disabled daughter. What's more, he's accused of giving more than $5 million to his parents "for intentional avoidance for income for child support purposes." The court deemed this an "attempt to circumvent [...] his guideline child support obligation."
The court ruled that starting in January of this year, Session would have to pay Bradshaw over $6,900 a month to benefit their daughter. In addition, starting in February he was to pay $2,000 a month until the over $109,000 he owed her in child support was paid in full. Session was also supposed to help pay for a variety of medical therapy and equipment as well.
According to court documents, in the first four months of this year, Session only paid $1,000 per month.
Bradshaw is still working through the legal system for justice, which the New Times noted has been slowed after Broward County Judge Arthur Birkin reluctantly recused himself of the case, saying after a shouting match between families that the "conduct [...] made it impossible to maintain neutrality."
"The mother and child appear to reside in a room while the father lives in an $800,000 house that is paid in full," Birkin wrote, according to the newspaper. "The father does not appear to understand the magnitude of the child's need."
Bradshaw's attorney Sara Lawrence told the New Times that despite a final judgement from the court, "then you have to try to get people to do what they're supposed to do. It's very frustrating."
Lawrence said Session is "playing games" and making Ashton wait longer for "treatment she needs."
Session, when reached by phone by the New Times, said he would not "discuss a confidential case."
(H/T: Daily Mail, Deadspin)