When a group of Code Pink activists crashed a Ted Cruz event outside of the White House on Thursday, the Republican presidential candidate actually tried to engage in a thoughtful debate with them on Iran and the recently agreed to nuclear deal. After the protesters began shouting and holding up signs directly in front of him, Cruz quickly addressed the group.
"It is very interesting to see those who profess to believe in free speech are the ones afraid of speech," Cruz said.
Rather than allowing the shoutfest to continue, the Republican senator actually invited one of the protesters to "come forward" and have a discussion on the issue. Eventually, Code Pink's Medea Benjamin approached Cruz at the podium.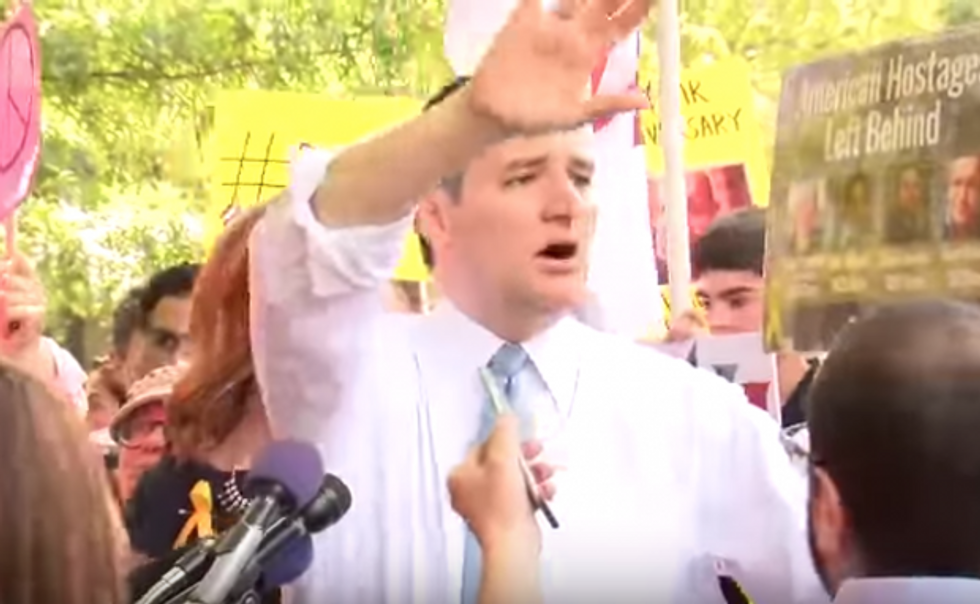 YouTube screengrab
"If this deal goes through three things will happen. First, over a hundred billion dollars will flow to Iran that they will use to fund Hezbollah, the Houthis, and radical Islamic terrorists," Cruz said. "Those billions of dollars will be used to fund jihadists that will murder Americans, that will murder Israelis, that will murder Europeans. Does that make any sense?"
Benjamin responded to Cruz's point by claiming the "only way" to stop Iran from building a nuclear weapon — "if indeed they are trying to get one" — is through the current Iran nuclear deal.
When Cruz argued that the Iranian regime has made it clear that they want to develop a nuclear weapon, Benjamin interrupted, calling his point "absolutely false."
Cruz then added, "You did not respond to the irrefutable point that this deal with send over $100 billions dollars to Iran and those billions of dollars will be used to murder Americans by jihadists."
Looking around at the Code Pink crowd, Cruz observed, "I recognize that the folks in Code Pink like to hold up signs saying, 'Peace with Iran.' You know who doesn't reciprocate those views? Iran."
Cruz later explained to TheBlaze why he decided to engage in a debate with Code Pink rather then brush them off. Read the interview here.
Watch the full exchange below:
---