If Congress doesn't kill the Iran nuclear deal, the next president will have two choices, Texas Sen. Ted Cruz said after attending a rally in front of the White House opposed to the deal.
"Any commander in chief worth his salt should be prepared on the first day of his presidency to repudiate this disastrous deal," Cruz told TheBlaze Thursday. "The next president in all likelihood will enter the Oval Office and be informed that he or she has one of two choices: Either acquiesce in allowing Iran to acquire nuclear weapons because Iran is likely to be on the verge of acquiring nuclear weapons due to President Obama's catastrophic nuclear deal; or two, use direct military force to prevent that from happening."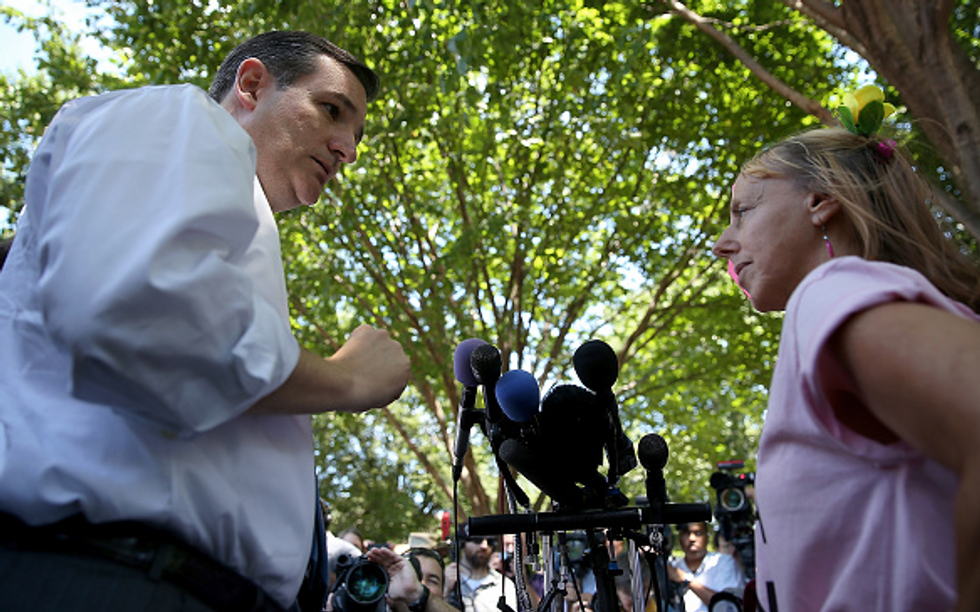 Republican presidential candidate Sen. Ted Cruz debates the Iran nuclear deal with Code Pink co-founder Medea Benjamin during a rally in Lafayette Square, July 23, 2015 in Washington. The rally, organized by Concerned Women for America, was held to protest the recent nuclear deal reached between the United States and Iran but was interrupted by protesters from Code Pink who support the deal. (Win McNamee/Getty Images)
The 2016 Republican presidential candidate called on a crowd at Lafayette Square, across the street from the White House, to light up the phone lines of members of Congress to get a veto-proof majority to vote down the deal.
"Front and center in 2016 is going to be a discussion about how we protect this nation," Cruz said. "It is going to be a major issue, in the 2016 campaign in the primary, and in the general election as well, and Hillary Clinton will have the opportunity to explain to the American people why she is OK with a nuclear Iran. I think it poses an existential threat to Israel and an enormous threat to the United States of America."
Concerned Women for America organized the rally, which included several speakers, including Cruz. White House press secretary Josh Earnest referred to the event as a "pro-war rally."
"All opponents of the deal will have the opportunity to explain why they would oppose the best way for us to prevent Iran from obtaining a nuclear weapon and that is through diplomacy," Earnest told reporters.
A contingent from the anti-war group Code Pink sought to crash the rally and shout down Cruz.
The Code Pink chants of "war monger, war monger" were mostly drowned out by shouts of "We want Ted." But the sign-waving crowds on both sides were surprised when Cruz invited one someone from the group to speak. "You want to yell and scream, come forward," Cruz said. Watch the full exchange here.
The event turned into a point-counterpoint at the microphone between the 2016 presidential candidate and Code Pink co-founder Medea Benjamin, who said "it is absolutely false" that Iran wants to develop a nuclear weapon. Benjamin added, "We are surrounded by zealots here who would rather have war in the Middle East."
Cruz answered each of her questions, and neither convinced the other. But the shouting settled.
"I don't want peace at the price of millions of Americans," Cruz said.
Asked about his motivation for getting into a debate with Code Pink, Cruz told TheBlaze he believes in the First Amendment.
"I think it is unfortunate when you see protesters try to shout down speech, I don't think that is an appropriate way to persuade you're fellow citizens," Cruz said. "They have passionate views and I was willing to engage with them and discuss it on the merits, and I hope some of the discussion caused them to reconsider facts that they believed in were not accurate."
Much of the rally was based on why the United States did not seek the release of four Americans held in Iran. Though that was not part of the deal, President Barack Obama and Secretary of State John Kerry have repeatedly said they are doing everything they can to get the prisoners free.
Asked if he believes that, Cruz told TheBlaze "no."
"Actions speak louder than words," Cruz said. "The president can't bring himself to utter their names. When the president announced this deal, nowhere in his remarks were found the words Pastor Saeed Abedini, Amir Hekmati, Jason Rezaian, Robert Levinson. If he will not speak their names, it is of no surprise that they have not been released."