Police are investigating a threatening note left on a car near Dobbins Air Reserve Base in Marietta, Georgia, Wednesday.
The note, found on the windshield of a service member's car, was turned over to the Cobb County Police Department, which is working with military authorities in its investigation.
"dear american soldier," the note read in all lowercase. "death to you coward women child killer and all the american military mohammad will show no mercy on you attacks will come full force death is to come to you."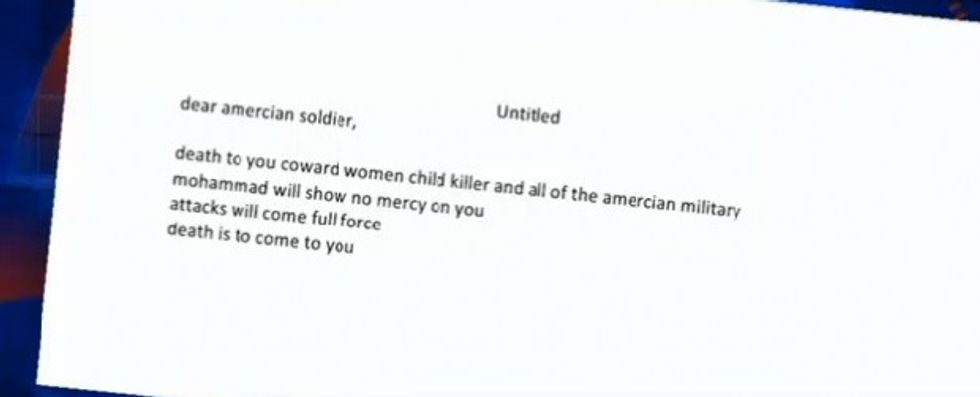 The news station featured this reproduction of the note found on a service member's windshield. (Image source: WAGA-TV)
The note was found on a car at an office complex near Powers Ferry Road, a news release from police stated, classifying it as a possible terrorist threat. Police noted that the victim might have been targeted because his license plate identified him as a service member.
WAGA-TV reported that the note it featured in its report is a reproduction of one that also is being shared on Facebook.
Watch WAGA's report about the investigation:
The note comes a week after a military recruiting center and a base in Chattanooga, Tennessee, were attacked. Four Marines and a sailor were killed in the shooting by 24-year-old Muhammad Youssef Abdulazeez, who was killed by police at the site of the second shooting. 
FBI Knoxville Special Agent in Charge Ed Reinhold said it is too early to determine whether Abdulazeez was "radicalized" before the attacks. But when asked if Abdulazeez acted alone, Reinhold said he was currently being treated as a "homegrown violent extremist."
Abdulazeez spent several months with an uncle in Jordan last year as part of an agreement to get him away from drugs, alcohol and a group of friends his parents considered a bad influence, a person close to the family has said. That person spoke on the condition of anonymity to avoid business repercussions.
The uncle has been detained in Jordan but has not been charged with anything, according to the uncle's attorney.
Friends and neighbors recalled Abdulazeez as a happy, polite young man. But a picture has also emerged showing a darker side, with Abdulazeez's family saying he struggled with depression from his early teens, abused drugs, couldn't keep a job and was considering bankruptcy.
Since the attack, some civilians have started taking up armed post outside of military recruiting centers to protect service members who are prohibited from carrying a firearm themselves.
—
The Associated Press contributed to this report. 
—
Front page image via Shutterstock.