White House senior adviser Valerie Jarrett opened up a forum on community policing by pointing out unfairness across the country that can only be solved through a joint effort of police and community leaders.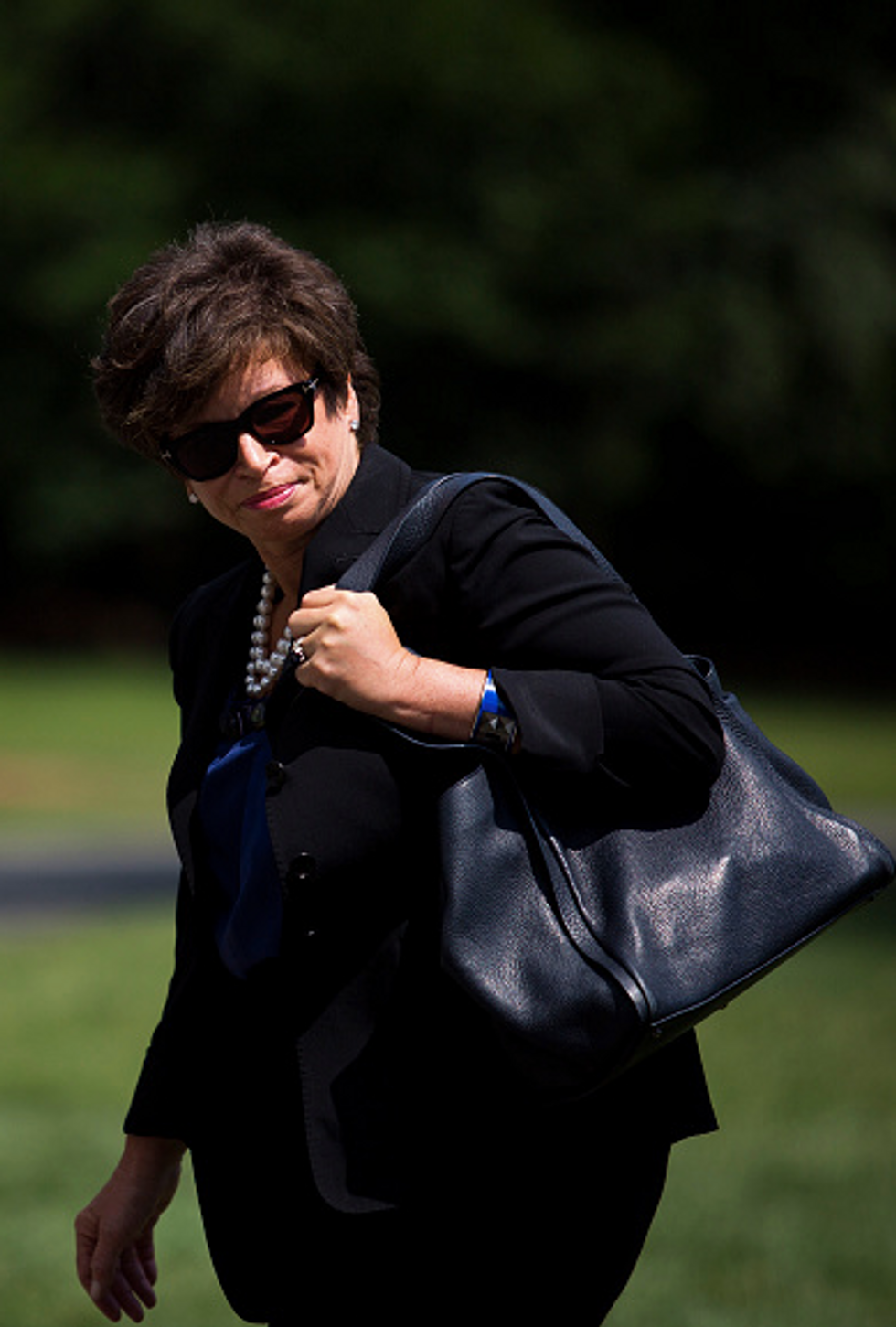 White House adviser Valerie Jarrett exits Marine One and walks toward the White House,  June 6, 2015. (Drew Angerer-Pool/Getty Images)
"In some communities, they have consistently felt as if the odds are stacked against them," Jarrett said, speaking at the Eisenhower Executive Office Building in Washington. "In fact, the odds were stacked against them. That sense of unfairness and perilousness has helped fuel the sense in some of our communities across the country, in the past year especially."
The forum Thursday comes as a White House task force on policing rolls out a report of recommendations in response to police altercations in Ferguson, New York and Baltimore that have ended in the deaths of black men over the past year.
"The 21st Century Policing Task Force was formed by the president in the wake and in the midst of tragedy," Jarrett said. "The nation's attention has moved from community to community, as lives were lost, as unrest ensued. What has remained clear is that the strife is not isolated to any particular communities. It has been simmering for too long and it has surfaced now."
Baltimore saw riots earlier this year in response to the death of Freddie Gray before criminal charges were brought against police in the city, which followed unrest in Ferguson last year after no charges were brought against a police officer who fatally shot Michael Brown after an altercation. In New York, no charges were brought after Eric Garner died after being placed in a police chokehold.
"We can't afford to only show up when something goes wrong," Jarrett said. "We have to be there throughout. So this is about policing and this is about community. It's also about opportunity."
She also praised police.
"We also know that police put themselves in harm's way every single day," Jarrett said. "They deserve to come home safe to their families as well. They are a very important part of this solution, but they are not the only part of the solution."
Jarrett said on other fronts, the president's My Brother's Keeper initiative to help young men of color gain more education and opportunities is a key to "breaking the school to prison pipeline.
She also said she is confident that Congress will push through bipartisan criminal justice reform during the president's "fourth quarter" to reduce sentencing for non-violent drug offenses.
"What we are witnessing in cities across our country is not just about policing, it's also about community," Jarrett said. "Everyone has a role to play in this effort to bridge the divide between youth, community members and law enforcement, and it is within the power of every community leader to reach out to the police in their community before tragedy strikes to offer help, collaboration, and a shared approach to their mutual growth."
Correction: Due to an editing error, TheBlaze incorrectly reported that Eric Garner was shot and killed by a police officer. Garner died after being placed in a police chokehold. TheBlaze regrets the error.