The Satanic Temple is planning Saturday to unveil an 8-foot-tall bronze statue of a goat-headed Devil in Detroit — and it's being called the "largest public satanic ceremony in history," WWJ-TV reported.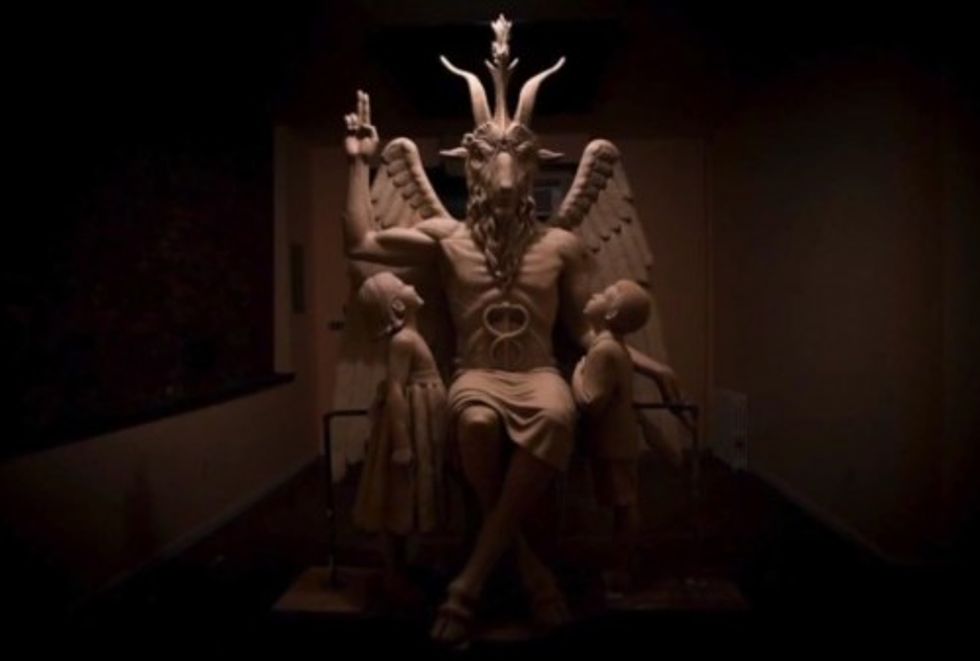 Image source: WWJ-TV
The unveiling is a private event at a location disclosed only to those holding $25 tickets, but once on site attendees are promised "a night of chaos, noise, and debauchery… Come dance with the Devil and experience history in the making," WWJ added.
More from the station:
The group said the bronze Baphomet monument, which weighs about one ton and has never been seen before in public, "is not only an unparalleled artistic triumph, but stands as a testament to plurality and the power of collective action." The statue, which backed by an inverted pentagram and flanked by statues of two young children gazing up at the creature, shows Satan with horns, hooves, wings and a beard.

The group went on to say the unveiling event "will serve as a call-to-arms from which we'll kick off our largest fight to date in the name of individual rights to free exercise against self-serving theocrats."
Minister Todd Sanders of Strictly Biblical Bible Teaching Ministries in Detroit told WWJ that Christians have no reason to fear.
"The church can benefit from this because we can view this as an opportunity to get at the truth in terms of what the Satanic Temple believes," Sanders told the station. "I don't think it's anything we should be afraid of at all, we don't need to cower in fear — we have the truth on our side as Christians."
And why Detroit? Because the city apparently has a robust Satanic Temple congregation, with more than 200 registered members, WWJ said.
Recently Jex Blackmore, president of the Detroit chapter of the Satanic Temple, faced off with a pastor over the controversial issue.
And you may recall the temple was behind a "snaketivity" scene erected on the grounds of the Michigan State Capitol just prior to last Christmas.
—
Follow Dave Urbanski (@DaveVUrbanski) on Twitter