President Barack Obama ripped much of the Republican Party and the 2016 field in response to comments made by GOP presidential candidate Mike Huckabee about the Iran nuclear deal.
"The particular comments of Mr. Huckabee are, I think, part of just a general pattern that we've seen that would be considered ridiculous if it weren't so sad," Obama said Monday during a joint press conference with Ethiopian Prime Minister Hailemariam Desalegn in Addis Ababa, Ethiopia.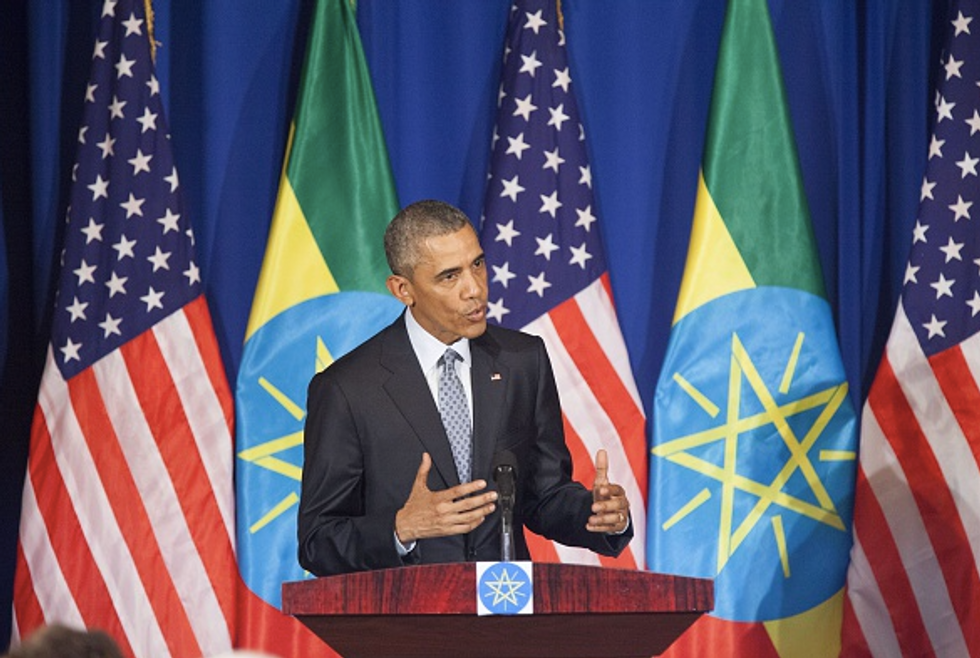 President Barack Obama gestures during a joint press conference in Addis Ababa, July 27, 2015. (ZACHARIAS ABUBEKER/AFP/Getty Images)
In an interview published over the weekend, the former Arkansas governor invoked the Holocaust when he said of Obama and the Iran deal: "It is so naive that he would trust the Iranians. By doing so, he will take the Israelis and march them to the door of the oven."
In a statement, Huckabee fired back at Obama's comments.
"What's 'ridiculous and sad' is that President Obama does not take Iran's repeated threats seriously. For decades, Iranian leaders have pledged to 'destroy,' 'annihilate,' and 'wipe Israel off the map' with a 'big Holocaust,'" Huckabee said. "'Never again' will be the policy of my administration and I will stand with our ally Israel to prevent the terrorists in Tehran from achieving their own stated goal of another Holocaust."
Obama during the press conference also criticized a "sitting senator running for president who suggested I'm the leading state-sponsor of terrorism."
While Obama didn't specify who he was referring to, Sen. Ted Cruz (R-Texas) has said the money freed up through sanctions relief would be used to fund terrorism.
He also referenced, though again not by name, Arkansas Republican Sen. Tom Cotton's comparison of Secretary of State John Kerry to Pontius Pilate.
And he cited fiery rhetoric by billionaire businessman Donald Trump, currently leading GOP presidential polls.
"Maybe this is just an attempt to push Mr. Trump out of headlines," Obama said.
He said the Republican Party acted "shocked" when Trump made comments about Sen. John McCain (R-Ariz.) and his war record.
"That arises out of a culture where those kinds of outrageous attacks have become far too commonplace and get circulated nonstop through the Internet and talk radio and news outlets," Obama said. "I recognize when outrageous statements like that are made about me, that a lot of the same people who were outraged when they were made about Mr. McCain were pretty quiet."
As for the Iran nuclear deal, Obama asserted, "The good news is I have not heard a factual argument on the other side holds up to scrutiny. There is a reason 99 percent of the world thinks good deal."
This post has been updated with Huckabee's response to Obama.