An Indiana father frustrated that his children kept leaving dirty dishes in the sink finally had enough one day — and came up with a creative way to put an end to their habit.
Shane Labuzan, a father of three, placed a note near the kitchen sink threatening to disconnect their Internet if they continue to leave a mess. The note was inspired by the 2008 action film "Taken."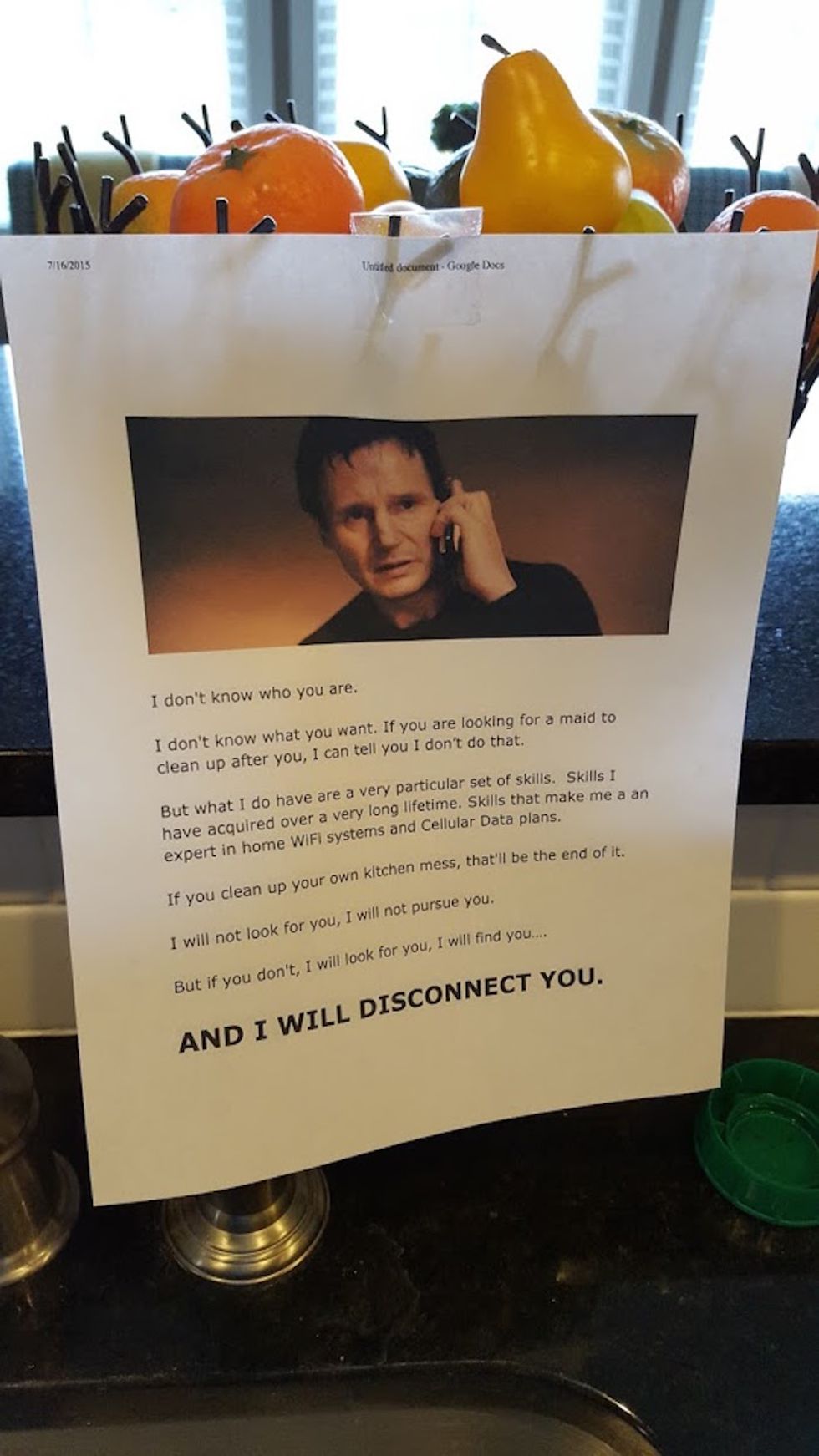 Image source: Reddit
"I don't know who you are," it started. "I don't know what you want. .. But what I do have are a very particular set of skills. Skills I have acquired over a very long lifetime. Skills that make me an expert in home WiFi systems and Cellular Data plans."
"If you clean up your own kitchen mess, that'll be the end of it," it continued. "I will not look for you, I will not pursue you. But if you don't, I will look for you, I will find you and I will disconnect you."
Labuzan posted a photo of the note he left his children on Reddit. "My teenagers refuse to put their dishes in the dishwasher. So I put this above the sink," he wrote on the website.
The note was posted earlier this month, but just started gathering widespread attention recently.
In an interview with WISH-TV, Labuzan explained his reasoning behind the note.
"I'm trying to find ways to connect with them on their level, I guess," he said. "The point is, you know, that's where they spend their time. That's why disconnecting them is so effective."
After first hanging the sign, the father of three said his children didn't take him seriously. Then things changed.
"I would say in the last two weeks, there's been like two cups and three plates and that's it in that sink," said Labuzan. "Those were the disconnection times. I feel somewhat petty for disconnecting them for that one thing, but I'm like if you don't do it for that one thing, then there will be 20 plates and 30 glasses, so it's been successful."
—
Follow the author of this story on Twitter and Facebook: