French investigators are examining a piece of debris discovered on an island in the Indian Ocean Wednesday, with much speculation that the wreckage could belong to the missing Malaysia Airlines plane which mysteriously vanished more than a year ago.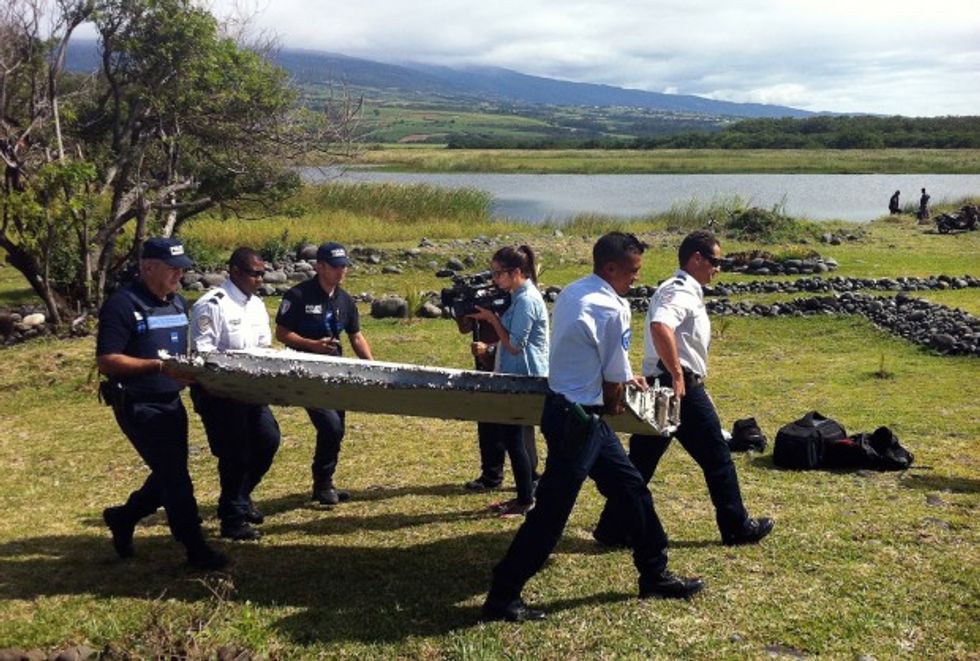 Police carry a piece of debris from an unidentified aircraft found in the coastal area of Saint-Andre de la Reunion, in the east of the French Indian Ocean island of La Reunion, on July 29, 2015. (YANNICK PITOU/AFP/Getty Images)
The debris, approximately six feet in length, was found on the island of La Reunion and appeared to be an airplane wing, the AFP reported. It was found by individuals cleaning the beach.
"It was covered in shells, so one would say it had been in the water a long time," one person told the AFP.
A U.S. official said that the debris seen in a photo belonged to the same aircraft as MH370.
An aviation expert echoed the same thing to The Telegraph, saying the wreckage appeared to belong to a Boeing 777.
"I've been studying hundreds of photos and speaking to colleagues," former military pilot Xavier Tytelman told The Telegraph. "And we all think it is likely that the wing is that of a Boeing 777 – the same plane as MH370."
Similitudes incroyables entre le flaperon d'un #B777 et le débris retrouvé ce matin à #LaReunion... #MH370 ? http://t.co/GDkzRLwi2h

— Xavier Tytelman (@Xavier Tytelman) 1438178278.0
"Police in Reunion examining the wreckage say that it looks like it's been in the water for around a year, which again would fit with MH370. We can't say for certainty, but we do think there is a chance that this is it," he added.
A CNN safety analyst said that there appeared to be consistencies with MH370.
"This is from a sudden impact, it looks like to me," analyst David Soucie told the cable-news network.
Aviation analyst Mary Schiavo added to CNN, "If it is a part from a triple 7, we can be fairly confident it is from 370 because there just haven't been that many triple 7 crashes and there haven't been any in this area."
Still, experts are cautioning individuals not to leap to conclusions quite yet. Investigators are examining the wreckage and a "definitive answer" should be available soon, Tytelman told the Telegraph.
—
Follow the author of this story on Twitter and Facebook: