The group behind the release of recent undercover videos which purport to show Planned Parenthood employees discussing the sale of aborted fetus parts issued a statement Wednesday after a court barred the release of some new footage.
The Los Angeles Superior Court ruled Tuesday that the Center for Medical Progress is prohibited from releasing footage taken at a restaurant in May of high-ranking officials from StemExpress.
StemExpress is a group that provides human tissue to researchers and has a history of working with Planned Parenthood.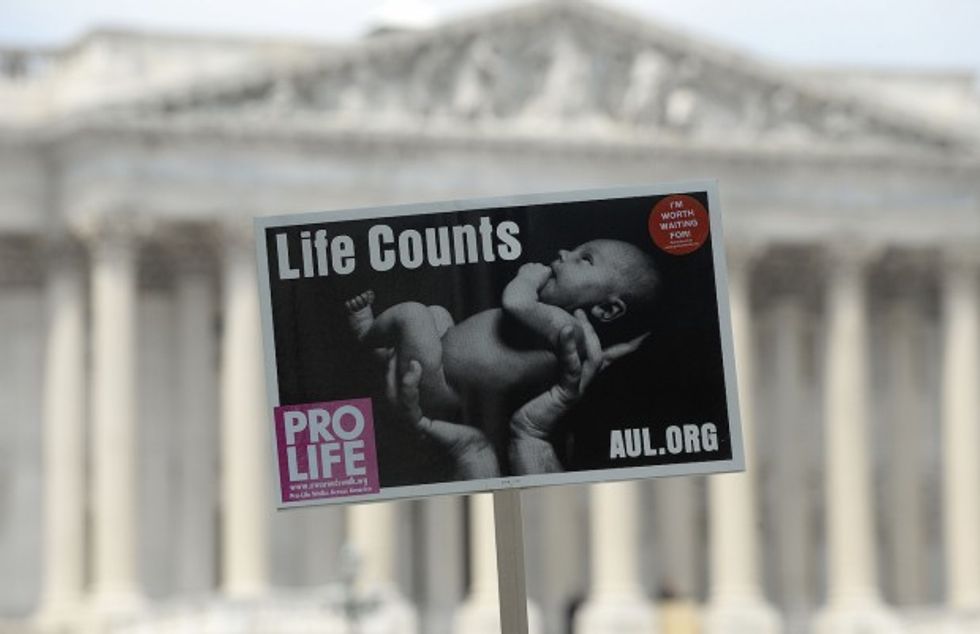 Anti-abortion activist sign is held aloft during a rally opposing federal funding for Planned Parenthood in front of the U.S. Capitol on July 28, 2015 in Washington, D.C. (Photo by Olivier Douliery/Getty Images)
In a statement, the Center for Medical Progress blasted StemExpress and accused them of attempting to "suppress free speech."
Here's the full statement:
StemExpress, a for-profit company partnered with over 30 abortion clinics, including Planned Parenthood, to harvest and sell aborted baby parts and provide a "financial benefit" to Planned Parenthood clinics, is attempting to use meritless litigation to cover-up this illegal baby parts trade, suppress free speech, and silence the citizen press reporting on issues of burning concern to the American public. They are not succeeding—their initial petition was rejected by the court, and their second petition was eviscerated to a narrow and contingent order about an alleged recording pending CMP's opportunity to respond. The Center for Medical Progress follows all applicable laws in the course of our investigative journalism work and will contest all attempts from Planned Parenthood and their allies to silence our First Amendment rights and suppress investigative journalism.
On Wednesday, David Daleiden of the Center for Medical Progress appeared on TheBlaze TV's "Dana" and called for Planned Parenthood to disclose how much it has profited from its practice.
"We don't have a good way of knowing because Planned Parenthood's baby part sales are buried so deep down within their organization that some of the national leadership of Planned Parenthood doesn't even fully know the scope of it," he said. "The national office has for many years now chosen to have a 'don't ask don't tell' policy about the fetal tissue sales of the affiliates in order to … keep themselves insulated it from it legally, even though they're still aware of it."
The Senate is expected to vote next week on a motion aimed at defunding Planned Parenthood.
—
Follow the author of this story on Twitter and Facebook: