A Veterans Affairs psychiatrist walked back a comment he made on Facebook Tuesday in which he told a gun rights supporter to "off yourself."
Gregg Gorton's Facebook page says he is both a professor of psychiatry at the University of Pennsylvania and a staff psychiatrist at the Philadelphia Veterans Affairs Medical Center, where he has worked for 11 years, WCAU-TV reported.
Gorton was responding to another online user who posted a comment in favor of more people owning guns. The original Facebook status was also posted by an apparent gun rights supporter, the Military Times reported.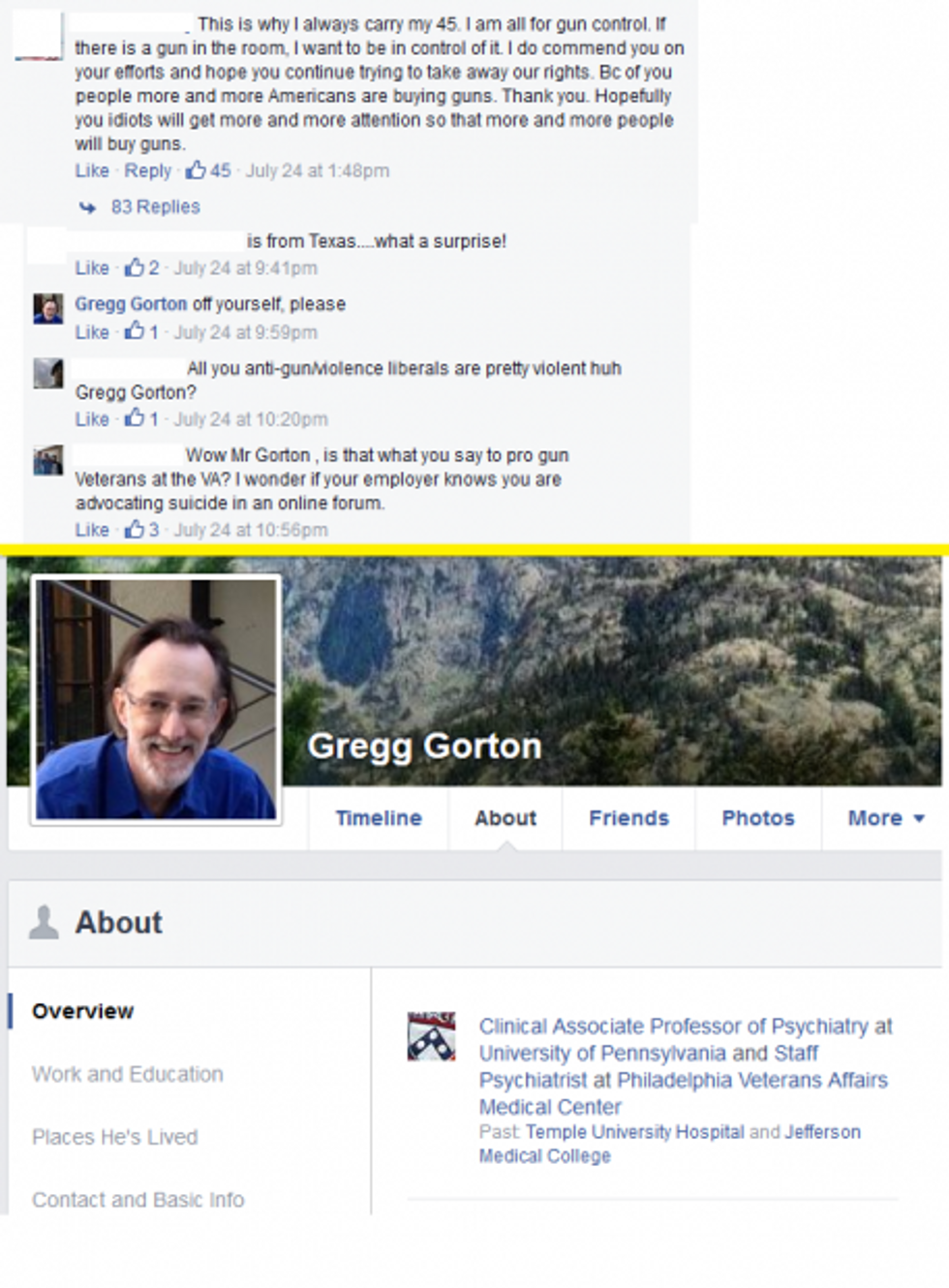 Image source: Imgur
"This is why I always carry my 45. I am all for gun control," the user commented. "If there is a gun in the room, I want to be in control of it. I do commend you on your efforts and hope you continue trying to take away our rights. Because of you people more and more Americans are buying guns. Thank you. Hopefully you idiots will get more and more attention so that more and more people will buy guns."
Gorton responded bluntly: "off yourself, please."
Then began the fiery backlash.
"All you anti-gun/tolerance liberals are pretty violent huh, Gregg Gorton?" another user commented.
Another said, "Wow, Mr. Gorton, is that what you say to pro gun veterans at the VA? I wonder if your employer knows you are advocating suicide in an online forum."
Gorton later said the post was supposed to be sarcastic.
"It's just one of those moments you'd rather take back in your life. I've worked 30 years to treat psychiatric patients. I teach about suicide prevention. That's not me," Gorton told the Associated Press.
The VA in Philadelphia has called Gorton's comment "totally inappropriate" and said it does not convey the agency's commitment to America's veterans.
"We are taking steps immediately to address the situation,'' a VA representative said.
Gorton made the comment at a time when the VA is facing plenty of other criticism, including its highly publicized mishandling of backlog claims, as well as urgent efforts to address the suicide rate among veterans.
(H/T: WCAU-TV)
–
Follow Jon Street (@JonStreet) on Twitter