A two-month gap in Hillary Clinton's released private emails coincide with the escalating violence in Libya, as well as the hiring of close aide Huma Abedin, reports say.
Although the former Secretary of  State released around 2,000 emails from her private account, there are no emails between Clinton and her staff between May and June 2012. During that time, violence escalated in Libya, including a June attack on the Benghazi consulate prior to the fatal September 11 attack.
Abedin, Clinton's top aide, was also hired during that time period — at both the State Department and the Clinton Foundation.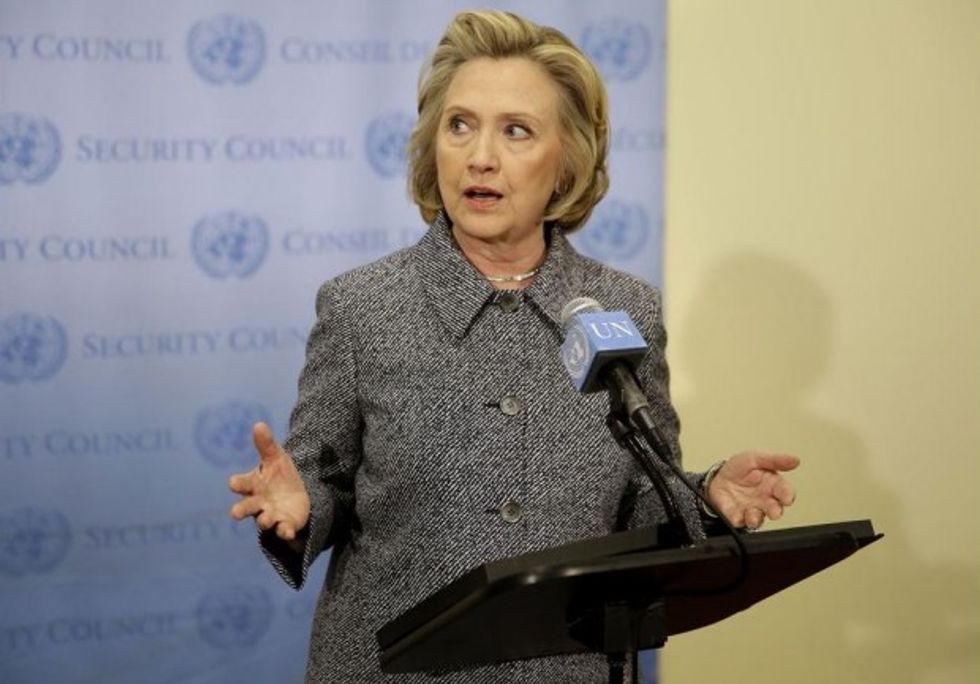 Hillary Rodham Clinton speaks to the reporters at United Nations headquarters, Tuesday, March 10, 2015. Clinton conceded that she should have used a government email to conduct business as secretary of state, saying her decision was simply a matter of "convenience." (AP Photo/Seth Wenig)
Speaking to the Daily Beast, a State Department official said that only emails related to the security of the Benghazi consulate or U.S. diplomats in Libya were released to the House committee that is still investigating the attacks on Benghazi. According to Fox News, if that's true, than neither the Democratic frontrunner nor her staff communicated by email during that period — during which there were three attacks on international outposts in Benghazi, including one on the consulate. 
On May 22, an International Red Cross office was struck by rocket-propelled grenades.
"The attack on the International Red Cross was another attack that also involved us and threats to the compound there in Benghazi," Lieutenant Colonel Andrew Wood, a senior State Department security chief in Libya, testified before the House Oversight Committee in October 2012.
Another attack, on June 6, prompted the U.S. Embassy in Tripoli to warn of the "fluid security situation in Libya," after an improvised explosive devise detonated outside of the consulate. It was then that Ambassador Chris Stevens, who was killed a few months later in the September attack, told his superiors that "Islamic extremism appears to be on the rise in eastern Libya," according to Fox News.
Five days later, two bodyguards were injured after a convoy carrying Britain's ambassador to Libya was hit with rocket-propelled grenades.
During that time, Abedin was allowed to work both as a staff member for Clinton in the State Department and serve in a private role in Clinton and her husband's foundation. In 2013, the Associated Press filed a Freedom of Information Act request for the records of how she was able to obtain her special employment status.
The Daily Beast reported that last week a federal judge gave State Department a final deadline of one week to fulfill the news organization's request. Just before midnight on Tuesday, narrowly making the deadline, lawyer's for the department submitted a declaration that identified almost 70 pages of "potentially responsive" documents.
According to the Daily Beast, this is the first time the State Department has acknowledged its two-year dispute with the Associated Press.
Rep. Trey Gowdy (R-S.C.) has been tapped to chair a special committee to investigate the 2012 attack on U.S. facilities in Benghazi, Libya (AP)
House Republicans investigating the 2012 attack in Benghazi haven't missed the gaps in her emails, set to be released in batches, and have called it "inexplicable."
"There are gaps of months and months and months," Rep.Trey Gowdy (R-SC), chairman of the Select Committee on Benghazi, said in March.
"The State Department transferred 300 messages exclusively reviewed and released by [Clinton's] own lawyers," he then said in May of the gaps in the emails. "To assume a self-selected public record is complete, when no one with a duty or responsibility to the public had the ability to take part in the selection, requires a leap in logic no impartial reviewer should be required to make and strains credibility."
The next release of Clinton's emails is tentatively scheduled for Friday. The emails will be released in monthly batches until January 2016.